New York City Set to Open Beaches for Swimming on July 1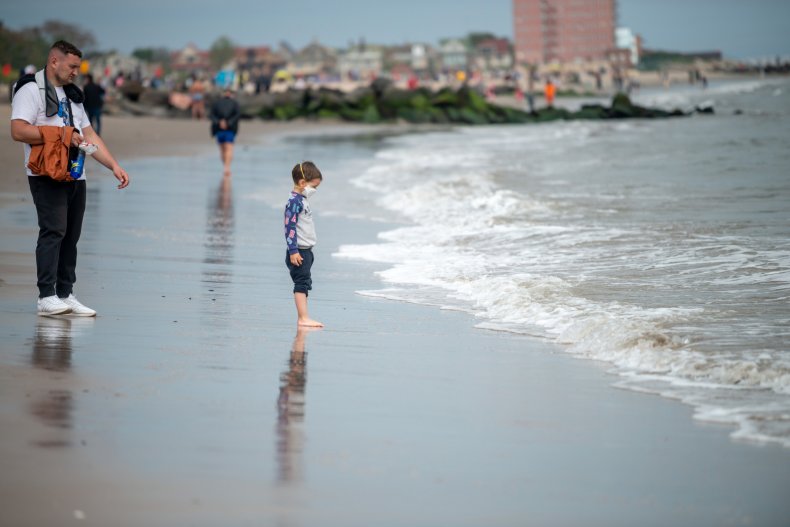 New York City Mayor Bill de Blasio has announced that beaches will be reopening for swimming in the city on July 1.
De Blasio's spokeswoman, Freddi Goldstein, told The Wall Street Journal on Tuesday that the mayor will announce Wednesday that beaches would open for swimming ahead of the Fourth of July weekend. Shortly after, Goldstein pointed Newsweek to tweet from De Blasio which confirmed the news.
"The rumors are true: NYC beaches will open for swimming on July 1," the mayor tweeted. "Let's keep playing it safe: social distance & face coverings, even at the beach!"
New York's beaches have been shut down to swimmers for an extended period due to the COVID-19 pandemic. Public health concerns meant they were completely closed until they reopened for sunbathing during the Memorial Day holiday weekend, when the city typically opens the beaches for swimming.
The decision to keep the beaches closed to swimmers attracted some controversy. New York Governor Andrew Cuomo had opened the majority of the state's beaches for swimming on May 22, with restrictions including reduced capacity in place, but New York City was excluded from the decision
De Blasio's decison to reopen beaches without allowing swimming meant that the lifeguards that are normally posted when swimming is allowed were not present when beaches were opened. Despite the city's restrictions against swimming, a 24-year-old man died while attempting to swim at Rockaway Beach on May 22.
The New York City Council issued recommendations that the beaches be reopened for swimming the next day, with lifeguards being posted and issued personal protective equipment.
"Disallowing swimming at beaches puts New Yorkers at risk. If the city is going to open our beaches and parks, we need to do so in a comprehensive manner with the necessary resources they need to operate safely," City Councilman Peter Koo said in a statement.
Swimmers hoping to utilize the city's swimming pools are likely to have a longer wait. Pools remain closed due to the virus and it is unclear when a decision might be made on their reopening.
The COVID-19 pandemic hit New York City hardest of all U.S. cities, becoming the undisputed epicenter of the country's outbreak during the early months of the pandemic. However, new cases have been steadily declining for more than a month and the city has begun to reopen.
On Monday, New York moved into phase two of the state's reopening plan, with businesses including barbershops and hair salons reopening. Outdoor dining also resumed, along with in-person retail shopping. Several other areas of the state have moved to phase three, which permits indoor dining and allows businesses like nail salons to reopen.