New York City St. Patrick's Day Parade Will Let Gays March for First Time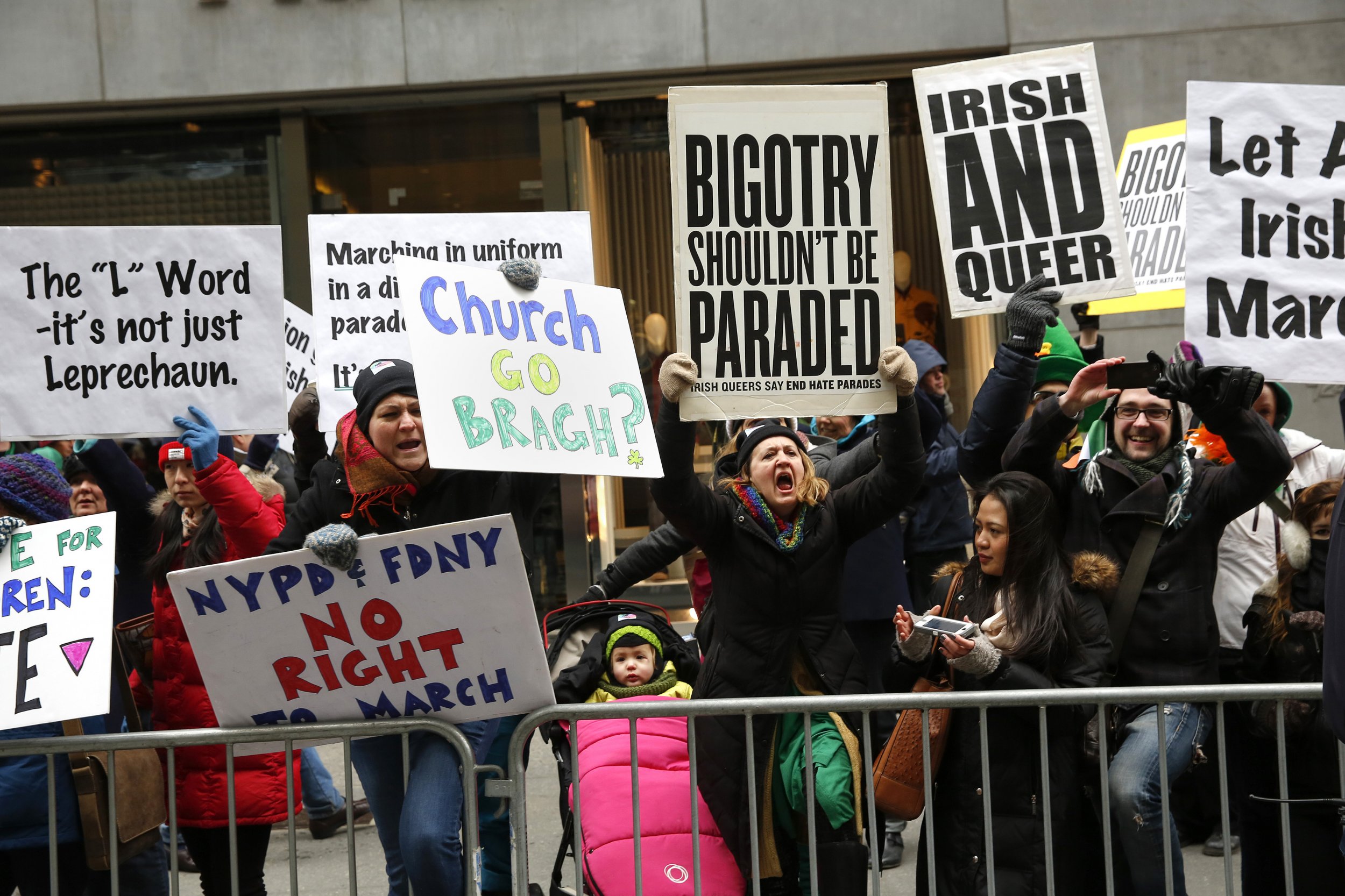 The New York City St. Patrick's Day Parade will allow a gay group to march openly in 2015, reversing a long-standing ban against LGBT organizations from marching under their banner.
OUT@NBCUniversal, the company's "Lesbian, Gay, Bisexual, Transgender & Straight Ally Employee Alliance," will be the first LGBT group to participate in the procession, parade spokesman William O'Reilly confirmed to Newsweek in an e-mail. The Irish Voice first reported this decision.
The St. Patrick's Day parade, attended by approximately 1 million people, has taken place in New York City since 1762, and is thus billed by organizers as "our country's oldest and proudest Irish tradition." In recent years, this tradition and the conservatism it entails—many of the Irish-American organizers abide more strictly to Catholic values, especially with regard to sexual orientation, than do Irish persons in Ireland—have embroiled the popular procession in controversy and lawsuits.
Though Irish and Irish-American LGBT persons have ramped up pressure on parade organizers to include them for more than 20 years, 2014 proved to be a watershed year for their advocacy. New York City's Mayor, Bill de Blasio, became the first mayor in more than two decades who refused to march in the parade because of its position on LGBT participants. The City Council and many Irish politicians opted out as well. Beer giant Guinness withdrew its sponsorship due to the LGBT policy, as did Heineken.
NBC, which has broadcast the Fifth Avenue parade for many years, "was prepared to drop its coverage unless a compromise that resulted in the inclusion of a gay group was brokered," according to The Irish Voice. At present, OUT@NBCUniversal will be the only LGBT group marching this year, but O'Reilly told Newsweek, but the group "will also be able to invite whomever it wants to march with them. We suspect that many Irish Americans will be invited to join with the Out@NBCUniversal group, behind its banner."
LGBT persons and allies who do not march under the Out@NBCUniversal banner will not be allowed to carry individual signs and flags identifying them as LGBT or supporters, as they "have never been permitted for anyone, from any group. That won't change. The Parade has long and strict guidelines about that, as one would expect of a 253 year-old parade! " O'Reilly said.
When asked whether non-OUT@NBCUniversal members would march under the group's banner, and if so, what would the selection process be, an NBCUniversal spokeswoman did not reply to that question. She directed Newsweek to the company's statement on the parade, which states:
NBCUniversal's LGBT Employee Resource Group is proud to be marching under the organization's "OUT@NBCUniversal" banner in the 2015 St. Patrick's Day Parade," said Craig Robinson, Executive Vice President and Chief Diversity Officer for NBCUniversal. "We welcome the Parade Committee's decision to accept OUT@NBCUniversal's application to march and enthusiastically embrace the gesture of inclusion. Our employees, families and friends look forward to joining in this time-honored celebration of Irish culture and heritage.
Several leaders of the New York City's Irish LGBT community told Newsweek that they emphatically welcome the change, calling it historic, but didn't understand why a corporate advocacy group was chosen instead of an Irish-American organization.
"The fact that the ban has been broken by a corporate LGBT group and not an Irish LGBT group indicates pretty clearly that the parade organizers are responding to concerns about money rather than to the fact that the Irish American community, and Irish in Ireland, have denounced their homophobia," said Emmaia Gelman, of Irish Queers. "Irish LGBT groups don't now, and probably never will have, money to contribute to the parade, so if that's the force for change, if that's the language of change they understand, we're still in the same position we were before."
"It's a kind of progress, but it's not the complete change that we need to see," Gelman added.
Responding to advocates' criticisms, O'Reilly said: "We ask that they accept this gesture of goodwill."