NYC St. Patrick's Day Parade Invites Second-Ever LGBT Group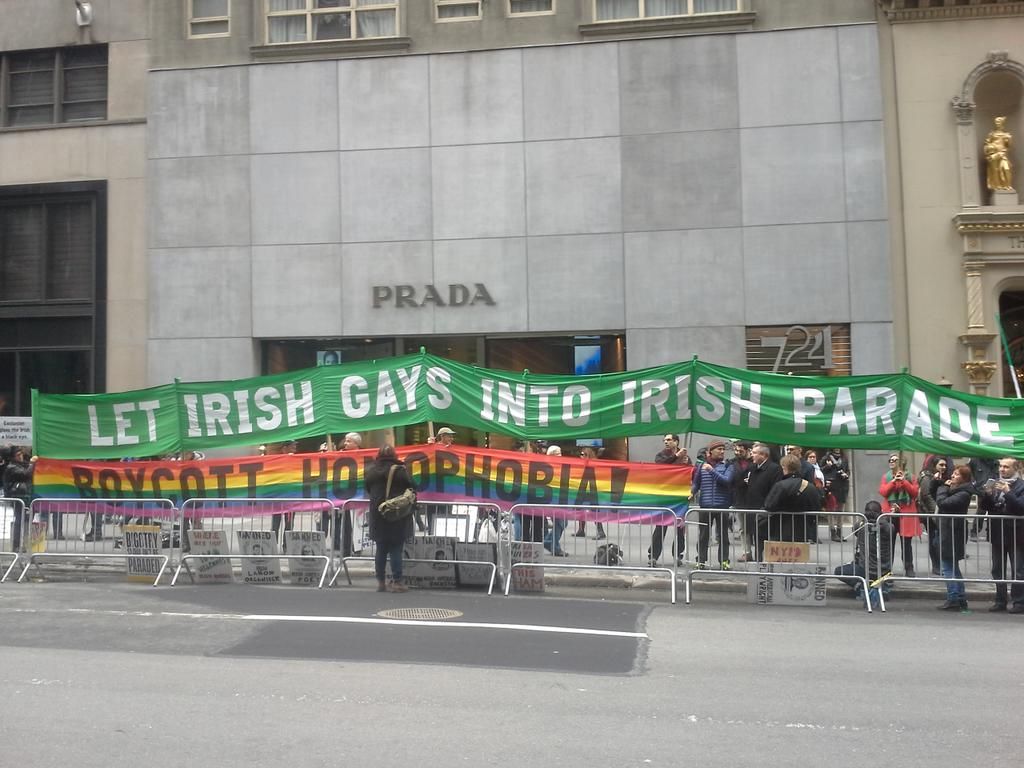 A year after New York City St. Patrick's Day Parade made history by allowing for the first time an LGBT organization to march under its own banner, officials have invited a second LGBT group to participate, they announced Tuesday.
For years, the parade faced protests and boycotts because it didn't allow LGBT groups to march. Past parade organizers excluded the groups because they thought gay groups were inappropriate for a Catholic holiday celebration. New York City Mayor Bill de Blasio, along with other top elected officals, refused to attend the procession in 2015 and 2014 due to these policies.
The event's board of directors voted Monday night to invite Lavender & Green Alliance, an organization representing Irish LGBT people, to participate openly in the 2016 parade, according to a statement sent to Newsweek.
OUT@NBCUniversal, the media giant's group for LGBT employees and their straight allies, participated in the 2015 parade. Parade organizers invited OUT@NBCUniversal to participate in 2016.
While OUT@NBCUniversal's participation was heralded by many as a step in the right direction, many LGBT people, especially Irish or those of Irish descent, felt slighted. They were upset that there wasn't a group marching specifically to represent Irish LGBT people.
"We celebrate the welcome! St. Patrick's Day, March 17, 2016, will be a great day for hospitality and inclusion," Brendan Fay, founder and chair of the Lavender & Green Alliance, said in a statement. "The decision to invite an Irish Gay organization, The Lavender & Green Alliance/ Muintir Aerach na hÉireann, by the Board of Directors of the St. Patrick's Day Parade sends a positive message across the Irish Cultural landscape. As LGBT Irish Americans we thank John Lahey and the members of the Board for this historic decision which reflects the feelings of most Irish and Irish Americans. With the decision we cross a historic threshold and our members will proudly march up Fifth Avenue with our banner."
"Since 2016 marks the 100th Anniversary of the Easter Rising, considered the birth of Irish independence, the St. Patrick's Day Parade March 17 is a special opportunity for renewed commitment to Irish values and traditions, and the Irish role in the 21st Century," Parade Board Chair John L. Lahey said in a statement.
"We are working with the government of Ireland in this anniversary year to teach our young people the lessons of sacrifice and heroism, of love and tolerance, embodied in the Irish spirit," Lahey added.
Irish Queers, an advocacy organization that has led the charge for LGBT inclusion, lauded the decision.
"We are happy and relieved to announce that, after 25 years of struggle, we have won! The NYC St. Patrick's Day parade has dropped its bigoted ban: an Irish LGBTQ contingent will finally march with its own banner in the parade next March 17th," the group said in a statement. "From the beginning, our demand has been for an Irish LGBTQ contingent to march behind their own banner saying who they are, like all other contingents. Today's decision to invite the Lavender and Green Alliance does just that!"
The statement continued: "This is a victory for the grassroots organizing, civil disobedience, and street protest of the Irish Lesbian and Gay Organization and its successor, Irish Queers. Protests held the line year after year where politics constantly failed. It's also a victory for our beautiful queer and Irish community of support, stretching from New York City to Ireland and beyond."