For NYC's St. Patrick's Parade, the Protests Don't End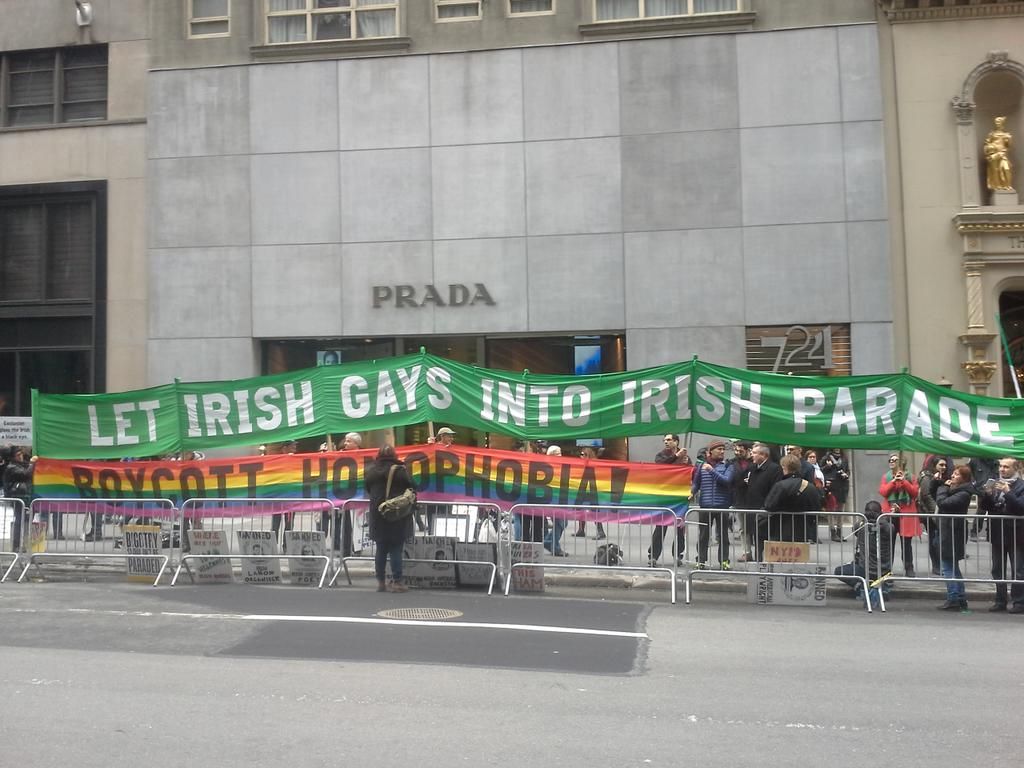 At the corner of Fifth Avenue and 56th Street, in front of the Prada store, a group called Irish Queers gathered late this morning to protest the New York City St. Patrick's Day Parade. Abercrombie & Fitch is also on that block, and cologne from the preppy clothier occasionally wafted onto the sidewalk amid chants of "Let gays march!" Demonstrators were rallying against the parade's policy on lesbian, gay, bisexual, transgender (LGBT) persons, as they have done for decades.
And yet for the first time since the parade began in 1762, an LGBT group, OUT@NBCUniversal, is marching openly. OUT@NBCUniversal is the media company's LGBT and straight ally employee group. The Irish Voice broke news of OUT@NBCUniversal's participation this fall and reported that NBC, which has broadcast the parade for years, "was prepared to drop its coverage unless a compromise that resulted in the inclusion of a gay group was brokered" with parade organizers.
For many of the city's LGBTs, especially those who are Irish, the development is more of disappointment than a milestone. They feel OUT@NBCUniversal's participation is a bait-and-switch and still excludes Irish gays. They're incensed because activists who have fought decades for LGBT inclusion weren't invited to participate, they say.
Activists unfurled an emerald green banner with white lettering that read: "Let Irish Gays Into Irish Parade" as the procession began. Several others held another rectangular banner that read "Boycott Homophopbia!" over a rainbow background. "What would Jesus do? Let Irish Gays March Too!" a black-and-white poster asked and answered, while another questioned: "Who says St. Patrick was straight?"
Allen Roskoff, a prominent gay rights activist president of the city's Jim Owles Liberal Democratic Club, publicly slammed parade leadership and Out@NBCUniversal at the protest.
"The parade organizers are clearly bigoted, closed minded, and living in another century," he told Newsweek. "They refuse to accept change and acceptance of people who are seemingly different from them."
Roskoff criticized OUT@NBCUniversal just as harshly, saying that members "take care of their own within the corporation" and their participation is "totally disrespectful" of other LGBT persons.
"They stabbed the community in the back," Roskoff said. "They have accepted crumbs—and they have disgraced themselves."
Asked whether NBCUniversal had any comment on the ongoing protests, an spokeswoman referred Newsweek to a recent statement by Craig Robinson, executive vice president and chief diversity officer.
"In 1986, a group of men and women at NBC formed one of the first gay, lesbian, bisexual and transgender employee groups in the entertainment industry and corporate America. Almost 30 years later, OUT@NBCUniversal will be the first LGBT group to march under a banner in New York's venerable St. Patrick's Day Parade on March 17, 2015," Robinson said in the statement. "As a group that has long fought for inclusion and equality for our employees, we are mindful of the efforts of others, both within and outside of the company, that have led us to this historic point. We approach the opportunity with respect for the event's heritage, culture and tradition, as well as hope and excitement for this first step towards an increasingly inclusive era for the parade."
"Some people need to know when to stop protesting, lest they begin looking ridiculous," William F. B. O'Reilly, who helps handle publicity for the parade, commented to Newsweek. "Let them pick on some other parade now. The St. Patrick's Day Parade controversy is over."
Generally speaking, most attendees seemed focused on the procession. A sizable contingent of inebriated young adults seemed to focus on holding it together, and avoiding police.
Bronx resident Rory Sanderson, who in the spirit of the parade sported a black-and-green sequin beret, said his Irish mother brought him to the parade from a young age and that for him, "it's just New York."
While he doesn't mind gays participating, he doesn't want them doing so under their own banner.
"Gays have been marching in the St. Patty's Day for a long time—since it started probably. There's probably some marching today," he said. "You wanna be included in society, so why do you have to march separately?"
Ali Hakim, of Queens, disagreed with protesters, saying: "They have a gay day parade."
Hakim was particularly worried about a small child waving a pride flag, he said, "Why are they trying to turn this kid gay before he's even able to talk properly?"
New York City Mayor Bill de Blasio did not march in this year's parade because of ongoing controversy about LGBT inclusion, nor did City Council Speaker Melissa Mark-Viverito. De Blasio also didn't march in the 2014 parade, making him the first mayor in two decades to boycott the event.