New York City 'Strongly Recommends' Universal Mask Wearing, But Stops Short of Mandate
New Yorkers are once again being advised to wear masks whenever inside a public place regardless of whether they were vaccinated against COVID-19.
New York City Mayor Bill de Blasio announced that the city was recommending the wearing of masks for vaccinated individuals, following advice from the Centers for Disease Control and Prevention (CDC). About 66 percent of New York City's adult population are fully vaccinated against COVID-19 and de Blasio said the city is focused on increasing that number.
While all new city employees must be vaccinated before they begin work, de Blasio announced on Monday that the city wouldn't require masks indoors. After reviewing the CDC's guidance and data, the mayor said the city will only "strongly recommend" vaccinated individuals wear masks in indoor settings.
Masks are still required on public transit, in schools, congregate settings and hospitals regardless of vaccination status. Unvaccinated individuals must also wear masks at all times.
"[We're] focusing entirely on vaccination because victory is staring us in the face and that's what's so frustrating. We could put this problem to bed if everyone would get vaccinated," de Blasio said.
States and cities started lifting mask requirements for vaccinated individuals following guidance from the CDC that said it would be safe to do so. At the time, the Delta variant wasn't the dominant strain in the United States and COVID-19 vaccines have proved effective against the mutation. Vaccines don't eliminate a person's chance of contracting the virus, but inoculations have shown to reduce a person's chance of being hospitalized or dying of COVID-19.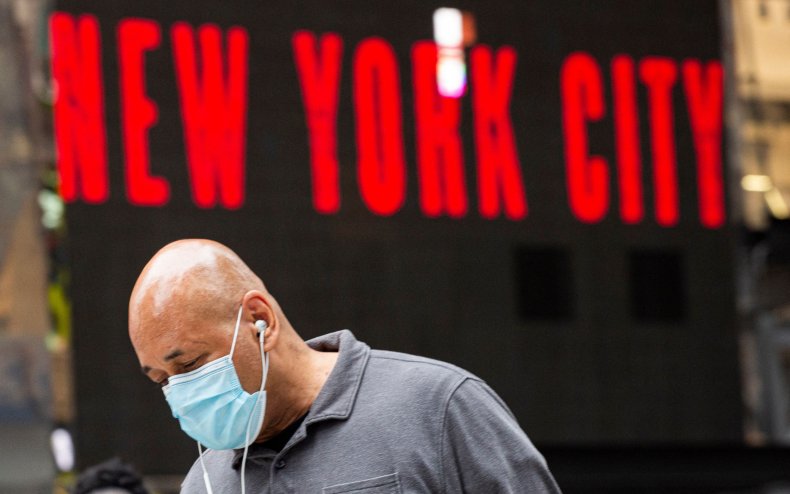 States and areas with low vaccination rates have seen surges in cases and hospitalizations, and officials have warned that as the virus is allowed to spread, the possibility increases that a mutation will occur that evades the vaccine.
Given the spike in cases in parts of the country, the CDC updated its guidance on July 27 to recommend that even vaccinated individuals wear a mask indoors if they're in an area with "high" or "substantial" transmission. CDC officials also altered their guidance to advise that everyone in a school wear a mask.
New York Governor Andrew Cuomo called it "dramatically different" advice from what they initially put out and called the state of the outbreak a "serious situation." He noted that no one can know how bad the outbreak can get but said it's possible cases could rise as high as 5.37 million cases if 75 percent of the state's unvaccinated population gets sick.
"Worst-case scenario, a large number of unvaccinated get sick and even worse than that the Delta variant mutates to a vaccine-resistant virus and now we're right back to where we started," Cuomo said. "Everybody has to get vaccinated again and you have to come up with a vaccine for this new mutation."
The update from the CDC prompted several legislators to reinstate mask requirements. Most counties in Nevada have indoor mask mandates, as does Kansas City, Missouri, and Provincetown, Massachusetts.
While some areas are moving to reimplement restrictions, others, including Arkansas, have bans on implementing masks. Governor Asa Hutchinson pushed state legislators to convene for a special session to reverse a ban on masks in schools amid rising cases. However, legislators in the Republican-held General Assembly told him it would be a "heavy lift" to get enough people on board to pass an amendment to the original legislation.
The issue of mask wearing has become heavily politicized, but former Surgeon General Jerome Adams said people have proved the "honor system" can't be trusted. He told CNN's New Day last week that he supported a universal mask mandate regardless of vaccination status because it's obvious just by looking around that people who are unvaccinated aren't wearing masks.
"We're going to see more closures, we're going to see more masking, we're going to see a return to last year because people aren't coming together as a team and choosing to get vaccinated or follow other measures," Adams said.
Earlier in the day, Cuomo asked local officials to take action with mask and vaccination requirements to prevent the virus from spreading further. De Blasio said he hadn't spoken to Cuomo prior to the governor's press conference and confirmed "all options are on the table" with regard to mask requirements, although the mandate wouldn't be reinstated at this time.