New York City Teachers Pen Op-Ed Urging Governor Cuomo, Mayor de Blasio to Shut Down Schools During Pandemic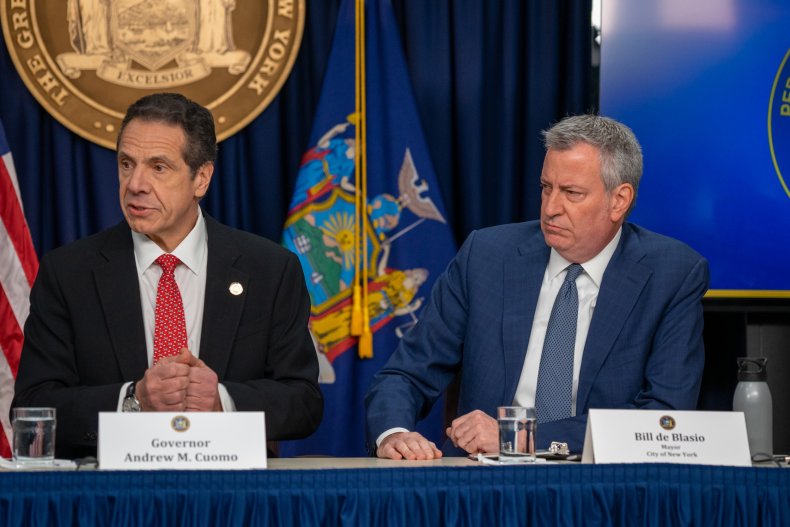 A group of New York City teachers wrote an op-ed in The New York Times Saturday urging Governor Andrew Cuomo and Mayor Bill de Blasio to shut down schools amid the novel coronavirus pandemic.
"It's time to listen to experts about how to preserve human life. Mayor Bill de Blasio and Governor Cuomo: It's time to close the schools," they said.
The op-ed was written by Stuyvesant High School teachers Samantha Daves, Maura Dwyer and Annie Thoms, and on behalf of their 64 fellow colleagues. They cited fears among high school students for why they believe New York City schools should be closed.
The New York Department of Health website states there are 613 confirmed cases of COVID-19 in the state – 219 of those confirmed cases are in New York City. Two people have died so far as a result of the virus.
"Our students are distracted and terrified. Many live in small apartments with grandparents that they do not want to infect. One student spent six periods crying in a department office out of concern that she would spread the virus to her grandmother living with cancer," the teachers stated.
"Compounding their terror is the racism many of our Asian and South Asian students are experiencing as they commute to school."
They argued that keeping schools open is a "threat to our global mental health," and cite the measures implemented in South Korea, Italy, and China that have proven to slow down the spread of COVID-19.
One reason given by government officials for maintaining schools open is that impoverished families depend on the meals those schools provide to students. The New York City teachers challenged that argument by stating that Baltimore schools have set up sites where students can pick up breakfasts and lunches. "If New York City schools and community centers could function in this way, children and their families would no longer face so much risk," they wrote.
A student who attends school in Staten Island at I.S. 27 has tested positive for COVID-19. In a tweet, de Blasio stated that "this student was NOT in school last week, while symptomatic. Cleaning will happen now, contact tracing will happen immediately and the school will reopen Monday."
The New York City mayor stated Tuesday in an interview on MSNBC that "we're not shutting down all our schools," even if there is a confirmed case found in a school. "We cannot shutdown because of undue fear," de Blasio said at the time. He echoed those same sentiments on Saturday on MSNBC, stating that schools would remain open because he is "worried about a cascade effect if we close the schools," such as disruptions to the health care industry if health care workers have no one to care for their children during the day.
De Blasio told New Yorkers to use hand sanitizers and to wash their hands often to minimize the spread. But the teachers responded to this claim in the op-ed stating that such measures are not enough.
"No amount of hand washing and extra cleaning can prevent our thousands of students and hundreds of faculty and staff members from transmitting germs as they move in and out of classrooms for 10 periods a day," they wrote.
Newsweek reached out to the New York City Department of Education and was redirected to comments de Blasio made Sunday on CNN, where the mayor gave multiple reasons for keeping New York City's schools open, including teenagers being out of school and without adult supervision.
"My blunt fear is, if the school shut down, they will be done for the school year, maybe even for the calendar year. So, I'm very reticent to shut down schools for a variety of reasons, not just that that's where a lot of kids get their only good meals, where they get adult supervision, especially teenagers who otherwise would be out on the streets – there's health and safety ramifications to that," De Blasio said on CNN's State of the Union.
"Those first responders, those health care workers who depend on the schools so they can get to work, and we need those workers desperately – a lot of factors here. But it is literally a day-by-day reality. If we can keep our schools going, we will. If at any point we feel it doesn't make sense, we'll make a move."
Update, 3/15/20, 2:24 p.m. ET: Comments made by New York City Mayor Bill de Blasio in an interview on CNN were added to this article.