Man Dressed as Elmo Arrested for Allegedly Groping a 14-year-old Tourist in Times Square
A man dressed as Sesame Street character Elmo was arrested on Saturday afternoon after being accused of groping a teenager at Times Square.
Inocente Andrade-Pacheco, 54, of Passaic in New Jersey, was detained by officers from the New York Police Department (NYPD) at approximately 6:45 p.m. after the family of a 14-year-old girl accused him of touching the teenager on the buttocks while posing for a photograph.
Andrade-Pacheco was taken into custody and arraigned at the Manhattan Criminal Court yesterday on charges which included forcible touching, the New York Daily News reported. The suspect was arrested on Broadway close to West 46th Street, according to the newspaper.
The New York Post reported that the suspect was released on Sunday night after initially being held on $7,500 bond. The man, who is not believed to have prior criminal convictions in the state, was also left facing an allegation of acting in a manner injurious to a child.
Prosecutors said in court that multiple eyewitnesses saw Andrade-Pacheco's behaviour but the suspect denied the charges via his attorney, the New York Post reported.
A police spokesperson told Newsweek: "An individual dressed in an Elmo costume was arrested and charged after he placed his hands on 14-year-old female's back down to her buttocks and squeezed her buttocks without her consent. The victim was not injured as a result."
In recent years, politicians have attempted to regulate the costumed men and women. In 2016, after an uptick in clashes, the city enacted "designated activity zones" for performers.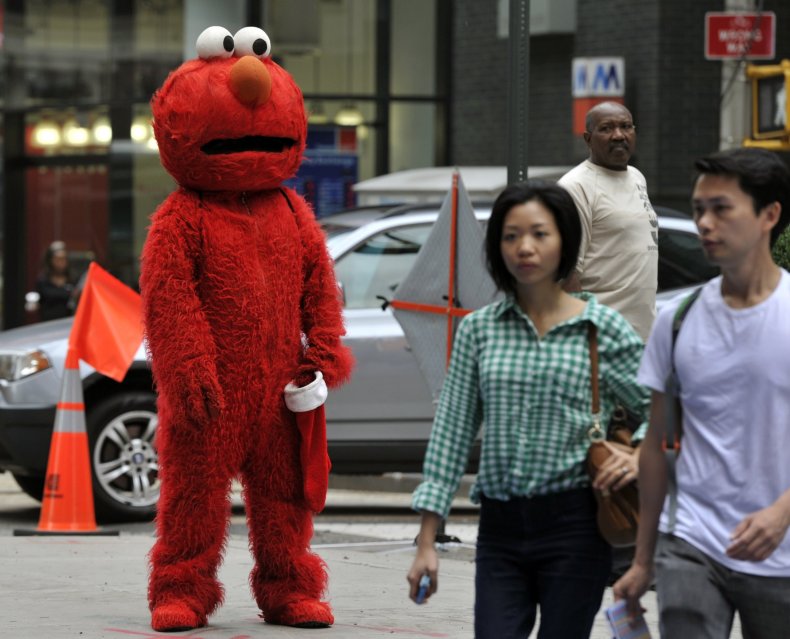 In 2015, NBC New York reported a man dressed like Spider-Man was caught on camera fighting with another individual at Times Square. The previous year, a man posing as Spider-Man was detained after allegedly punching a police officer in the face after the cop attempted to stop him from harassing tourists for money after taking photos. In September 2014, two men posing as Batman and Spider-Man were both arrested after fighting with an alleged heckler.
In January 2014, 44-year-old a man dressed as the Toy Story mascot Woody was arrested on sex abuse and forcible touching charges amid allegations he had groped women. In 2013, a 33-year-old Queens man was arrested after allegedly shoving a 2 1/2-year-old boy while dressed as the Cookie Monster.
Timothy Tompkins, president of the Times Square Alliance, a group which promotes the busy tourist intersection, said this week that such cases are becoming more frequent, even in the wake of efforts to license performers and cordon them into zones.
"We've been tracking a growing number of complaints about people being touched without consent, not only in a sexual way," Tompkins said following Andrade-Pacheco's arrest. He added: "The police are doing what they can, but we think there's a need for some additional regulations or legislation, and we know the City Council is working on that."