New York City Unions Warn of School Staffing Shortages Ahead of Vaccine Mandate Deadline
Unions representing New York City teachers and school administrators are concerned that a vaccine mandate that had been slated to take effect next week will result in staffing shortages.
In August, New York City announced a forthcoming vaccine mandate for all public school staff. By this coming Monday, September 27, all staffers will be required to submit proof of having received a first COVID-19 vaccine dose.
In a memo sent to school employees on Thursday, the city's Department of Education said those who haven't received the vaccine by the deadline will lose their pay.
"Any regular employees who fail to meet this deadline will be removed from payroll beginning Tuesday, September 28, unless they are on an approved vaccine exemption or leave," the memo read, according to the New York Post.
However, late Friday evening, a federal judge temporarily blocked the city from enforcing the mandate, the Associated Press reported on Saturday. A three-judge panel will now make an expedited review of the case.
A spokesperson for the Department of Education told the AP that it's confident the mandate "will continue to be upheld once all the facts have been presented, because that is the level of protection our students and staff deserve."
Ahead of the court ruling, unions have worried that thousands of school employees—including, teachers, administrators, cafeteria workers and custodians—may not be able to go to work on September 28.
Most city school staff are vaccinated. The United Federation of Teachers, a union that represents most of the city's teachers, estimates more than 90 percent of its members have received the vaccine. Another union, the Council of School Supervisors & Administrators, estimates that 95 percent of administrators have been vaccinated.
But the unions have called on the city to delay the deadline for the vaccine mandate.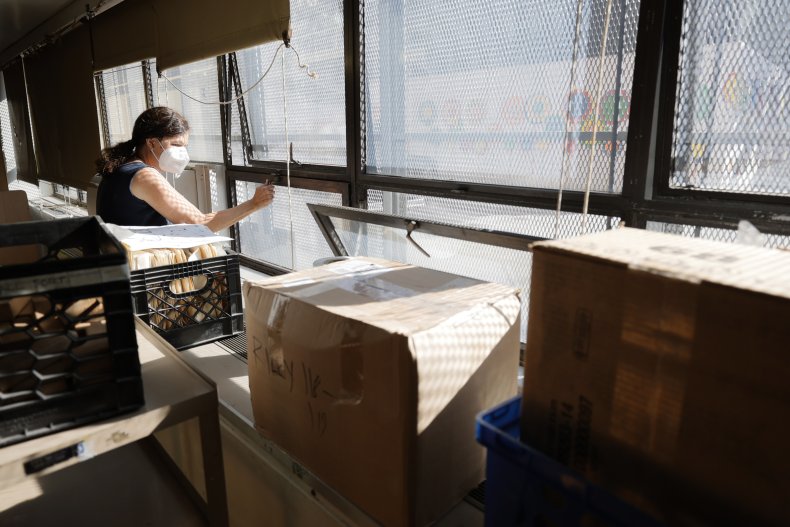 "Despite our repeated warnings, the city is ill-prepared for the impact of the vaccination mandate on staffing in schools and early childhood centers with just four days to go before it takes effect," Mark Cannizzaro, president of Council of School Supervisors & Administrators, said Thursday, according to Gothamist.
"Any staffing shortage, especially during a pandemic, is a threat to the health and safety of both students and personnel. It is dangerous and irresponsible for the city to move forward with its plan to allow schools and centers to operate so severely understaffed," he added.
"We are very concerned about what is going to happen on Tuesday morning," Michael Mulgrew, president of United Federation of Teachers, said on Friday. "We're asking City Hall to wake up and start making decisions based on the ramifications of the children of New York City and not your own political purposes."
Mayor Bill de Blasio said New York City is prepared for the vaccine mandate deadline and has substitutes ready as needed. During a press briefing Friday, he noted that city officials believe an "overwhelming majority" of staffers will arrive at schools next week having received a first dose of the vaccine.
"We have thousands and thousands of vaccinated, experienced substitute teachers ready to go," de Blasio said, Gothamist reported.
"That's the obvious first go-to, but it's also true that central staff has thousands of educators, certified educators, who could step into different roles if needed," he added.
Newsweek has reached out to the mayor's office for comment.
Updated 2:30 PM, news of a federal court ruling that temporarily blocks enforcement of the vaccine mandate.