New York City, Washington, D.C., Forecast: Wind Chills Could Drop to 15 Degrees Below Zero, Colder Than Moscow
Days before Punxsutawney Phil makes his official declaration about the length of winter, New York and Washington, D.C., will experience a serious big chill, with temperatures dipping below that in Alaska and Russia.
On Wednesday, the National Weather Service (NWS) in New York reported that an arctic cold front will pass through southern Connecticut, northeast New Jersey and southeast New York in the afternoon and early evening. Along with the cold front, there will be snow showers and squalls that could create whiteout conditions and leave about an inch of snow.
From midnight on Wednesday until 10 a.m. EST on Thursday, the NWS issued an advisory for wind chills that could reach as low as 15 degrees below zero. The advisory was in effect for these areas of New York:
Southern Westchester County
New York City (Manhattan and the Bronx)
Richmond County (Staten Island)
Kings County (Brooklyn)
Northwestern Suffolk County
Southwestern Suffolk
Northern Queens County
Northern Nassau County
Southern Queens
Southern Nassau
On Wednesday evening, wind gusts were expected to reach up to 50 miles per hour, which could blow down tree limbs and cause power outages. The NWS issued warnings about the dangerous weather conditions and advised residents to dress appropriately.
"Frostbite and hypothermia can occur if precautions are not taken," the NWS said. "Make sure you wear a hat and gloves."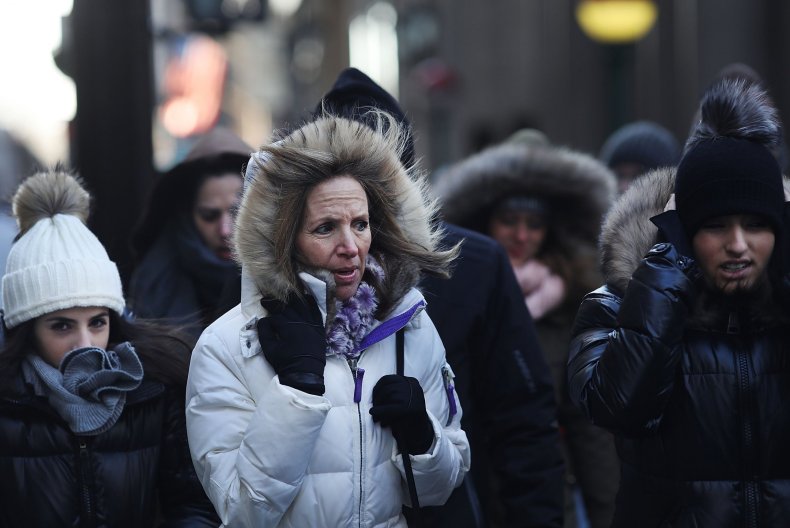 The Washington, D.C., area is also expected to see a serious dip in temperatures. The NWS issued a wind chill advisory to go into effect at 9 p.m. EST on Wednesday and lasting until 10 a.m. EST on Thursday. Wind chills were expected to drop to 5 or 10 degrees below zero in areas of central Maryland and northern Virginia, including Washington, D.C., and Baltimore.
On Wednesday afternoon, an arctic front crossed the area and was expected to hit Baltimore and Washington, D.C., in the early and middle afternoon. Less than 1 inch of snow was forecast, and winds were predicted to gust up to 50 miles per hour.
On Thursday, New York will have a high of 18 degrees Fahrenheit, according to Weather.com, and Washington, D.C., will see a high of 25 degrees Fahrenheit. That's colder than is expected for Moscow, which Weather.com forecasts will have a high in the mid-30s, as well as, Anchorage, Alaska, which should have a high of 26 degrees.
"Be prepared for areas of blowing snow," the NWS cautioned. "This could lead to temporary very low visibilities and the potential for dangerous driving conditions."
After temperatures fall, the NWS added, icy spots could appear on roads, so drivers should be cautious.