Massive plumes of hazardous smoke from wildfires in Canada have been blowing southwards, engulfing New York City and the East Coast in a cloud of orange haze.
In a NASA timelapse animation, the cloud of black carbon particles, or soot, can be seen moving across North America between June 3 and June 8.
The time lapse was made using black carbon data from NASA's GEOS forward processing (GEOS-FP) model, which used satellite observations of aerosols and fires, as well as meteorological data like air temperature, moisture, and winds to project the plume's behavior.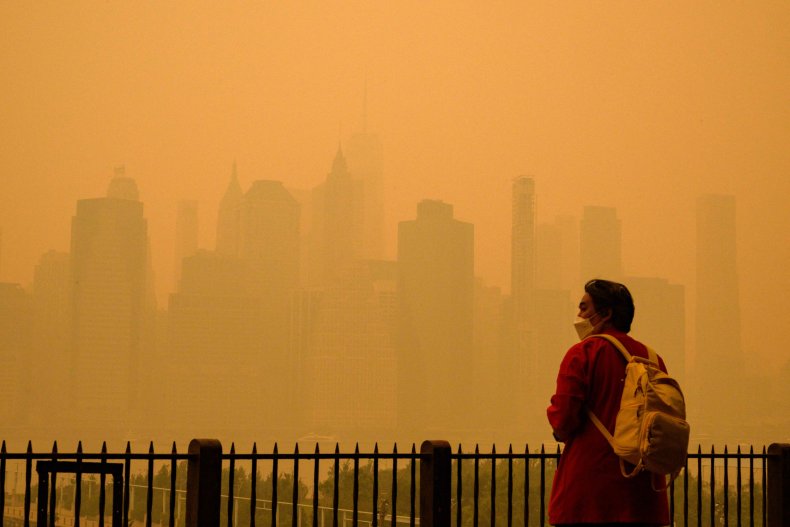 The air quality in NYC skyrocketed over a score of 300 on the EPA's Air Quality Index (AQI) on June 7 as a result of the smoke. NYC was temporarily the worst major city in the world for air pollution, beating out Dubai in the UAE with a score of 167, and Delhi in India, which scored 165 on June 7, according to Swiss air quality tech firm IQAir's ranking.
The AQI scores are calculated using the concentration of PM2.5 in the air. Soot or black carbon is one particle that contributes towards the presence of PM2.5 pollution, which are particles that are 2.5 micrometers or less in diameter, and also includes sulfates, nitrates, ammonia, sodium chloride, mineral dust and water.
According to the World Health Organization (WHO), 15 μg/m3 [micrograms per cubic meter] is the safety limit for PM2.5 over a 24-hour period. New York City saw up to 56 times the limit of PM2.5 on June 7.
This PM2.5 pollution is small enough to enter the lungs, causing health issues, especially in those that have pre-existing respiratory issues.
"We know that the longer the smoke is in the atmosphere—aging—there is a greater risk of chemical changes creating more free radicals that are highly reactive and have the potential to cause adverse health effects," Christopher Migliaccio, a research associate professor in toxicology at the University of Montana, previously told Newsweek. "As with anything in toxicology, the dose makes the poison and we are still assessing and defining this in these exposures."
In 2019, outdoor air pollution is estimated to have caused 4.2 million early deaths across the globe, according to WHO data. Of these deaths, 37 percent were caused by ischemic heart disease and strokes, with a further 11 percent due to respiratory tract cancer.
"On these elevated air pollution days, we'll see an increased number of visits to hospital," Matthew Adams, a professor at the University of Toronto and the director of its Centre of Urban Environments, told the BBC on Wednesday. "And the people that are visiting the hospital typically have a preexisting respiratory disease."
The poor air quality and low visibility caused flight delays at airports across New York City, Newark and Philadelphia.
New York City Mayor Eric Adams said in a Wednesday news briefing that NYC residents should stay indoors to avoid the health effects of the smoke. He also noted that these wildfires, and the subsequent smoke, are a direct result of the effects of climate change.
"While this may be the first time we've experienced something like this of this magnitude, let's be clear, it's not the last," Adams said. "Climate change has accelerated these conditions. We must continue to draw down emissions, improve air quality and build resiliency."
"New York City is clearly a national leader on public health and climate action," Adams added. "These dangerous air-quality conditions are clearly an urgent reminder that we must act now to protect our city, our environment and the future of our children."
New York City currently has an AQI of 72, as of the early hours of Friday. IQAir predicts that the air quality will improve further over the next few days, dropping below 50 by Monday. However, the blazes in Canada haven't finished: as of June 8, Quebec still had 136 active fires burning.
Do you have a tip on a science story that Newsweek should be covering? Do you have a question about wildfires? Let us know via science@newsweek.com.