New York City Will Start Paying People to Get Vaccinated as Delta Variant Cases Surge
New York City Mayor Bill de Blasio announced Wednesday the city will pay New Yorkers to get vaccinated against COVID-19.
People who get the shot at a city-run vaccination site will receive an incentive of $100 starting Friday.
"When you get your first dose you will get a $100 incentive," the mayor said at his daily briefing. "Can't get better than that."
The announcement comes as a push to get more New Yorkers vaccinated amid a resurgence of COVID-19 cases in the city caused by the highly transmittable Delta variant.
Only 54 percent of eligible New Yorkers are fully vaccinated, according to NYC Health. The city reported 922 more cases on Tuesday, which officials say is an increase in the daily trends. The Delta variant is responsible for 57 percent of July's reported cases.
"Not only do you get the $100, you then qualify to do everything else that's wonderful in this city, including the amazing concerts coming up. You can't go to those concerts unless you're vaccinated," de Blasio said.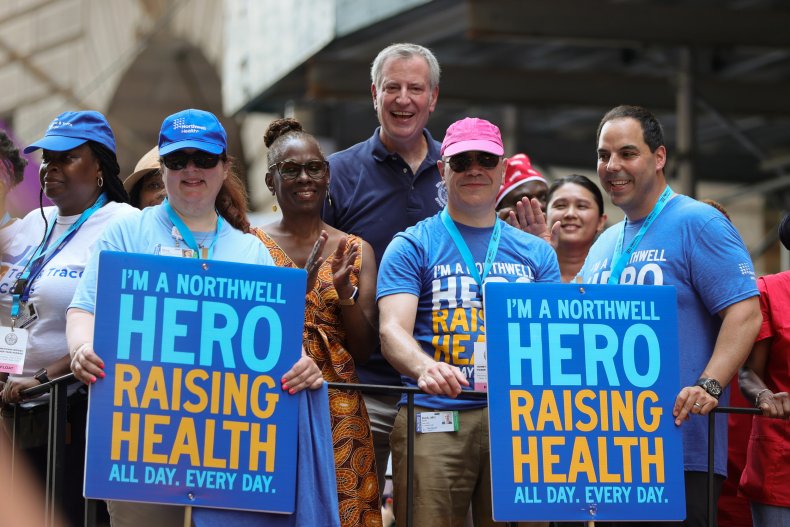 The mayor announced on Tuesday the concert that will require attendees to show proof of vaccination. The "We Love NYC: The Homecoming Concert" is set for August 21 in Central Park to celebrate the city's comeback and add to the incentives for getting vaccinated.
"This is going to be a historic, monumental moment for all New Yorkers and all Americans. I'll put it plainly, you're going to want to be here. This is truly once in a lifetime and we thank Clive Davis, Live Nation and Danny Meyer for all their efforts to help make this possible," de Blasio said. "This is a celebration of our city, of every working family who faced incredible challenges last year and overcame. This is a celebration for you."
The concert will offer free tickets and feature muli-genre performances from artists including Kane Brown, Jimmy Fallon, Journey, Bruce Springsteen, LL Cool J, Jennifer Hudson, the New York Philharmonic and 17 others.
De Blasio said four more concerts will be announced for the other boroughs in New York City sometime in the future.
The new incentives come after the mayor issued a mandate requiring city employees to get vaccinated or be subject to weekly testing starting the week of September 13. The mandate affects about 340,000 employees, including teachers, fire fighters and police officers.
Healthcare workers in New York City public hospitals are required to get the shot or get tested weekly starting August 2.
Newsweek reached out to de Blasio for comment but did not hear back by publication time.
This story was updated at 1:10 p.m. with additional information.