New York City's de Blasio for President in 2016? Not Likely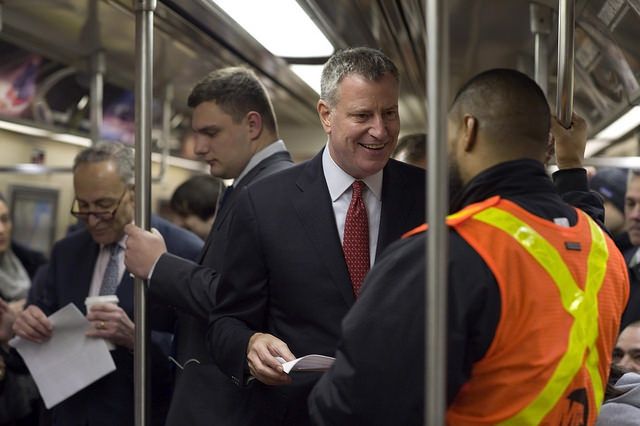 Updated | According to an unidentified "national party operative" who spoke to the New York Post, New York City Mayor Bill de Blasio is eyeing a 2016 presidential run, hoping to mount a progressive challenge to Democratic front-runner Hillary Rodham Clinton.
But the mayor insists he isn't interested in any office but the one he currently occupies. Asked for comment, his office directed Newsweek to an April 18 interview with WHO-TV's Dave Price. When asked if he was eyeing the White House in 2016, de Blasio responded, "No, I'm eyeing my own office. The only thing I'm doing is running for re-election as mayor of New York City 2017. That's what I'm eyeing."
Speculation about a possible presidential bid arose earlier this month, when the mayor's office announced de Blasio would travel to Nebraska and Iowa to promote awareness of income equality, a key issue in his bid for mayor in 2014. De Blasio's camp said the trip had nothing to do with the 2016 election, but for some, the timing was too perfect—the mayor missed Clinton, who was campaigning in Iowa, by mere days.
De Blasio, who was Clinton's campaign manager when she successfully ran for the U.S. Senate from New York in 2000, ruffled some feathers in the former first lady's camp when on Meet the Press with Chuck Todd he hesitated to offer Clinton his endorsement. "Are you for her now, unequivocally?" asked Todd, "Or do you want to wait to see if she takes your advice on moving to a more progressive agenda?
"I think like a lot of people in this country I want to see a vision and again that would be true of candidates on all levels," de Blasio replied. "It's time to see a clear, bold vision for progressive economic change."
"So you're technically not yet endorsing her?" Todd asked.
"No, not until I see—and again I would say this about any candidate—until I see an actual vision of where they want to go," the mayor said. "I think she's a tremendous public servant. I think she's one of the most qualified people ever to run for this office—and, by the way, thoroughly vetted, we can say that. But we need to see the substance."
Soon afterward, Democratic strategist Hilary Rosen, a longtime Clinton supporter, took to Twitter to say:
Rosen later tweeted that she "didn't mean to disrespect" the mayor:
According to the Post, New York's Working Families Party (WFP) would back de Blasio if he were to challenge Clinton. But WFP Director Bill Lipton told Newsweek, "Mayor de Blasio isn't running for anything but re-election as Mayor. We're big fans and we're pleased to keep him at City Hall." The WFP previously backed U.S. Senator Elizabeth Warren of Massachusetts, but Warren insists she isn't running in 2016.