A controversial pastor with a history of bashing the LGBTQ community, Erick Salgado, was appointed to be an assistant commissioner in the New York City Mayor's Office of Immigrant Affairs (MOIA) by Mayor Eric Adams.
Reverend Salgado, a socially conservative minister, ran for NYC mayor in 2013 criticized "mortal sins" like abortion and homosexuality as part of his platform, according to the New York Daily News. Salgado has made numerous anti-LGBTQ comments in the past sparking concerns of authority in his new role.
Salgado says his views have changed over the years and vowed to support all immigrants in the community.
"I am proud to serve in this administration under the leadership of Mayor Adams and share his long-held values of tolerance and inclusion," Salgado said in a written statement put out by the mayor's press office. "My views have evolved as society has evolved. As MOIA assistant commissioner, my mission will be to lift up immigrant communities across our city, including LGBTQ+ immigrants, who often face barriers to accessing needed services."
Salgado's change of heart hasn't impressed New York City's LGBTQ organizations.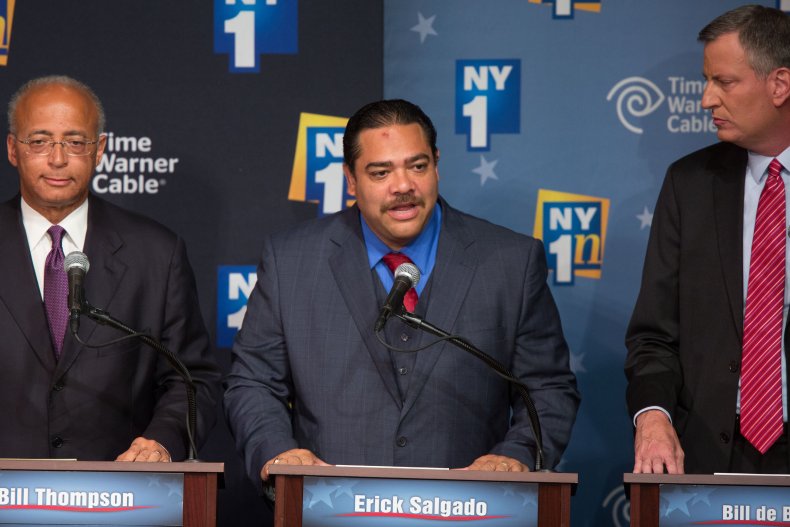 The Center, an organization that has served New York City's LGBTQ community since 1983, is worried about the mayor's decision to appoint Salgado. Senior Director of Advocacy & Community Engagement Trevon Mayers says NYC needs leaders who represent the entire community.
"With the appointment of Erick Salgado, we are extremely concerned about the message that this sends about the Mayor's support for the LGBTQ community," Mayers told Newsweek. "We need evidence of support from Mayor Adams and his administration, as leaders whose job is to serve all of us in a vibrantly diverse city like New York."
"Words about tolerance and inclusion are not enough—the community demands actions that prove a commitment to affirmation, dignity, and respect for LGBTQ New Yorkers."
Natalia Aristizabal Betancur, the deputy director of the nonprofit Make the Road New York, an organization that works with a large community of LGBTQ immigrants, says she worries about how Salgado's views will impact his work.
"As a queer immigrant it's really disturbing to me that the Adams administration would appoint someone who has made awful homophobic remarks for any agency in the city but even more so in MOIA," Aristizabal Betancur told THE CITY.
In 2016, Salgado made a transphobic tweet criticizing then-Mayor Bill de Blasio for enacting transgender-inclusive bathroom policies.
"Bill DeBlasio wants you to allow your daughters to share the bathroom with a transgendered," Salgado wrote. "Shame on him."
Salgado isn't the only New York City politician who has made anti-LGBTQ remarks who the mayor considered for a position in his administration.
Adams also planned on appointing Councilman Fernando Cabrera as the city's top mental health official. Adams changed his mind after Cabrera received backlash from LGBTQ activists.
New York State Senator Brad Hoylman, a Democrat representing Manhattan, voiced his opposition of Cabrera on Twitter. "As an LGBTQIA elected official, I'd be outraged if the Mayor of New York City — the world capital of tolerance and multiculturalism — appointed an avowed homophobe to any position in city government," Hoylman tweeted earlier this month.
Newsweek reached out to Salgado and Mayor Eric Adams' office for comment.