New York City's Pedestrian Death Rate Plummets Due To Coronavirus Lockdown
No New York City pedestrians have been killed in traffic accidents in nearly two months because of the coronavirus lockdown, city officials reported Tuesday—one of the few bright spots amid the pandemic.
New York Department of Transportation Commissioner Polly Trottenberg told the city council that New York has experienced 58 consecutive days without a pedestrian traffic fatality, the longest stretch since the city began keeping track of the statistic in 1983, according to an ABC News report.
The busiest city in the U.S. became nearly empty after city officials ordered all non-essential businesses to close in March, to help prevent the spread of the new coronavirus.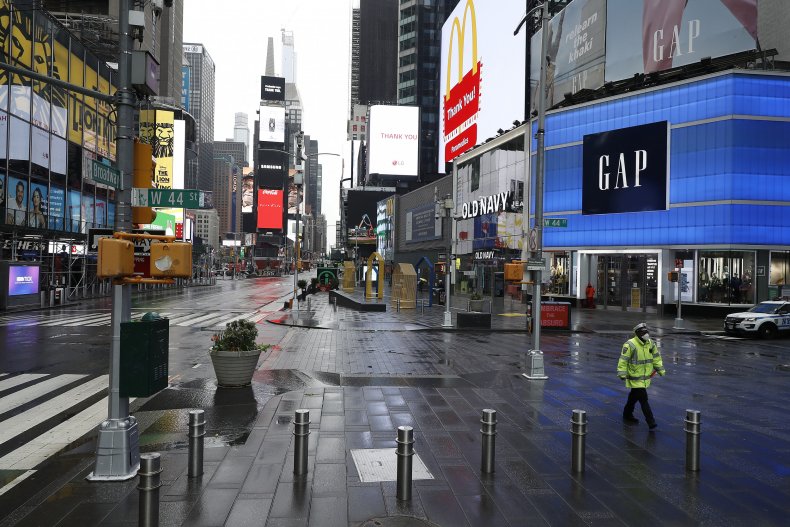 Despite the good news, Trottenberg warned that pedestrians still need to be careful while navigating the city streets.
"Unfortunately some drivers are taking advantage of our empty streets to speed recklessly, and we know we can never let up our vigilance," she said.
As a result, the NYPD had increased patrols and noted that violations for speeding had doubled since the start of the COVID-19 pandemic, The Independent reported.
"We are continuing to install 60 new speed cameras each month, and plan to meet our goal of standing up the largest speed camera program in the world," Trottenberg said at Tuesday's city council meeting
Last month, New York City Mayor Bill de Blasio announced that the city was closing 100 miles of streets to vehicle traffic to allow for more pedestrian and bicycle traffic during the COVID-19 pandemic in an effort to promote social distancing on city streets.
The announcement came nearly two weeks after the city council discussed a plan to close down 75 miles of city streets, to create more open space for social distancing, StreetsBlog reported.
"The City Council came forward with a vision for how we could open up more streets and do it in a way that's responsive to the core concerns of the NYPD over safety and enforcement," de Blasio said. "Over the next month, we will create a minimum of 40 miles of open streets. And as the crisis continues, the goal is to get up to 100 miles. We will focus first on streets in and around our parks."
Meanwhile, city officials said they will continue concentrating their efforts on growing Citi Bike—the city's bike-share program launched in May 2013—with a focus on the impacts of COVID-19, and that New York City as they continue opening city streets to pedestrian and bicycle traffic.
The city plans to open up 40 more miles of city streets to pedestrian traffic by the end of the month, de Blasio said in an ABC News report.