The Amazon Is Still on Fire, Environmental Groups Remind World Leaders Amid New York Climate Summit
As world leaders gather for the United Nations "climate action" summit in New York, the Amazon continues to burn.
Yet, type "Amazon Fire" into Google and these days and the most prominent results to crop up have very little to do with the South American rainforest, with e-commerce giant Amazon's new Fire 7 tablet taking precedence over the biome.
That is why environmental groups including Greenpeace seeking to shine a spotlight this week on the companies and governments driving deforestation in the rainforest in a bid to remind consumers that while the wildfires may have died down in recent weeks, the crisis is far from over.
In the hours before the UN climate action summit began, Greenpeace activists across the Atlantic scaled Burger King's flagship restaurant in London, England to hang a giant "wildfire banner" advertising Burger King as "flame-grilling the Amazon."
"The Amazon is STILL on fire," Greenpeace U.K. said in a tweet sharing an image of the banner, with a protester dressed in a spider monkey suit outside the restaurant. And yet, the organization said: "Burger King is STILL buying meat and animal feed from the companies responsible for the crisis."
"This is climate week and today, there will be a climate summit in New York," Richard George, Greenpeace's head of forests told Newsweek. As such, George said, "there will be any number of companies stepping up to make a round of commitments to ending deforestation or to talk about how much progress that has been made and it's nonsense."
Burger King, he said, has "been at the absolute back of the pack," when it comes to companies that have signed up to end deforestation, with the company continuing to buy from companies operating in Brazil.
Unlike a host of other companies that have committed to working to end deforestation by 2020, "Burger King turned up really late to the party and committed to do that by 2030...We don't have time for that."
In a statement sent to Newsweek on Tuesday, a spokesperson for Burger King said the company takes its "role as a responsible global citizen very seriously and [is] actively working on a number of priorities to build a more sustainable company, including clean ingredients, nutrition, packaging, recycling and sourcing of products."
"Our goal is to eliminate deforestation within our global supply chain and we know that we have more work yet to do with some of the industry's largest suppliers," the spokesperson said.
Despite Greenpeace's assertions, the spokesperson asserted that "any of our markets that source from Brazil are authorized only to work with approved beef and poultry suppliers who commit to not contribute to rainforest deforestation."
"Burger King U.S. does not source any beef or chicken from Brazil," they said. Meanwhile, "globally, we don't source any feed consisting of soy directly," they said.
"However, we understand the implications for our global supply chain and we aim to apply to feed the same standards that we apply to proteins," the spokesperson added.
Meanwhile, in a statement to PRWeek, a Burger King U.K. spokesperson said that the chain's U.K. locations only source 100 percent British and Irish beef" and have a "clear sustainable soy policy setting out the legal, environmental and social requirements of sustainably sourced soy."
"We work in partnership with our suppliers to ensure that our ingredients and raw materials are sourced in a sustainable way, with minimal impact to the environment," the spokesperson said.
George said that while Burger King has repeatedly ignored requests for action from Greenpeace, the company's U.K. leadership has invited the environmental group for a meeting to discuss its efforts to address deforestation.
Ultimately, however, while Greenpeace has specifically sought to target Burger King in its protest, George said "the corporate global community" as a whole "has absolutely failed and it's sickening when you see these CEOs standing up at these summits and talking up their good work."
It has been five years since countries and corporations around the world joined in a historic commitment to stop cutting down the world's forests. Yet, he said, the earth's trees are being cleared at alarming rates in order to satisfy demands for products such as beef, palm oil and soy, which is typically grown for animal feed.
In August, deforestation of the Brazilian Amazon hit its highest levels for that month since the present monitoring system began in 2015, with scientists warning that this year's clearcutting is likely to pass 10,000 square kilometers for the first time in 10 years.
The rampant deforestation of the rainforest comes as Brazil's President Jair Bolsonaro has sought to downgrade environmental protections in favor of supporting miners, ranchers and farmers seeking to exploit the land.
"Brazil is actually a bit more humid this year than it has been on average, so you actually would expect there to be fewer fires than there have been," George said.
"But, the Brazilian government has been giving active encouragement for farmers to develop," he said. "Bolsonaro is actively encouraging farmers through speeches to develop the Amazon, while also undermining the environment and regulatory bodies that are supposed to be protecting it...The language is not of protection, but of Brazil's right to deforest the Amazon."
In response to global concern over the wildfires that have torn through the Amazon, the U.S. House Foreign Affairs Subcommittee on the Western Hemisphere held a hearing earlier this month, where a series of experts outlined how the Brazilian government's policies were allowing widespread deforestation to take place.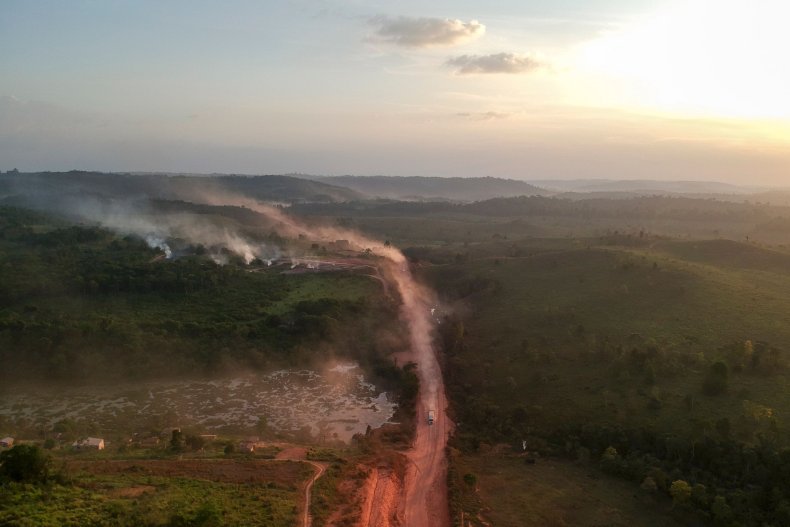 They also suggested that the U.S. could play a more significant role in working to prevent clearcutting by introducing financial incentives aimed at promoting preservation through existing programs like the Amazon Fund.
"Global warming is widely and correctly blamed for wildfires around the world. But the Amazon fires in Brazil represent a more specific government policy failure over many years, especially recently, as Brazilian public agencies that are supposed to curb man-made fires have been deliberately weakened," Dr. Monica de Bolle, director at the Latin American Studies Program at the School of Advanced International Studies at Johns Hopkins University said in her witness statement.
"These fires, set by farmers, cattle owners, and others, take place every year, but they have risen in number and severity in 2019—after President Jair Bolsonaro took office and set about fulfilling his campaign pledge to ease environmental, land use, and health regulations," she said.
"The international community should work with Brazil to revive and expand the Amazon Fund, created years ago but now in limbo, to raise international donations for investment in sustainable activities that protect the rainforest," de Bolle added.
George, of course, agrees. If governments and companies who attend summits like the one unfolding in New York on Monday were genuinely concerned about the future of the Amazon and, ultimately, the fate of humanity, he said, they would be doing more to "follow through" on their proclaimed plans to "protect the rainforest."
"They get the positive PR of signing up to bold initiatives," George said. But, "they very rarely follow through...When it comes to actually changing how they buy soya or how much meat they are using or where their palm oil comes from, they've been very slow on following through."
This article has been updated with a statement from Burger King.