New York Comic Con Begins Thursday: Who Will Be There and What to Expect
For many comic con lovers, this upcoming weekend has been on their calendars all year long.
On Thursday, October 6, New York Comic Con will begin at the Jacob K. Javits Convention Center in Manhattan, and the four-day convention will have a plethora of celebrity guests, screenings, panels and events with artists, writers and gamers for fans to enjoy.
The San Diego Comic-Con in July brought big reveals for shows like The Walking Dead and Disney and Marvel's Guardians of the Galaxy, so one can only hope the New York convention will bring the same excitement for other renowned series.
Moon Knight and Dune star Oscar Isaac and Marvel's Winter Soldier, Sebastian Stan, are the guests of honor this year, and other celebrities who will be in attendance include Shadow and Bone's Ben Barnes, Brendan Fraser, Back to the Future's Christopher Lloyd, Daniel Radcliffe and Evan Rachel Wood of this year's Weird: The Weird Al Yankovic Story, Diane Guerrero, Drew Barrymore, James McAvoy, Halloween's Jamie Lee Curtis, celebrity couple Ice T and Coco and many others.
Outlander's Sam Heughan will even be hosting a Sunday Morning Tea With Two Highlanders & a Lord, along with co-stars David Berry, Diana Gabaldon and Duncan LaCroix.
Marvel will be showing out with Black Panther: Wakanda Forever promos and other events to mark the 60th anniversary of Spider-Man, and DC Comics will be doing fun promos to celebrate the 30th anniversary of Harley Quinn, the female antihero known from the Batman and Suicide Squad comics and movies.
Of course, Comic Con wouldn't be Comic Con without stellar cosplay; fans of shows, movies, games and television shows often go all out in costumes of their favorite characters or icons.
Around 200,000 visitors are expected to attend the four-day convention, a contrast from last year's turnout when COVID-19 still capped the number of guests in attendance to 150,000.
Tickets are available on the New York Comic Con website, and if you can't attend in person, there are also tickets available to take part virtually and watch screenings or celebrity panels from the comfort of your home.
The convention runs from Thursday to Sunday, with the show floor open from 10 a.m. to 7 p.m. the first three days and will close by 5 p.m. on Sunday. Panels also open each morning at 10 a.m., and will run until 10 p.m. on Thursday, Friday and Saturday, but will close by 5 p.m. on Sunday.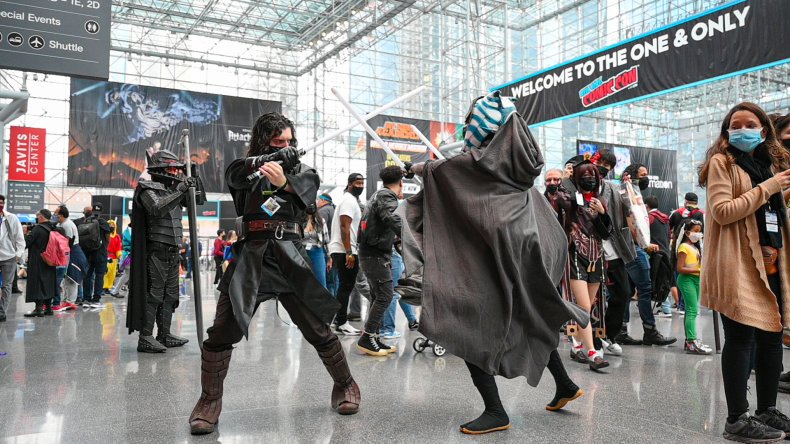 Among the originally scheduled guests featured this weekend was artist Kim Jung Gi, however, a statement was released on Jung Gi's social media on Wednesday morning, stating that the acclaimed comic book artist passed away suddenly on his way to the convention.
"After finishing his last schedule in Europe, Jung Gi went to the airport to fly to New York, where he experienced chest pains and was taken to a nearby hospital for surgery, but sadly passed away," a Twitter statement read.
New York Comic Con tweeted on Wednesday, "We're so sad to hear of Kim Jung Gi's passing. He was a pioneering visual artist. You couldn't watch him draw without being in complete wonderment. More inspiring was his appreciation & kindness towards his fans & his peers. Our hearts are with his friends & family."
Newsweek reached out to a representative for New York Comic Con for comment.