New York Comic Con Funko 2019 Exclusives: Our 11 Best Figures
New York Comic Con 2019 runs Thursday, October 3 to Sunday, October 6. Last year, over 250,000 pop culture addicts stormed the halls of the Javits Center in New York City's West Side. It's hard to argue that NYCC is without a doubt, the East Coast's largest gathering of super fans of all varieties. But all these people have one thing in common: they all know where the Funko booth is.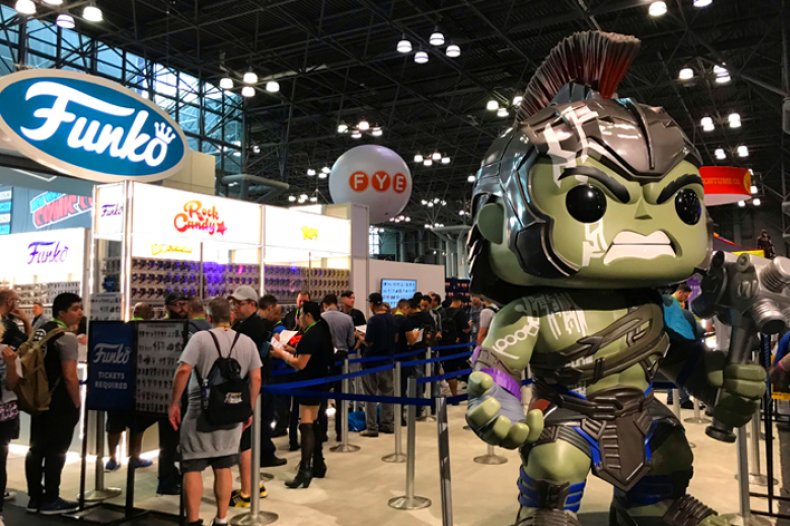 It's a hard booth to miss , as it can usually be found with a massive line that snakes around the show floor, which in itself is an attraction all its own. If you miss the line somehow, feel free to look out for multiple, giant sized Funko Pops that surround the booth like royal guards. The people in line are the lucky ones. Lucky in fact, that they were all Fan-Verified and entered for a chance to win a lottery ticket, offering them the opportunity to wait in this prestigious line to purchase any of the exclusive Funko items they are drooling over. If you don't win a chance yourself, you will have plenty of time to perhaps make a new friend in line who can do some shopping for you. Just be sure to offer to purchase them a Pop or two for their troubles.
NYCC will of course, have a large variety of exclusive Funko items that you will only be able to get at this years Comic Con. If you miss out, there will be other merchandise that can be purchased at different outlets at a later date. But if you need them now, then this is your chance. Deciding which exclusives to purchase can be a very daunting task. When faced with such pressure, it's easy to make a mistake and grab something you don't want. In order to help you out, we have highlighted some of our personal favorite Funko items that will most likely fly off the shelves this year.
The Office
It's everyone's favorite Office dwellar, Dwight! This may be the most meta Funko Pop ever, as Dwight will be holding a bobble-head version of himself. Look at his confidence.
Daria
Go back to the late-90's with the Exclusive Daria Pop. Show off how jaded you are to be living your boring, suburban lifestyle.
Back to the Future
Do your best Darth Vader impression as you tell a fantastic story to convince your father to do your bidding. It's all about the outfit and your accessories, with the noted Walkman and hair dryer.
Samurai Jack 2-Pack
This two-pack of Samurai Jack and his nemesis Aku will keep their battle going on your shelf. Will Jack defeat Aku before he takes over the rest of your collection?
The Simpsons Treehouse of Horror
Some of the best Simpsons episodes are the Treehouse of Horror ones that grace our screens but once a year. Snag an Evil Groundskeeper Willie and a Vampire Mr. Burns, but just don't fall asleep around them.
Disney/Pixar UP
With a new addition to the Funko Pop Town line, The UP house is touching down with Kevin by its side. Hopefully, you don't cry within the first 20 minutes of owning this Pop.
Overwatch
Fitting that Hammond in his Biohazard Wrecking Ball from Overwatch should be this year's offering as a 6" Super Sized Pop. Hopefully he doesn't roll off your shelf into battle.
The Warriors!
A Baseball Fury from the Warriors! makes his debut in Pop form. Be sure to give him his own turf so you don't have to watch out for a rumble.
Batman 80 Years
It seems every year that Batman gets a special color palette, and this year he's in a shocking pink chrome. Celebrate 80 years of the caped crusader in style with this exclusive Pop.
Jay and Silent Bob
Jay and Silent Bob show off their superhero alter egos, Bluntman & Chronic. If they offer to sell you anything, it's best to leave the Quick Stop right away.
Avengers:Endgame
Iron Man as seen in the shocking scene of this past year's Avengers: Endgame movie has the chance to be the most sought after Pop this year. Snap your fingers, and he may just be wiped from existence.
These are just a few of our favorites, but there will be over 50 different exclusive Funko items for sale this year at New York Comic Con. Let us know if you won the lottery and have some of these items in your collector sights. Which Pop is your favorite for 2019? Let us know in the comments below.