Almost Any Realistic Coronavirus Scenario Will Overwhelm New York Hospital Capacity, Governor Andrew Cuomo Warns
The time has come and gone to flatten the curve of new coronavirus cases in New York, so officials have no choice but to find a way to expand hospital capacity, Governor Andrew Cuomo said Thursday.
"Almost any scenario that is realistic will overwhelm the capacity of the current health care capacity—a little reality," he said.
During Thursday's press briefing, Cuomo said the goal is still to flatten the curve as much as possible, but at this point, there's no way to get it low enough so that hospitals will have the ability to respond properly. So, officials are looking at ways to expand hospital capacity by turning current structures into medical facilities.
The U.S. Army Corps of Engineers are setting up temporary hospitals at the Javits Center in New York City, Stony Brook University in Stony Brook, the Westchester Convention Center and the State University of New York campus in Old Westbury. In addition to those four sites, Cuomo said, officials are scouting new locations across the downstate area.
The goal is to have a 1,000-plus overflow facility in all five boroughs of Manhattan, as well as the neighboring counties of Nassau, Suffolk, Westchester and Rockland.
New York is grappling with the largest outbreak of new coronavirus cases in the country. Of the 69,246 cases in the United States, more than 33,000 are in New York, according to a tracker maintained by Johns Hopkins University. New York also has the highest death toll of any state and at least 353 people have died.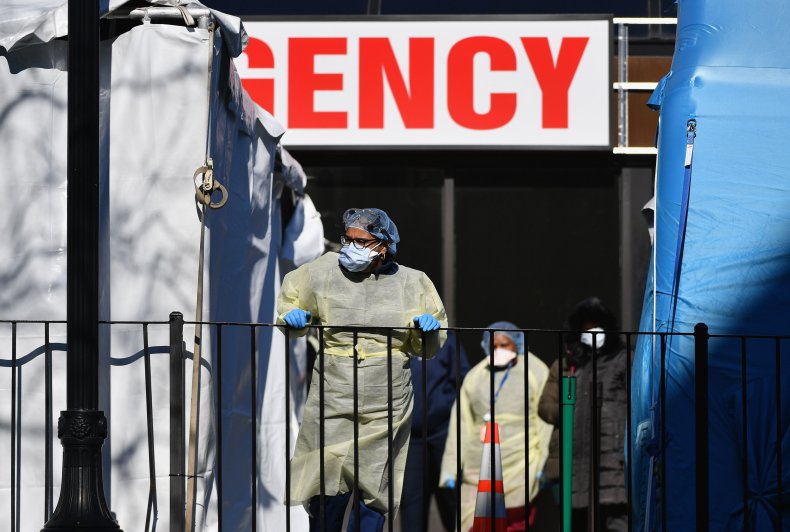 Most people will be able to recover without significant medical intervention, but Cuomo said about 15 percent of people will require hospitalization. The majority of hospitalizations will likely involve vulnerable populations, such as people over 65 or those with underlying health conditions or compromised immune systems.
In an attempt to flatten the curve or reduce a rapid spike in cases, Cuomo implemented measures to limit human interactions. Restaurants and bars were restricted to take-out and delivery service, gatherings of any size were prohibited and non-essential businesses were closed. Cuomo's approach wasn't solely focused on flattening the curve, though, and he said the two-pronged strategy also included increasing hospital capacity.
Aside from converting structures into medical facilities, which could include dorms and hotels, hospitals are required to increase their capacity by 50 percent but should try to increase it by 100 percent. Between the hospitals and overflow facilities, officials are hoping to have a bed capacity of 140,000.
The beds aren't enough on their own, though, and New York still needs staff to tend to patients. Cuomo asked former doctors and nurses to sign up to be part of a reserve workforce that could step in to help with an influx in patients and take over for when medical professionals fall ill or need a break from working the hours this outbreak requires. As of Thursday, 52,000 people answered his plea and volunteered to help.
Shortages in personal protective equipment, such as masks and gloves, are no longer a primary concern, and Cuomo said the state has enough for the immediate future. Ventilators, though, are in short supply. Along with shopping for more ventilators, officials approved technology to allow one ventilator to serve two patients, which isn't "ideal," but is "workable," and are converting anesthesia machines to ventilators.
Adding to the existing shortages is the increased length of time a person with COVID-19, the disease caused by the virus, needs a ventilator. In comparison to the average three to four days a person without the disease would need one, a COVID-19 patient requires a ventilator for up to 21 days. Some patients have been on ventilators for up to 30 days.
"The longer you are on a ventilator, the more likely you're not going to come off the ventilator," Cuomo said. "Those are the people who we are losing ... that is the natural consequence."
The governor warned on Wednesday that New York hasn't seen the worst of the outbreak and on Thursday characterized this moment in history as a "life moment." While a tough situation can bring out the worst in people, Cuomo said the outpouring support for New York from across the country and world has been "inspiring."
"It gives me such strength and such inspiration but I don't want to sugarcoat the situation. The situation isn't easy but easy times don't forge character," Cuomo said. "It's the tough times that forge character and that's what we're looking at right now."