Suspected New York Coronavirus Hate Crime Investigated after Man Sprays Air Freshener at Asian Passenger
Police have launched an investigation after a man sprayed an Asian man with a product on the New York subway in a suspected hate crime amid the outbreak of the new coronavirus.
A video of the incident shared on Facebook shows a man in a train carriage ordering an Asian man to move away from him. The footage was shot on an N train in Sunset Park, Brooklyn, at around 9 a.m. on Wednesday, the New York Post reported.
The man is heard shouting "tell him to move" about the Asian man, prompting someone to ask why.
"Because he's standing right f**king next to me. Tell him to move. Tell him to move," the man shouts.
The culprit then takes what appears to be air freshener and sprays the product in his victim's direction.
In another video shared on Facebook by the same user, the Asian man asks, "Why is that? What can't I sit next to you?"
The man responds, "You better move. You're being dumb right now. You're being dumb."
Chief of Detectives Rodney Harrison told a crime briefing on Thursday, according to the Post, that police were called to the scene, but they were unable to take a report as the train had left the station by the time they arrived.
"We are investigating it right now. Our Hate Crimes Task Force is reviewing the incident and it's an ongoing investigation," said Harrison.
The Metropolitan Transportation Authority shared the footage alongside a caption listing ways to prevent the spread of COVID-19, adding, "What doesn't work: 1. Racism."
The incident came after the director general of the World Health Organization (WHO) Dr. Tedros Adhanom Ghebreyesus last month called for "solidarity, not stigma" in the battle against COVID-19.
A WHO situation report last month warned that stereotypes can hinder efforts to stop the spread of COVID-19, "Since the emergence of COVID-19 we have seen instances of public stigmatization among specific populations, and the rise of harmful stereotypes.
"Stigmatization could potentially contribute to more severe health problems, ongoing transmission, and difficulties controlling infectious diseases during an epidemic."
This is not the first example of an individual of East Asian decent being targeted since the new coronavirus emerged from the central Chinese city of Wuhan, Hubei province, late last year.
On February 24, a Singaporean man of Chinese decent was a victim of a "racially aggravated assault" in central London, U.K., CNN reported.
Detective Sergeant Emma Kirby, the officer assigned the case said in a statement, "This attack left the victim shaken and hurt. There's no room on our streets for this kind of violent behavior and we are committed to finding the perpetrators.
Dr. Ann Marie Kimball, professor emeritus at University of Washington School of Medicine stressed in an interview with KNKX,"[COVID-19] has nothing to do with being Chinese. It's not a Chinese virus. In fact, there are more cases and deaths outside of China now than there were in China–new cases, not overall.
"It's really important for the average person to understand that it's not Chinese people who give you this. People tend when they're afraid and misinformed to fall back on prejudice, and I think that's really important for us to be conscious of."
As show in the map by Statista below, COVID-19 has spread to over 60 countries and territories around the world, including the U.S..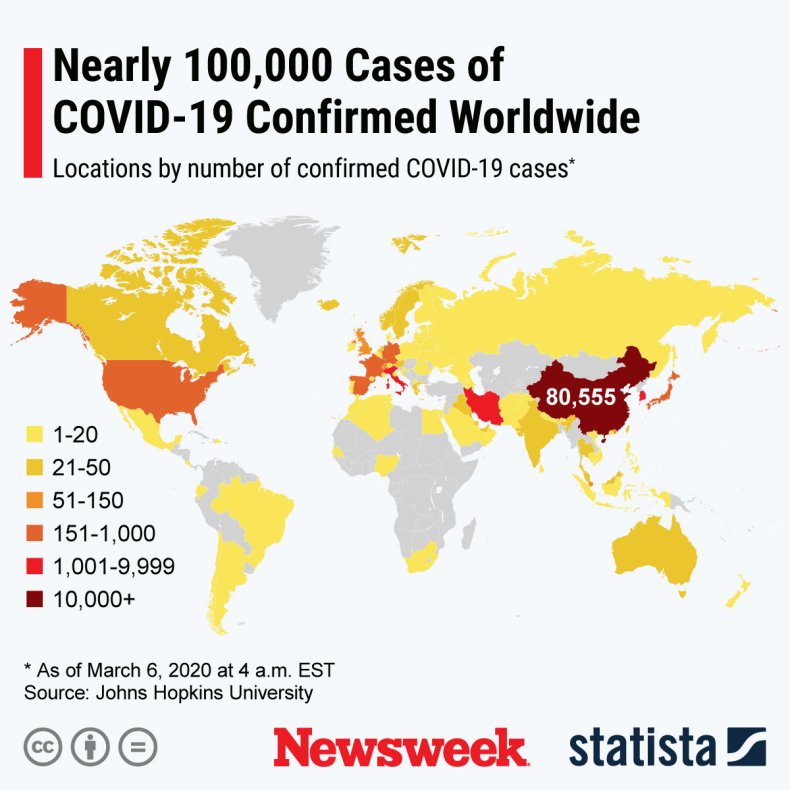 This article has been updated with a map.