New York Coronavirus Update: Trump Says Quarantine of Tri-State Area Not Necessary, NYPD Officer Dies From the Disease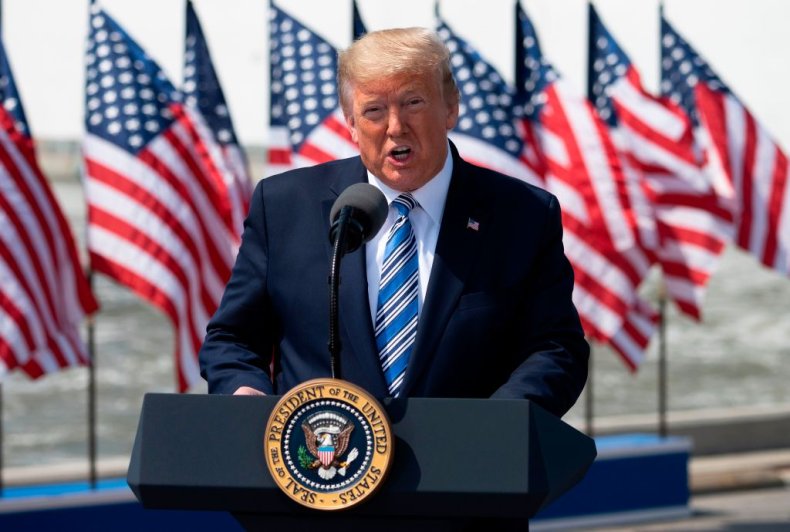 President Donald Trump tweeted Saturday evening that a quarantine of New York, New Jersey and Connecticut will not be necessary amid the coronavirus pandemic, after he had previously indicated that he would consider one.
"On the recommendation of the White House CoronaVirus Task Force, and upon consultation with the Governor's of New York, New Jersey and Connecticut, I have asked the@CDCgov to issue a strong Travel Advisory, to be administered by the Governors, in consultation with the...Federal Government. A quarantine will not be necessary. Full details will be released by CDC tonight. Thank you!" he wrote.
Earlier in the day, Trump had tweeted that he would be considering a quarantine of New York, New Jersey and Connecticut in order to prevent the spread of the disease into other states: "I am giving consideration to a QUARANTINE of developing "hot spots", New York, New Jersey, and Connecticut. A decision will be made, one way or another, shortly."
The president also delivered remarks in Norfolk, Virginia to see off a U.S. Navy medical ship bound for New York in response to the crisis.
"We will stop at nothing to protect the health of New Yorkers and the health of the people of our country in their hour of need. I also want to remind everyone about the CDC's latest guidance: If you are from the New York metropolitan area and you travel elsewhere, we need you to self-quarantine for 14 days to help us contain the spread of the virus.
"And I am now considering — we'll make a decision very quickly, very shortly — a quarantine, because it's such a hot area, of New York, New Jersey, and Connecticut. We'll be announcing that, one way or the other, fairly soon. This does not apply to people such as truckers from outside the New York area who are making deliveries or simply transiting through. It won't affect trade in any way."
In response to a possible quarantining of his state, New York Governor Andrew Cuomo said at his press conference that such an idea was not brought up in the conversation that he had with the president. "I don't even know what that means," the governor said. "I don't know how that could be legally enforceable, and from a medical point of view, I don't know what you would be accomplishing. ... I don't like the sound of it."
New York has become the epicenter of the novel coronavirus pandemic in the United States, with 52,318 confirmed cases and 728 deaths, according to Cuomo's data released during the press briefing Saturday. Cuomo said that the state is expecting the apex, or the largest influx of patients, during the novel coronavirus pandemic to occur in 14 to 21 days. He also announced that the state's presidential primary date will be moved from April 28 to June 23, The New York Times reported.
"I don't think it's wise to be bringing a lot of people to one location to vote," he said. "A lot of people touching one doorknob, a lot of people touching one pen, whatever you call the new device on the ballots, so we are going to delay that and link it to an election that was previously scheduled on June 23rd."
Additionally, Dermot Shea, New York City's police commissioner, announced Saturday that the department has lost three members due to the novel coronavirus. Among them was Detective Cedric Dixon, the first New York City police officer to die as a result of COVID-19, The New York Times earlier reported.
"In the last 48 hours, we've lost 3 members of the NYPD family. Today we are all mourning and hurting together, as a family. When we emerge from this crisis, let us #NeverForget the men and women who made the ultimate sacrifice," Shea tweeted.
Meanwhile, New York City Mayor Bill de Blasio announced Saturday that the United Nations donated 250,000 surgical masks in the fight against the disease. There have been over 29,000 positive cases of COVID-19 in New York City, including 517 deaths as of Saturday morning.
"Our healthcare workers are heroes - plain and simple. We must do all we can to they protect them," said de Blasio in a press release. "I thank the United Nations for their much needed donation. New Yorkers and the international community stand together in this fight."
The day before, de Blasio called for a rent freeze in attempt to alleviate some of the financial burdens New Yorkers across the city are facing. The rent freeze would allow qualifying residents to continue to pay their current rent amounts next year.
"The City will work with the State to suspend the Rent Guidelines Board process for the coming year, which will maintain all regulated rents at their current level for 2.3 million tenants in nearly 1 million stabilized units across the City," the city's website stated.
The mayor also issued a warning to religious facilities that continue to allow parishioners to congregate for worship services.
"After an initial warning, NYPD will be enforcing the suspension of religious services this weekend and will impose fines and other penalties, including building closure, on those who are not adhering to the guidance," the website states.
State officials have received federal approval to construct four new potential hospital at sites at designated sites around the New York City to be constructed by the U.S. Army Corps of Engineers to increase hospital bed capacity in the city by 4,000 beds--in addition to the four makeshift hospitals already being constructed in downstate New York.
"This is not a sprint, my friends, this is a marathon," said Cuomo Saturday. "You have to gauge yourself. You have to understand that this is going to be a long-term situation, and even though it's so disruptive, and so abrupt, and so shocking, it's also long-term. And each of us has to do our own part to adjust to it. It is a new reality. It's a shocking new reality. There is no easy answer. We're all working our way through it, and we all have to figure out a way to get through it."
New Jersey Governor Phil Murphy announced on the same day that his state saw 2,289 new positive coronavirus cases, bringing the total to 11,124, including 140 deaths.
As of Saturday evening, there have been over 121,000 confirmed cases of the coronavirus in the United States, including 2,000 deaths, as reported by the Johns Hopkins University tracker.
Updated 8:35 PM ET