New York Coronavirus Update: Cuomo Extends Stay-at-Home Order Through April 15: 'We Have Made It Through Far Greater Things'
New York State's "PAUSE" policy will persist for at least two more weeks, Governor Andrew Cuomo announced during a press conference Sunday.
In its current state, the extension will enforce New York's stay-at-home mandate through April 15, though the directive's permanent end date is not fixed. Cuomo explained that termination of the executive order—which required non-essential business closures and widespread social distancing statewide, starting March 22—will be reevaluated on a bimonthly basis and determined by the ongoing spread of COVID-19.
"This is not going to get better soon," Cuomo told cameras at Sunday's briefing, before reassuring New Yorkers who "feel under attack" by the recent proliferation of coronavirus cases and surge of regulations that have accompanied it, "we are going to make it through this."
"Look, this is New York," he said. "We have made it through far greater things. We are going to be okay. We specialize in stamina and strength and instability. And that's just what we're doing now."
As of Sunday, the current number of positive cases of coronvirus in New York State is over 59,000, including 965 deaths.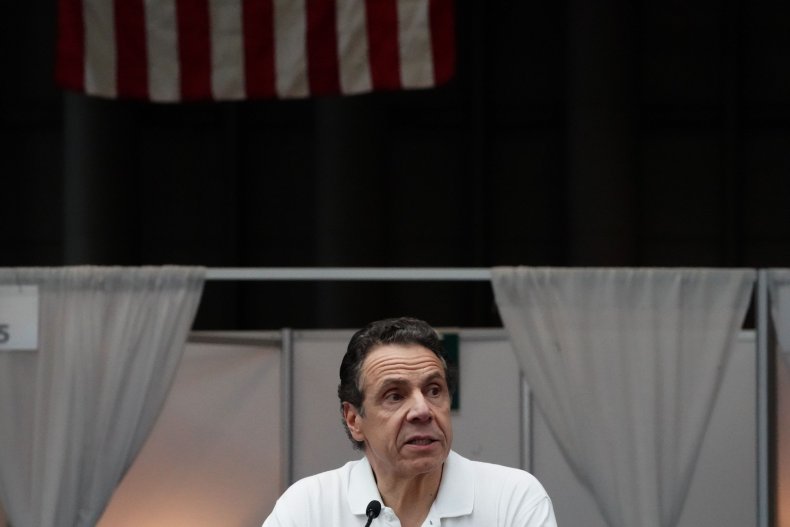 Sunday's press conference trailed a strict travel advisory from the Centers for Disease Control and Prevention (CDC) one day earlier, which asked all residents from New York, New Jersey and Connecticut to abstain from non-essential domestic travel for 14 days, effective immediately. The issuance does not apply to those employed by "critical infrastructure industries," such as transportation public health, financial services and food supply.
Earlier on Saturday, President Donald Trump notified the public of a possible quarantine across all three states in a tweet, which read, "I am giving consideration to a QUARANTINE of developing 'hot spots', New York, New Jersey, and Connecticut. A decision will be made, one way or another, shortly." Cuomo opposed the suggestion, telling CNN such measures would cause "chaos and mayhem."
A follow-up tweet from Trump preceded the CDC's travel advisory, stating that a quarantine "will not be necessary" in light of the then-upcoming guidelines.
The tri-state area—New York City, especially—has been seen as the coronavirus' new global epicenter. Roughly 50 percent of the United States' cases have been diagnosed in New York State (almost 60,000 of 135,000 confirmed cases), whose death count has risen more than 200 since Saturday and now approached nearly 1,000 total fatalities. As of Sunday morning, more than 32,000 COVID-19 patients resided in New York City alone, including 678 deaths, per the NYC Department of Health.
The growing burden on healthcare providers both city and statewide has raised concerns about New York's resources. Cuomo and New York City Mayor Bill de Blasio have expressed apprehension about supply shortages such as ventilators as the pandemic intensifies.
"We have enough supplies to get to a week from today with the exception of ventilators," said de Blasio during CNN's "State of the Union" segment Sunday, in which he noted that the city expects a "sharp escalation" of cases in the coming weeks. "We're going to need at least several hundred more ventilators very quickly."
During a coronavirus briefing at City Hall later on Sunday, de Blasio reported that the city received 1,400 ventilators yesterday and distributed them to local hospitals. Looking forward, he requested 400 ventilators and additional medical staff from the federal government by April 1 and said the city will require an influx of 15,000 ventilators as the pandemic progresses.
Cuomo similarly apprised the public of a "rolling apex" with regard to COVID-19's viral trajectory. Praising the courage of New York's first responders, he urged hospitals to work together in confronting the illness' continued impact. "This is going to be all hands on deck. This is going to be everybody helping everybody else," he said. "One hospital gets overwhelmed, the other hospitals have to flex to help that hospital and vice versa."