A New York county is relocating autopsies to another hospital after its chief medical examiner reportedly refused to get vaccinated against COVID. The state issued an order on August 28 requiring health-care workers at hospitals and nursing homes to receive at least the first dose of a COVID vaccine by September 27.
Rensselaer County officials said on Friday that Dr. Michael Sikirica rejected the vaccine, which is forcing the county to move the human bodies to a different hospital than the one normally use, the Times Union reported.
Officials, prosecutors, and police officers will now have to navigate their way to Glens Falls Hospital, about 50 miles away, instead of the much closer Albany Medical Center.
Although he is not employed at Albany Medical Center, Sikirica performs autopsies for the county there. He's also performed autopsies in Albany, Schenectady, Saratoga, Warren, and Washington counties, according to the Times Union. District attorneys rely on him at murder trials, where he describes the way homicide victims died.
Rensselaer County spokesman Richard Crist confirmed to Times Union that Sikirica is not performing autopsies in Albany. Crist added that the county does 100 to 120 autopsies per year.
Newsweek contacted the Albany Medical Center and Rensselaer County for comments but didn't receive a response by the time of publication. Glens Falls Hospital was unavailable, but spokesman Matt Markham told the Times Union, "Consistent with our policy, physicians who do provide services on our campus must be vaccinated."
The state's vaccine mandate for health-care workers prompted some doctors and nurses to take legal action against the state.
Last month, a group of 17 health-care workers sued the state for violating their constitutional rights by not allowing them to be exempted from the vaccine mandate due to religious reasons.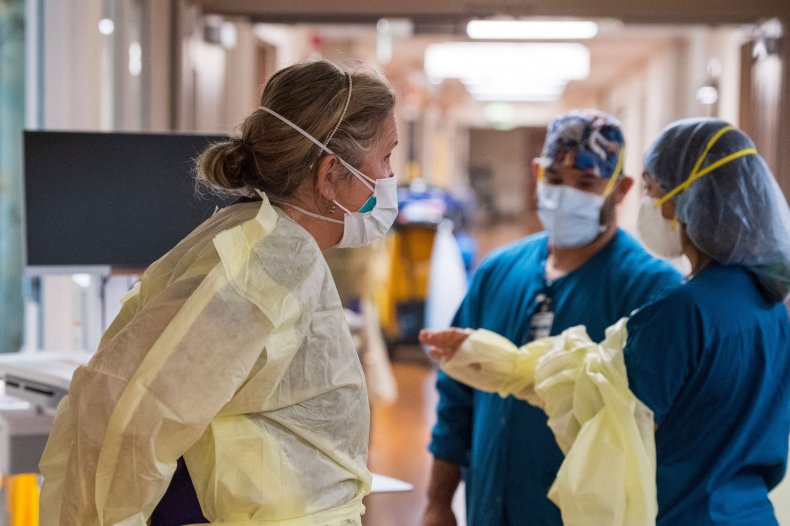 "The same front line health care workers hailed as heroes by the media for treating COVID patients before vaccines were available, including the Plaintiffs herein, are now vilified by the same media as pariahs who must be excluded from society until they are vaccinated against their will," the lawsuit said.
In response to the lawsuit, Judge David Hurd issued an order that temporarily blocked New York from enforcing the vaccine mandate and gave the state until September 22 to respond to the lawsuit in federal court in Utica. Later in September, Hurd canceled oral arguments and extended the temporary block until October 12, according to ABC News.