New York Daily News Calls Out Andrew Cuomo's 'Obstinacy' for Undercounted Nursing Home Deaths
The editorial board of the New York Daily News called out New York Governor Andrew Cuomo Friday for his "obstinacy" in handling the pandemic, after the attorney general said the state under-reported coronavirus deaths in nursing homes by the thousands.
On Thursday, New York Attorney General Letitia James released a 76-page report that found it was likely the Cuomo administration failed to report nursing home deaths by as much as 50 percent.
Hours later, health department officials made available new public data to corroborate these claims, adding over 3,800 deaths to the nursing home toll, The New York Times reported. The newly reported deaths increased the overall toll related to nursing home facilities to a total of 12,743—or more than 40 percent.
The new report, however, does not change the total number of COVID-19 deaths in the state—it just recalculated where those deaths took place.
Some critics have since accused Cuomo of attempting to "defend his record," by under-reporting nursing home deaths that may have been linked to policies the state carried out early on in the pandemic.
"There goes a deeply disingenuous talking point Gov. Cuomo repeated ad nauseam to defend his record, based on information he knew to be misleading: that New York is 46th out of 50 states in nursing home deaths as a percentage of all COVID fatalities," the Daily News wrote in the op-ed.
"James's report punts on a question many have for months sought to answer: whether state guidance in late March ordering nursing homes to accept patients regardless of whether they tested positive for COVID led to more deaths," the article added.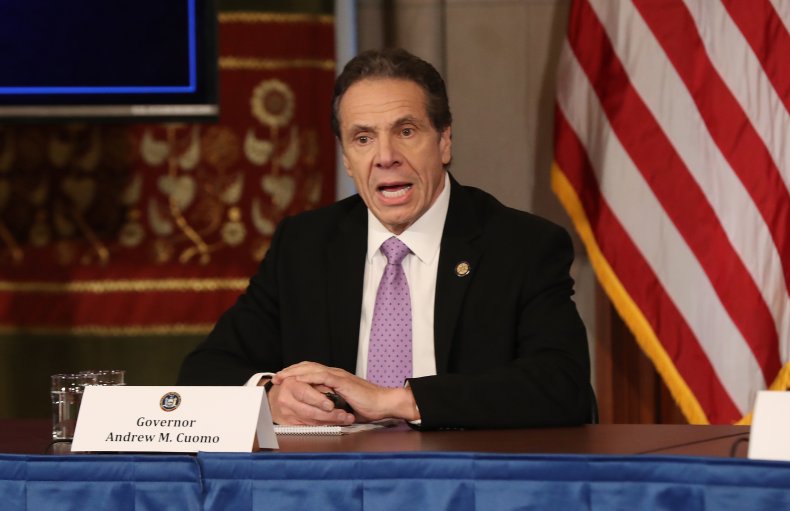 As hospital capacity became increasingly threatened in March, Cuomo implemented a policy that allowed nursing homes to bring in patients who had tested positive for COVID-19 or were suspected to be infected.
The policy stated that those responsible for discharging patients in hospitals were required to confirm that any nursing home patient was "medically stable for discharge" before leaving the hospital—but added that nursing homes "are prohibited from requiring a hospitalized resident who is determined medically stable to be tested for COVID-19 prior to admission or readmission."
The policy was later reversed in May, when Cuomo declared that all nursing home residents must test negative before re-entering a facility. But the effects of the two-month long policy has continued to be a source of criticism.
However, a spokesperson for Cuomo's press office directed Newsweek toward a statement by New York State Health Commissioner Dr. Howard Zucker, which notes that the policy fell in line with federal health guidelines.
"The State Department of Health's March 25 advisory memo was consistent with federal [Centers for Medicare & Medicaid Services] CMS and CDC guidance, and in fact was helpful in communities where hospitals had bed shortages during the initial surge. Additionally, the OAG report found no evidence that any nursing home lacked the ability to care for patients admitted from hospitals," Zucker wrote.
Zucker also added that James' report found "that there was no undercount of the total death toll from this once-in-a-century pandemic."
"The OAG affirms that the total number of deaths in hospitals and nursing homes is full and accurate. New York State Department of Health has always publicly reported the number of fatalities within hospitals irrespective of the residence of the patient, and separately reported the number of fatalities within nursing home facilities and has been clear about the nature of that reporting," he wrote.
"The word 'undercount' implies there are more total fatalities than have been reported; this is factually wrong. In fact, the OAG report itself repudiates the suggestion that there was any 'undercount' of the total death number," he added.
Even so, James' report has stirred backlash among state representatives and officials who believe the state's coronavirus response should be investigated further.
"The attorney general's report represents a truly independent, evidence-based analysis of nursing home impacts during the pandemic. The findings, while disturbing, are unsurprising—they validate what many of us already suspected and validate what my investigative team and I have been piecing together since our legislative hearings in 2020," State Senator James Skoufis, a Democrat representing New York's 39th District, told Newsweek on Thursday.
"The attorney general's report further underscores the need for transparency and accountability within the Department of Health," he added.
Bill Hammond, a senior fellow at the New York–based nonpartisan think tank Empire Center for Public Policy, previously told Newsweek that James' report confirmed his suspicions about nursing home deaths.
"The attorney general's report confirms that the Health Department is grossly underreporting COVID-19 deaths in nursing homes, leaving thousands uncounted, as the Empire Center and other critics have warned for months," Hammond said.
"The report also raises new questions about the limited data that the department releases, which omits residents who were transferred to hospital before dying. The attorney general found evidence that even the DOH's count of in-facility deaths is substantially lower than the true toll," he added.