New York District Attorney Stops Neighbor From Setting Mom's House on Fire
A district attorney in Brooklyn, New York, acted to stop a man who allegedly tried to set his mother's home on fire.
Brooklyn District Attorney Eric Gonzalez was at his mother's home on Tuesday evening when the incident occurred, the New York Daily News reported.
The suspect, Shashi Rattan, 30, was a neighbor of Gonzalez's mother, Carmen Diaz, who is 83 years old and lives in Brooklyn.
According to the Daily News, Rattan allegedly set a mattress ablaze in a driveway around 9:45 p.m. on Tuesday evening. He then set fire to a lighter cube, which is used to light barbecue charcoal.
Rattan allegedly broke one of Diaz's windows and threw the cube inside, the newspaper reported.
Gonzalez saw Rattan attempting to climb through the window and prevented him from getting inside. The district attorney cut his arm during the incident.
"He got a cut on his arm, but no big deal," Diaz, told the newspaper.
"I'm in disbelief. I'm very happy I wasn't at home. I was babysitting for my daughter."
In a statement to Newsweek on Thursday, Gonzalez's spokesperson said: "DA Gonzalez confronted an individual who broke into his mother's house and attempted to start a fire."
"The DA was able to extinguish the incendiary device and prevented the intruder from entering the residence. He is grateful for the response by the NYPD and the FDNY and thankful that everyone who was present is safe," they added.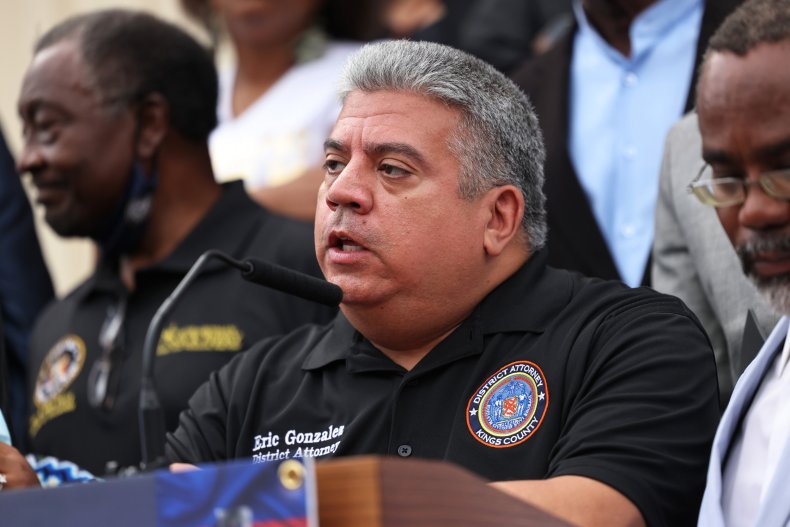 The spokesperson also said that the case will now be handled by a special prosecutor.
Rattan was arrested at the scene and has been charged with attempted murder, arson, attempted arson, burglary and criminal mischief. The Daily News reported that Rattan was suspected of being high on methamphetamine at the time of the incident.
Diaz said that she was "dumbfounded" by what happened and that she previously had pleasant interactions with Rattan.
"He was friendly with my boy and was really sweet with me," Diaz said. "He was a sweet kid. They said he was on drugs, but I was like, 'No way!'"
"He was a sweetheart with me... I saw the kid on Saturday. He said, 'Hello, good morning.' Everything seemed fine. I never expected this," she added.
The newspaper reported Wednesday evening that Rattan was hospitalized and awaiting arraignment.
Newsweek has also reached out to the New York Police Department (NYPD) for additional details about the incident on Tuesday.