New York Elite Boos Donald Trump For Calling Hillary Clinton 'Corrupt' at Bipartisan Dinner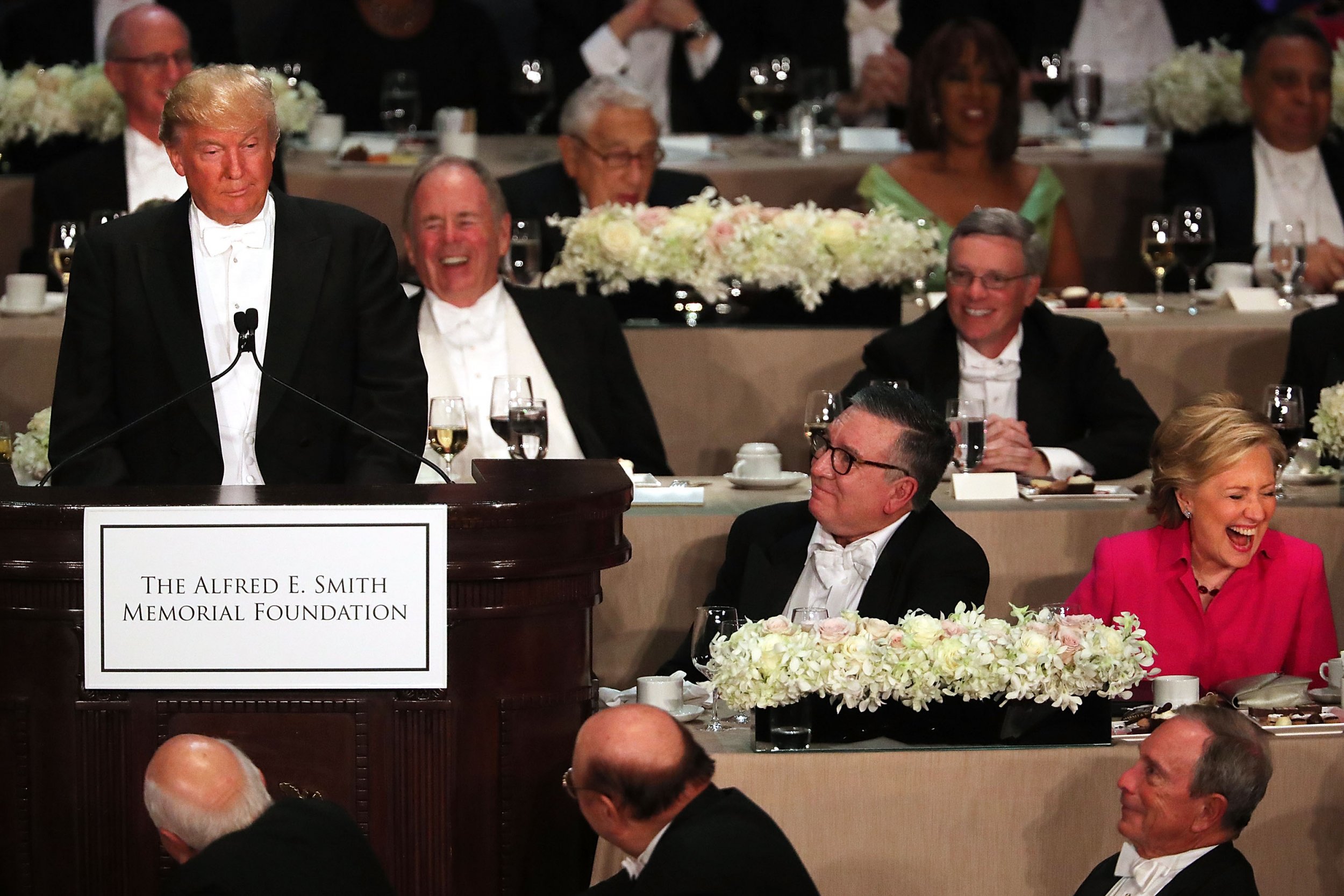 A New York crowd at an annual bipartisan Catholic dinner that hosts the presidential candidates every four years booed Donald Trump late Thursday as he launched into a series of barbs against Hillary Clinton.
The Al Smith white-tie charity gala, held at the Waldorf Astoria hotel, traditionally sees candidates trade jokes about one another but Trump's speech turned sour when his script began to sound like one of his debate performances, calling the Democratic candidate "so corrupt" and speaking without humor about the Wikileak dump on the emails of her campaign chairman John Podesta. Initial laughs began to turn to jeers and heckles.
"Hillary believes it's vital to deceive the people by having one public policy and a totally different policy in private," Trump said about the issue. As the crowd booed, he retorted: "That's OK, I don't know who they're angry at, Hillary, you or I?"
The dinner positioned the candidates just one seat away from each other, only separated by the Archbishop of New York, Timothy Dolan. That did not stop Trump repeatedly taking aim at Clinton. "For example, here she is tonight in public, pretending not to hate Catholics."
The pair only acknowledged each other as they arrived at the dinner but appeared to talk to each other across the Archbishop at least once in the dinner. Clinton also shook the hand of Trump's wife Melania.
The event came just a day after the third and final debate in which Trump called Clinton a "nasty woman" and would not be drawn on whether he would accept the result of the election, suggesting that he could contest the result if Clinton was successful. He later said that he would accept the result "if I win."
Clinton in her speech had her own barbs for Trump and, while they were more lighthearted in tone, they still focused on key campaign issues, such as sexual assault allegations against Trump and his perceived "bromance" with Russian President Vladimir Putin and alleged use of Russian propaganda and disinformation in his campaign speeches.
"You notice there is no teleprompter here tonight, which is probably smart, because maybe you saw Donald dismantle his prompter the other day," she said. "And I get that, they are hard to keep up with, and it's probably even harder when you're translating from the original Russian."