New York Closes Nonessential Businesses to Combat Coronavirus Outbreak—What the Restrictions Mean and What's Still Open
New mitigation measures will further restrict life for people in New York state, and by Sunday nonessential businesses will be closed and people will be prohibited from gathering.
On Friday, cases in New York rose to 7,102, the largest outbreak in the United States. Among those cases, 35 people have died, and Governor Andrew Cuomo said now was the time to increase movement restrictions or "close the valve" to try to limit further spread of the virus.
"When I talk about the most drastic action we can take, this is the most drastic action we can take," Cuomo said.
When the executive order goes into effect on Sunday, all gatherings of any size will be canceled in the state. Public transportation will still run for those who have to go to work, including medical personnel, but everyone else should reduce use to only when necessary.
Rules were stricter for those in the most vulnerable groups, which Cuomo identified as those over 70, those who are immune-compromised and those with underlying illnesses. They must remain indoors, except for outdoor solitary exercise, and take the temperature of all visitors and aides. When they are in the company of other people, they must wear a mask and always remain 6 feet from other individuals.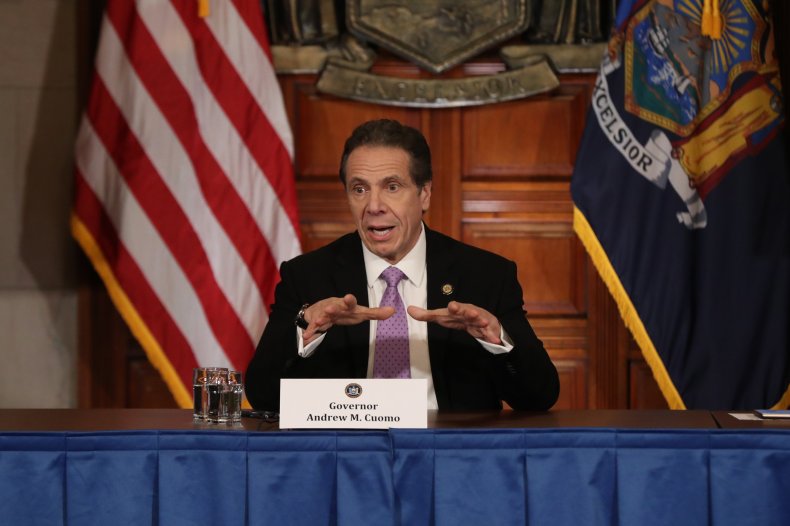 Those who aren't in the vulnerable population are prohibited from gathering for any reason, and any concentration of individuals outside their home is limited to those providing essential services. People are able to exercise outdoors, but it must be a solitary activity, such as running and hiking, not hanging out in the park with friends or playing basketball, according to Cuomo.
"There are people and places in New York City where it looks like life as usual," Cuomo said. "No, this is not life as usual and accept it and realize it and deal with it."
Newsweek reached out to Cuomo for comment but did not receive a response before publication.
On Sunday, all nonessential businesses will be required to close. This does not include grocery stores, pharmacies and utility services. Restaurants will be able to continue fulfilling delivery orders. Businesses that are allowed to stay open must implement rules that help facilitate social distancing of 6 feet.
Cuomo noted that the policies in the executive order were not a "helpful hint," but were "legal provisions" that would be enforced. Businesses that don't comply will be subject to a civil fine and mandatory closure. At this point, there's no fine for individuals who violate the order.
"I am not kidding about this. The numbers are going up at such a rate that it's double the capacity of the hospital system.... I can't increase that side of the equation," Cuomo said. "The only option available to us is to reduce the spread and reduce the rate of the spread."