President Trump and Children Sued for 'Persistently Illegal Conduct,' Allegedly Misusing Charity Funds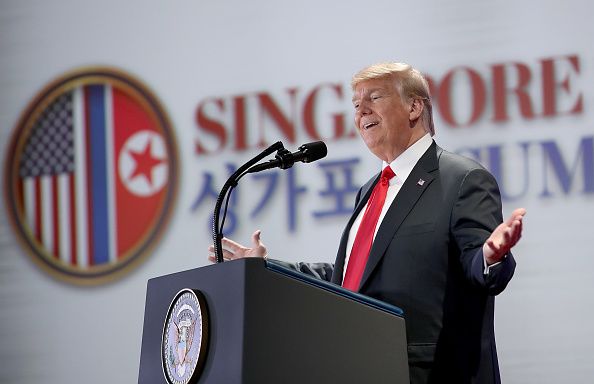 The New York attorney general filed a lawsuit against President Donald Trump and his three eldest children on Thursday alleging "illegal conduct" at the president's personal charity.
Trump is accused of using the nonprofit for personal business purposes to decorate one of his golf clubs and host a multimillion dollar giveaway during his 2016 campaign for president, according to The Washington Post.
"As our investigation reveals, the Trump foundation was little more than a checkbook for payments from Mr. Trump or his businesses to nonprofits, regardless of their purpose or legality," New York Attorney General Barbara Underwood said in a statement according to the Post.
The suit also stated the foundation's directors, which include Trump's three eldest children, Eric, Ivanka and Donald Jr., "failed to meet basic fiduciary duties and abdicated all responsibility for ensuring that the Foundation's assets were used in compliance with the law."
The president immediately responded to the suit in a tweet.
"The sleazy New York Democrats, and their now disgraced (and run out of town) A.G. Eric Schneiderman, are doing everything they can to sue me on a foundation that took in $18,800,000 and gave out to charity more money than it took in, $19,200,000. I won't settle this case!.." he wrote.
The Trump foundation said in a statement to Newsweek: "This is politics at its very worst. The Foundation has donated over $19 million to worthy charitable causes—more than it even received. The President himself—or through his companies—has contributed more than $8 million. The reason the Foundation was able to donate more than it took in is because it had little to no expenses. This is unheard of for a charitable foundation."
The statement continued: "The acting NYAG's recent statement that battling the White House is 'the most important work [she] have ever done' shows that such political attacks will continue unabated."
The White House did not immediately respond to Newsweek's request for comment.