New York Firm Unveils Plan to Hang Skyscraper From Asteroid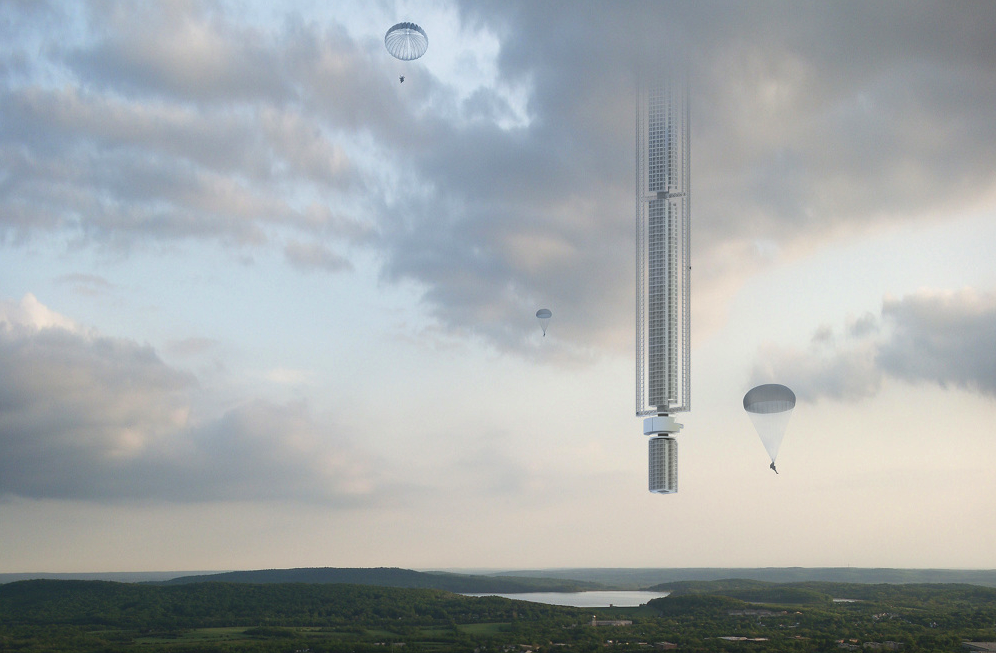 A New York architecture firm is taking experimental design out of this world with a plan to hang a skyscraper from an asteroid that would roam between the northern and southern hemispheres.
The Analemma Tower, which Cloud Architecture Office is calling the "world's tallest building ever," would hang from the sky, suspended by air cables attached to an asteroid.
It would travel a figure-eight route over the Earth's surface, slowing its orbit over New York City, and returning to the same point every 24 hours, according to the company's initial design plans.
The building could be constructed and transported anywhere in the world as it would not have the traditional "Earth-based foundation" but hung from a large asteroid placed into the Earth's orbit. It is a system known as the Universal Orbital Support System, or UOSS.
The company is proposing that the tower be constructed in Dubai due to the lower costs of building there compared to New York City. It would receive its power from solar panels, use recycled water and house sleeping quarters two-thirds up the skyscraper.
At its peak, Analemma would give residents more 45 minutes more daylight per day at 32,000 meters high, the plans say. Going outside would present problems for residents though, as temperatures would reach minus 40 degrees Celsius.
Read more: This U-shaped New York skyscraper has its sights set on a 'longest in the world' title
What would be the point of having a skyscraper in the sky? Its designers said that space in the building would present companies with out-of-this-world prices.
"Harnessing the power of planetary design thinking, it taps into the desire for extreme height, seclusion and constant mobility," it said. "If the recent boom in residential towers proves that sales price per square foot rises with floor elevation, then Analemma Tower will command record prices, justifying its high cost of construction."
It remains unclear how visitors or workers would get to the skyscraper or down from the building, but an illustration on the firm's website shows people parachuting to the ground.
Cloud Architecture Office is also behind plans for the Mars Ice Home, teaming up with NASA to unveil plans on how astronauts could reside on the Red Planet for weeks at a time.