New York Freddie Gray Protests End in 143 Arrests, 2 Felonies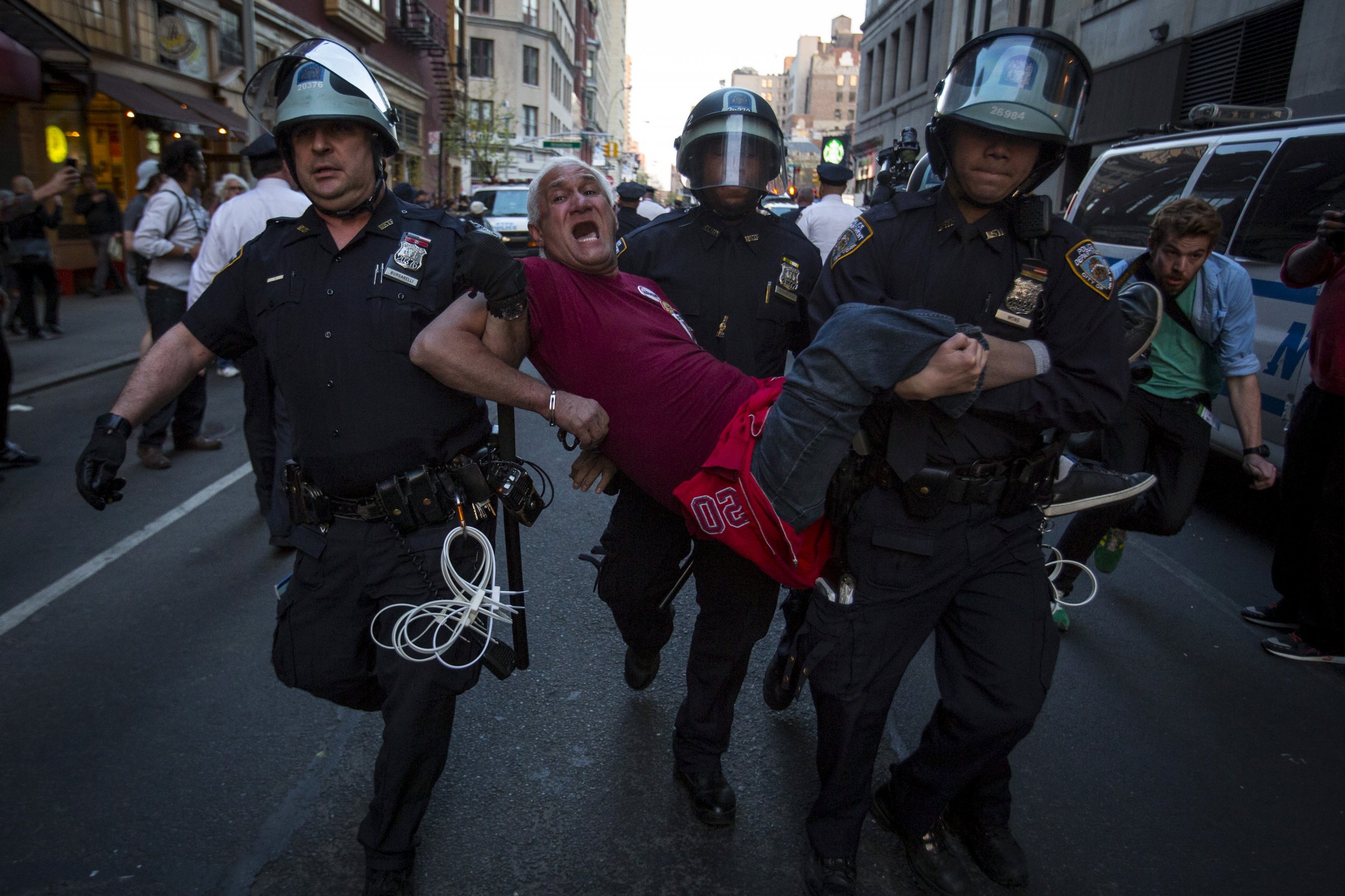 Even though Wednesday's protest in Manhattan to show solidarity with the demonstrators in Baltimore was primarily peaceful, it led to 143 arrests: 116 for violations, including disorderly conduct, unlawful possession of marijuana and a violation of transit rules; 25 for misdemeanors, including resisting arrest and reckless endangerment; and two for felonies, both assault.
Speaking during his press pool on Thursday, New York Mayor Bill de Blasio said he "would be careful not to exaggerate what happened" when asked about the NYPD's seemingly more aggressive approach on Wednesday than with protests this past summer and fall.
The demonstration began very calmly in Union Square, with a variety of speakers from New York's African-American activist community voicing concerns about police brutality. Erica Garner, daughter of the late Eric Garner (who died in police custody), and Lisa Mercado, the aunt of Ramsey Orta (who filmed Garner's arrest), were among those who gave speeches.
Afterward, the protesters broke into groups, with one heading south on Broadway toward the West Side Highway and another north to Times Square.
As protest organizers spoke, the New York Police Department played a recording reminding protesters to stay on the sidewalk, as walking in the street was an arrestable offense. Community officers handed out flyers reiterating this message. It was promptly ignored as protesters crossed from Union Square to the Greenwich Village, walking in the middle of Broadway, a major avenue in Manhattan.
On Broadway, police officers allowed protesters to take to the streets without incident. However, a group on 17th Street was not allowed to do so with such ease. The NYPD did not offer a breakdown of how many of the 116 violations issued were for the violation of transit rules, but an officer who declined to be identified said many of those arrested were detained for disrupting the flow of traffic.
Protesters who took to the West Side Highway were detained rapidly, as officers wearing riot helmets swarmed a group who declined to move out of the roadway and behind a barricade functioning as a sidewalk area. As some officers worked to arrest those in the roadway, others formed a line, standing shoulder to shoulder so demonstrators could not pass into the roadway once more.
One of the demonstrators asked an officer in the line if he was earning overtime for working during the protest. The officer smiled and replied that he was, prompting protesters to boo.