A New York schoolteacher has been accused of "blatant insensitivity" and racism after allegedly asking students to "write something funny" about pictures of slavery.
Complaints surged after images circulated online of the class assignment allegedly given recently to eighth grade students by an educator at J.W. Dodd Middle School in Freeport, Long Island. The work was seemingly linked to a Reconstruction-era social studies lesson, according to administrators.
Darlene McCurty, a grandmother of a student, said in a Facebook post on September 20 that she had been contacted by her granddaughter, who was upset at the assignment she said her friend received. The friend, who was unnamed, had declined to take part in the work, McCurty wrote.
In the social media post, which has since been shared more than 1,600 times, McCurty alleged that the teacher had told her students to "make it real funny because she didn't want to be bored."
"My granddaughter was and still is very upset and she asked me how can this racist teacher be reprimanded. I told her that I would handle it," the grandmother wrote.
Images released by McCurty showed multiple school worksheets containing historical images of slaves alongside hand-written captions, including "Black girls work hard play hard," "Us black people need to get out" and "Black girl magic."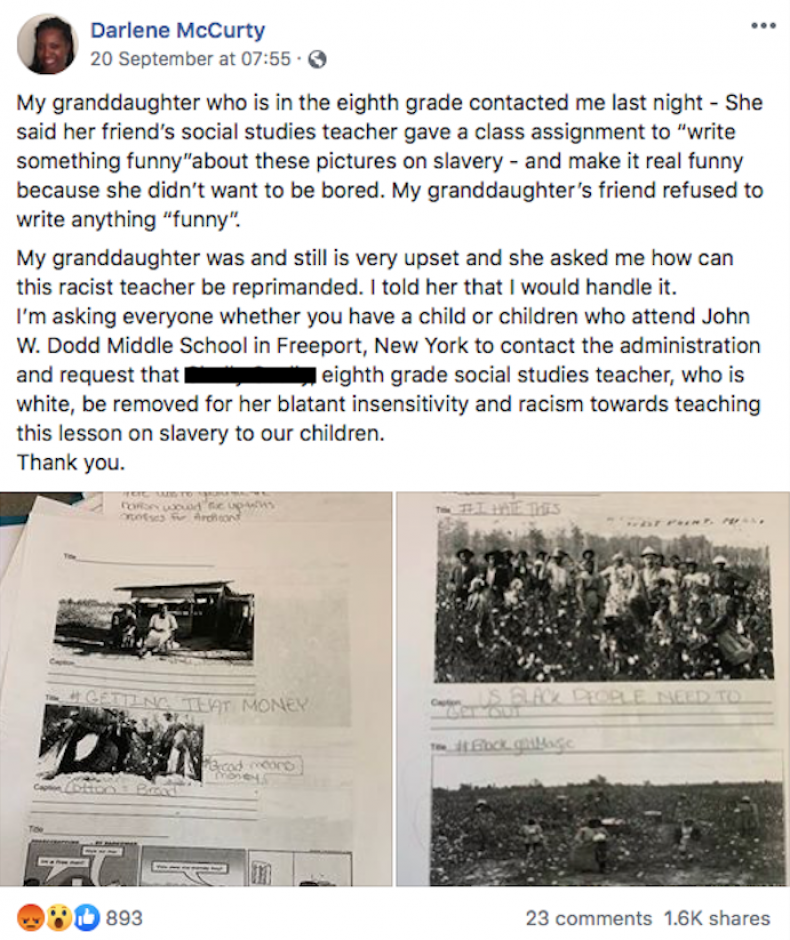 "I'm asking everyone whether you have a child or children who attend John W. Dodd Middle School in Freeport, New York, to contact the administration and request that [redacted] eighth grade social studies teacher, who is white, be removed for her blatant insensitivity and racism towards teaching this lesson on slavery to our children," McCurty wrote in the post.
The images evoked strong reactions online. "Disgusting and totally insensitive," one person commented. "Her license should be revoked."
Another noted, "This is horrific."
Kishore Kuncham, superintendent of Freeport Public Schools, confirmed in a statement that an investigation has been launched and called the alleged incident "very upsetting to some students and families."
It was not immediately clear if the faculty member is still teaching.
Kuncham said, "The emotional and social wellness of our students is always our highest priority and we take any insensitive comments made by staff very seriously. Since this matter involves a district employee and is a personnel matter, there will be no further comment until a thorough investigation and careful consideration of the facts of this matter are completed."
As reported by NBC News this week, statistics from the New York State Education Department show the middle school's current student body—52 percent male and 48 percent female—is roughly 66 percent Hispanic or Latino, 25 percent African American and 6 percent white.
UPDATE: An updated statement has been released by the superintendent, providing more details about the investigation and an apology from the teacher.
It reads:
"As you may know, we have been conducting an investigation regarding an assignment given to students by a J.W. Dodd Middle School teacher last Thursday.
"The teacher's directions to the students concerned the writing of captions for Reconstruction Era photos. The Reconstruction Era is the roughly fourteen years following the Emancipation Proclamation in 1863 and end of the Civil War in 1865. The District's investigation began last Friday after several parents contacted the school principal to share their concerns.
"The teacher was removed from the classroom while the investigation proceeded.
"Let me be perfectly clear: Our investigation has determined that this lesson was poorly conceived and executed. The teacher instructed three separate classes of students to develop captions for photos of post-war sharecroppers. We understand from our investigation that she told students to 'make it funny' and 'don't bore me.' Aside from the fact that this is a poor lesson, it is an insensitive trivialization of a deeply painful era for African Americans in this country, and it is unacceptable.
"The teacher has delivered an apology which I will share with you this evening:
"It is with the deepest sense of respect that I apologize to the students, families and larger Freeport community for my insensitive words and actions last week. As a teacher and fellow member of this school community, it is my responsibility to exercise the highest degree of care and thought in all of my student and staff interactions. I failed to do so last week, and I fully accept that I must work hard to rebuild trust from my students, colleagues and the community."
This article has been updated with additional comment from school officials.