New York to Give Homeless Youth 'No Strings' Cash for Two Years
New York City is launching an experimental program that will give some homeless young people no-strings-attached direct cash payments of $1,250 per month as part of a public-private partnership supported by the mayor's office.
Some 30 to 40 young people, ages 18 to 24, will be eligible for the $1,250 payments as part of the program for up to two years. The program has been developed by a team from Chapin Hall at the University of Chicago and Point Source Youth, a nonprofit dedicated to ending youth homelessness.
The initiative will be funded by the Mayor's Fund to Advance New York City, the NYC Mayor's Office for Economic Opportunity, the Block-Leavitt Foundation, the Melville Charitable Trust, the Robin Hood Foundation and the NYC Fund to End Youth & Family Homelessness.
"A Recovery for All of Us requires embracing innovating solutions to our most pressing challenges," Mayor Bill de Blasio said in a Thursday statement. "The direct cash transfer study, designed in collaboration with Chapin Hall and Point Source Youth, will help uplift young people and reinforces our commitment to ending youth homelessness once and for all."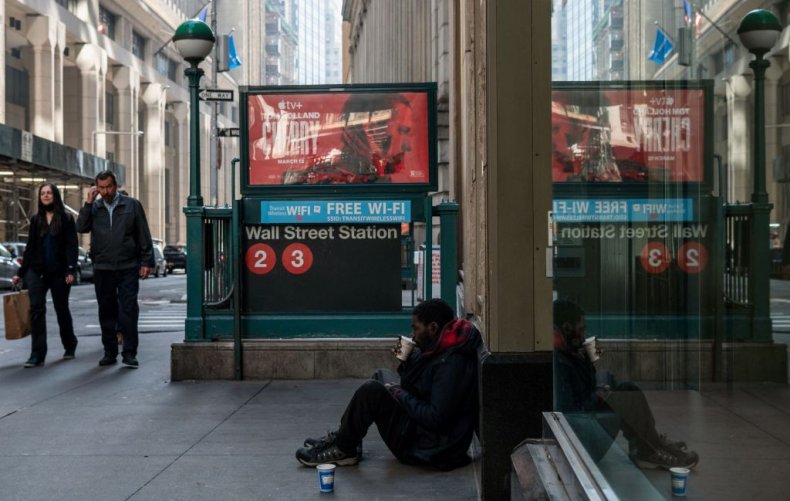 The young people participating in the program can receive the payments through a variety of options, including Venmo, PayPal, direct deposit and debit card. After they enter the program, they don't have to meet any specific requirements to continue to receive the payments. The organizers of the program point to past studies that show the benefits of giving individuals cash as opposed to other government-support programs.
"Direct cash transfers are supported by a solid international evidence base, and they recognize people's agency. It's time to evaluate this kind of support with young people who—through no fault of their own—don't have the same access to resources for meeting basic needs that many of their peers have during transitions to adulthood," Dr. Matthew Morton, Chapin Hall research fellow and study principal investigator, said in a press release.
"Providing direct financial assistance with supports to young people has the potential to empower them to make investments in their own success while helping to counter racial inequities stemming from legacies of injustice," Morton added.
Researchers believe the direct cash payments will help young people get into housing and cover basic expenses, such as food and health care. They also believe the program could eventually lead to a cost savings for the city, as it would open up beds in homeless shelters and reduce costs of other programs.
Larry Cohen, executive director and co-founder of Point Source Youth, told Newsweek that "the program is built on trusting young people." He said that "young people are experts in their own lives and they know best how to meet their needs."
"We think this program will both become much more common and will likely be more beneficial than other programs. We are speaking to folks in Los Angeles, Minnesota, Oakland and Washington state about the direct cash transfers program and have seen a tremendous amount of interest and excitement for it," Cohen explained.
As of 2018, there were more than 10,000 homeless youth (ages 16 to 24) in New York City, according to a 2019 report from nonprofit Youth Today. Of those young people, some 40 percent identified as LGBTQ, and nearly 90 percent are people of color.
This story was updated with a comment from Larry Cohen of Point Source Youth.