New York Governor Andrew Cuomo Announces 540 New COVID-19 Deaths, Says Feds Sent 1.5M Cloth Masks to State
New York Governor Andrew Cuomo said the state had 540 deaths Friday, as New York continues moves past plateau at the apex of the coronavirus pandemic. It raises the total number of deaths in the state at 13,362.
"The worst news is still tragic news. Number of deaths – 540. It's not as high as it was. Still 540 people died yesterday, 540 people, 540 families," Cuomo said at his daily coronavirus press conference Saturday.
As Cuomo shifted to the topic of reopening the New York economy, he said that testing is the key to monitoring and controlling the rate of infection.
The infection rate in the state is one person infecting 0.9 people, which is a stable rate of infection. That is down from one person infecting to 1.4 people at the start of the pandemic. Cuomo said the reason for the drop was the implementation of PAUSE, or Policies Assure Uniform Safety for Everyone, which shut down businesses deemed non-essential among other measures aimed at lowering the spread of the novel coronavirus, as well as social distancing and mask use in public.
"The tension on reopening is how fast can you reopen and what can you reopen without raising that infection rate so you go right back to where we were overwhelming the hospitals," Cuomo said.
The governor stated that testing would make it easier to keep the rate of infection down by finding those infected and tracing back through the people who have tested positive to find who they came into contact with.
Cuomo said the main problem he is hearing from New York labs testing for COVID-19 is that they do not have enough reagents, the chemicals applied to swab samples taken from people to determine whether or not they have the novel coronavirus. The reagents, which are different among the different private manufacturers who produce the tests, are in short supply because they either can't get them from overseas or because the federal government is determining where the reagents are sent.
"We need two things from the federal government. We need help on that supply chain, especially when it becomes international, and we need coordination and basic partnership," Cuomo said, adding that also needs federal funding in order to reopen. The National Governors Association has asked for $500 billion to aid states.
The federal government sent New York 1.5 million cloth masks for public distribution, as Cuomo's executive order that all New Yorkers wear masks in public went into effect Friday night.
The state saw a net change of minus 349 hospitalizations for Friday. However, there were still 1,915 new hospitalizations for the day.
"If you look at the past three days [of hospitalizations] you could argue that we are past the plateau and we're starting to descend, which would be very good news. Again, it's only three days, but that's what the numbers would start to suggest," Cuomo said.
"We still have about 2,000 people yesterday who were new admissions to a hospital...That is still an overwhelming number every day."
"If it wasn't for the relative context that we've been in this would be devastating news, 2,000 people coming into the hospital system...This is where we were in late-March when it started to go up. So, we're not at the plateau anymore, but we're still not in a good position," the governor said.
Cuomo told New Yorkers in March that the state would need 140,000 beds in order to deal with this pandemic, but the most hospitalizations New York has seen was 18,825 on April 12. The current number of hospitalizations is 16,967, according to Cuomo.
The United States Navy Ship Comfort, which was sent to New York on President Donald Trump's authorization after Cuomo asked for more hospital beds, remains largely empty. There are currently 71 COVID-19 patients on the ship, according to a report by CNBC. The ship has a capacity of 500 beds for patients infected with the disease.
Mayor Bill de Blasio released a video on Twitter Saturday thanking residents for practicing social distancing and to report when they see fellow New Yorkers disobeying state guidelines: "How do you report places that aren't enforcing social distancing? It's simple: just snap a photo and text it to 311-692."
"Sending that photo in is going to help make sure that people are kept apart and that's going to stop the disease from spreading and that's going to save live," the mayor said.
Governor Phil Murphy of New Jersey, which has the second most cases in the country, announced Saturday that the state has 81,420 confirmed cases of COVID-19 and 4,070 deaths.
Murphy urged residents to continue to follow state stay-at-home orders so that the numbers do not rise, as health officials in the state said they have flattened the curve.
As of Saturday afternoon, the number of confirmed coronavirus cases in the United States is over 711,000, and more than 37,000 deaths, according to Johns Hopkins University's tracker.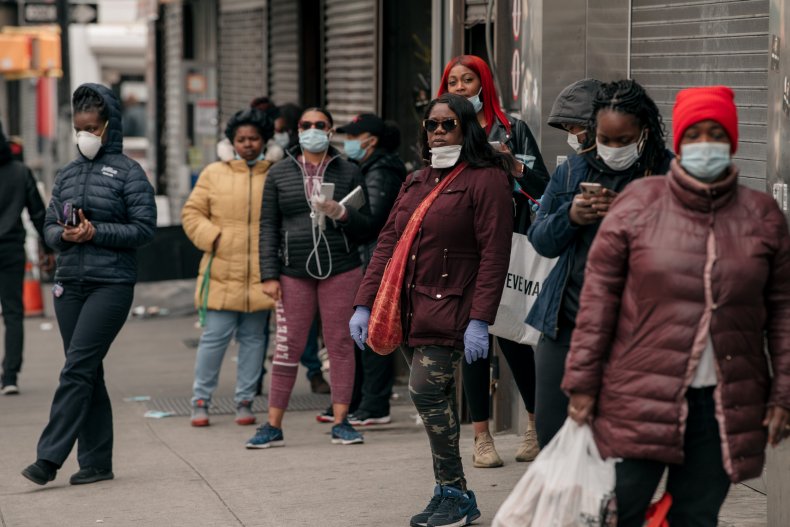 Updated 4:38 PM ET.