New York Governor Andrew Cuomo Condemns People Refusing to Wear Face Masks: 'Show Some Basic Modicum of Respect'
As protests against strict social distancing guidelines continued across the U.S., Democratic New York Governor Andrew Cuomo said during a Monday news briefing that wearing a face mask in public situations indicated a show of respect for other people.
In April, Cuomo mandated New Yorkers to wear facemasks in situations where following social distancing guidelines could prove difficult. While a penalty for not wearing a mask was not announced at the time, Cuomo said that it was a possibility if there was "widespread noncompliance" with the order.
Monday, Cuomo further explained why wearing face coverings in public was important.
"I mean, it's the least that we can do, right?" Cuomo asked. "Everyone is killing themselves, people are working 24 hours a day, show some respect. Show some basic modicum of respect."
Cuomo's comments came after a weekend during which New Yorkers gathered across the state to protest his executive stay-at-home orders and call for a reopening of the state's businesses. In Syracuse, New York Friday, demonstrators held signs and chanted "We want to work!"
"You don't have a right to jeopardize my health," Cuomo said during a Saturday news briefing. "You want to jeopardize your health, God bless you. You have no right to jeopardize my health."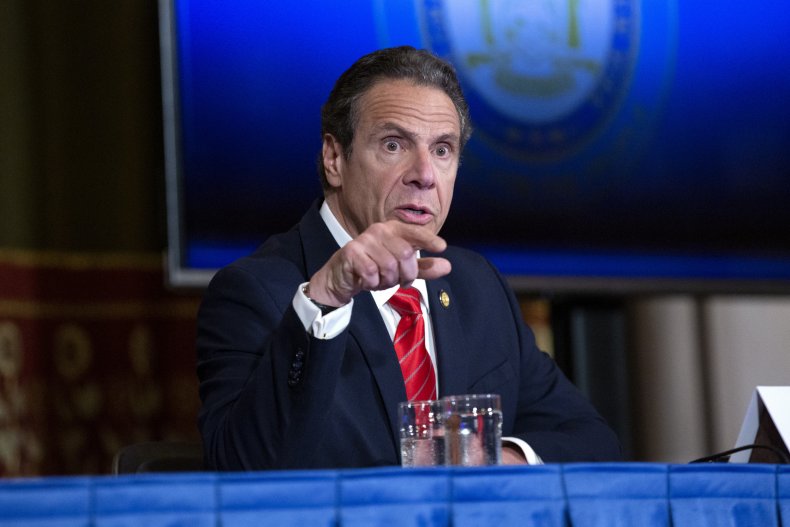 "The mask is not about your health," Cuomo continued. "The mask is about my health, and my children's health and your children's health and that's why you have to wear a mask. It's not about your life, it's about other people's lives."
Newsweek reached out to the New York GOP and Governor Cuomo's office for comment. This story will be updated with any response.
The wearing of face masks has become a controversial topic in the U.S. especially during protests, in which demonstrators often choose not to wear them and ignore social distancing guidelines.
Dr. Deborah Birx of the White House coronavirus task force told Fox News Sunday that she found the behavior of protesters "devastatingly worrisome."
"It's devastatingly worrisome to me personally because if they go home and infect their grandmother or their grandfather who has a co-morbid condition, and they have a serious or unfortunate outcome, they will feel guilty for the rest of our lives," Birx said. "So we need to protect each other at the same time we're voicing our discontent."
U.S. Republican leaders have not always worn face masks while in public. Vice President Mike Pence chose not to wear a face mask during an April visit to the Mayo Clinic. At the time, Pence said he made the trip without a mask because he had tested negatively for the coronavirus.
"And since I don't have the coronavirus," Pence told reporters, "I thought it would be a good opportunity for me to be here, to be able to speak to these researchers, these incredible health care personnel, and look them in the eye say 'thank you.'"
On Sunday, Pence said during a televised town hall meeting on Fox News that he should have worn a mask to the clinic, although he "didn't think it was necessary."