NY Governor Cuomo's Approval Rating Drops As Voters Disapprove of His Handling of Nursing Homes: Poll
New York Governor Andrew Cuomo's approval rating took a slight dip in May and a new poll found New Yorkers weren't satisfied with his approach to nursing homes during the pandemic.
Cuomo still has a 66 percent favorability rating, down about 11 percentage points from a record high of 77 percent last month, according to a Siena College Research Institute poll released on Wednesday. Although his constituents said they are happy overall with how he has responded to the new coronavirus outbreak, 48 percent of the 796 respondents rated him negatively for how he addressed the needs of nursing homes during the pandemic.
"Cuomo's stratospheric ratings from New Yorkers in April have fallen from their record highs but remain very strong as two-thirds of voters still view him favorably, nearly two-thirds give him a positive job performance rating and more than three-quarters still approve of the job he's doing to address the pandemic," Siena College pollster Steven Greenberg said in a statement.
Democrats were the only political party to give him positive marks over his handling of nursing homes, with 54 percent expressing support. The majority of Republicans–55 percent–gave him a negative rating and 61 percent of Independents rated him negatively.
Cuomo's March 25 order led to more than 4,000 recovering COVID-19 patients being sent to nursing homes, according to the Associated Press. The goal of the order was to free up hospital beds but nursing homes have been particularly susceptible to the outbreak, as their residents are among the most vulnerable to developing a serious disease or dying from the new coronavirus. Although Cuomo reversed the order on May 10, he said he didn't believe it contributed to the death rate and claimed facilities should have spoken up if there was an issue.
Newsweek reached out to Governor Andrew Cuomo but did not receive a response in time for publication.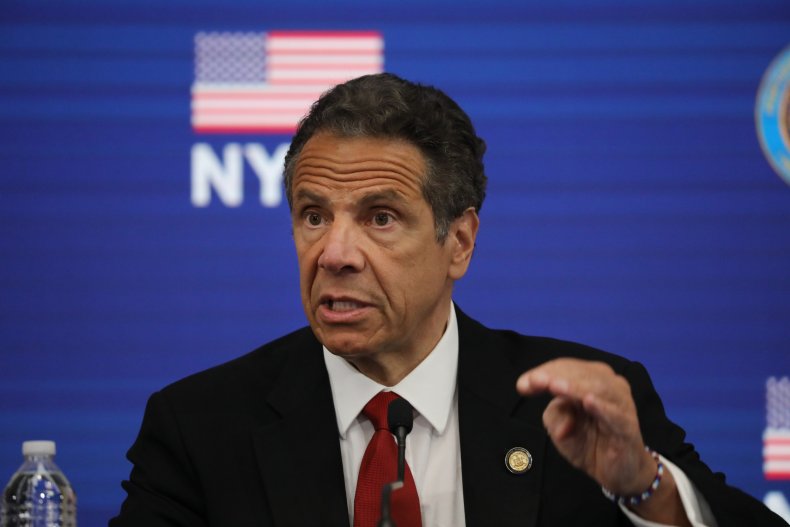 Cuomo, who followed in his father's footsteps and became governor of New York in 2011, garnered national attention for his leadership during the coronavirus pandemic. His press conferences have been used as comedic inspiration, his face popped up on t-shirts and discussions arose about a potential bid for the presidency.
New York rapidly became the epicenter of the coronavirus outbreak in March and New York City has reported more cases than many countries. As of Wednesday morning, the state's reported 363,836 cases, according to a tracker maintained by Johns Hopkins University, which accounts for about 20 percent of the total cases in the United States.
To limit the loss of lives and prevent an overwhelming spike in cases, executive orders closed non-essential businesses, limited restaurants and bars to takeout and delivery service, and prohibited people from gathering. Cuomo has publicly acknowledged the frustration people said they are feeling over the restrictions, but two months into the stay-at-home order, his constituents still said they support his decisions, although slightly less so than last month.
The poll found the majority of those surveyed–76 percent–approved of his overall handling of the pandemic, down from 84 percent in April.
Eight of the nine regions in the state have received the green light to enter Phase 1 of the reopening plan and as they do, the governor's ramped up his message about the need for people to wear masks. New Yorkers are required to wear masks in public areas when social distancing cannot be maintained and the governor jokingly said on Tuesday that if he could sign an order declaring masks to be "cool," he would.
In other parts of the country, people have expressed frustration at being forced to wear a mask in public, but in New York, Cuomo received overwhelming support for the measure. Eighty-nine percent of New Yorkers polled supported the order, a slim change from the 92 percent that supported it in an April poll. Although Democrats supported the measure more, at 90 percent, at least 82 percent of Republicans and Independents said they were on board with the measure, as well.