New York Governor Andrew Cuomo Praises Donald Trump For Responding 'Very Quickly' to Coronavirus Outbreak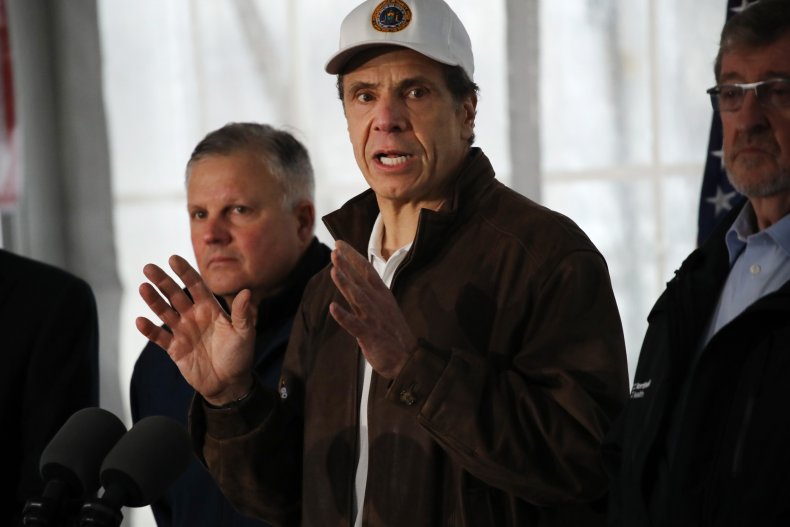 New York Governor Andrew Cuomo thanked President Donald Trump and Vice President Mike Pence on Monday for responding "very quickly" to the coronavirus outbreak in the state.
The governor praised them during a press conference on Monday morning in which he provided updates to the coronavirus situation in New York.
"The fairness dictates that kudos where kudos are due, and here the vice president and the president responded very quickly. So, I want to thank them for that," Cuomo said.
Cuomo said that the state will see an increase in testing and that those numbers will be reflected in reports from the New York Department of Health.
"By the end of this week, we think we're going to be up to about 7,000 tests per day. Which is an exponential increase of what we have done," Cuomo said.
On Friday, Cuomo made similar remarks where he thanked Trump and Pence for helping New York facilitate more testing.
"I want to thank the vice president and especially the president, who facilitated this and moved quickly," Cuomo said on Friday. "We've been talking to the federal government about the federal government authorizing states to do testing. State health departments regulate labs in their states. We need obviously more testing capacity, and we need it quickly. So I spoke to the vice president about this."
While Cuomo thanked Trump and Pence for their rapid response to the coronavirus outbreak, some other Democrats including 2020 Presidential candidates, Joe Biden and Bernie Sanders, criticized the way Trump and his administration responded.
"We have an administration that is largely incompetent, and whose incompetence and recklessness have threatened the lives of many, many people in our country," Sanders said at a speech in Burlington, Vermont, last Thursday.
"The administration's failure on testing is colossal and it's a failure of leadership, planning and execution," Biden said during a speech in Wilmington, Delaware, last Thursday. "This virus laid bare the severe shortcomings of the current administration."
Cuomo's comments thanking Trump and Pence for their rapid response in regard to coronavirus testing in New York came just after he suggested that the U.S. needs an increase in federal leadership to help stop the spread of the virus.
"The situation is accelerating. The numbers are accelerating. Energy is accelerating. And action is accelerating," Cuomo said during Monday's press conference. "First, as I have said before, this is a national problem, and we need federal leadership. You look at the countries that have handled this. I don't care if it's China, South Korea, if it's Italy. They were all handled by federal leadership. This is a national problem. It cannot be done in a piecemeal method. You need federal parameters to stop the national patchwork of density reduction closings."
Cuomo's comments reference the different bans on public gatherings to combat the spread of the COVID-19, the disease caused by the novel coronavirus strain. While bans have been implemented in a number of different states and some cities by respective governors and mayors, Cuomo said he believes the federal government should step in and take control of this issue.
"California's doing this. New York is doing this. Illinois is doing this. It's the same problem across the country," Cuomo said. "Let the federal government say these are the guidelines. Here are the guidelines on schools, here are the guidelines on businesses, here are the guidelines on travel, rather than having a scramble of every local government, state government, trying to figure it out on its own. It makes no sense."
According to a tracker provided by Johns Hopkins University, the U.S. currently has over 3,813 confirmed cases of COVID019 with over 740 in New York state. There are at least 69 deaths in the U.S.
3/16/20, 1:50 p.m.: This story has been updated to include statements by both Biden and Sanders in regard to Trump's coronavirus response.