New York Governor Cuomo Announces Coalition With Six Northeast States to Acquire Medical Supplies by Merging Resources
Officials from six administrations across the Northeast addressed a new inter-state "purchasing consortium" during New York's latest coronavirus news conference on Sunday.
New York Governor Andrew Cuomo announced a partnership allowing leaders to combine resources in an effort to obtain personal protective equipment (PPE) and other medical supplies. In addition to New York, the collaboration involves New Jersey, Connecticut, Pennsylvania, Delaware, Rhode Island and Massachusetts.
"By working together we can do a lot more than if each of us works on our own," said Pennsylvania Governor Tom Wolf, echoing Cuomo's earlier comments that referenced difficulties with regard to acquiring PPE.
As Cuomo explained, issuing a joint purchase will strengthen the region's market influence and is expected to lower the cost of resources. Looking forward, Wolf acknowledged that the coalition will allow states to work together in their regional approach to economic reopening.
"Part of this is testing. We really need to work together to build the capacity to test or we're not going to be able to give our citizens the confidence they need to go back to work," Wolf continued, adding that state leaders will pool "brain power," manufacturing capabilities and financial assets, as the region makes plans to resume economic activity and public life.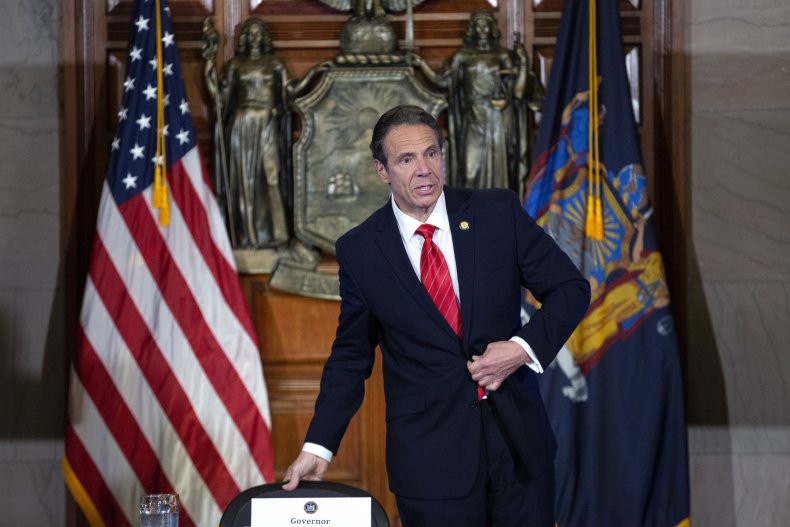 A reopening timeline has yet to be determined. There were 280 new deaths in New York as a result of the new coronavirus, according to Cuomo on Sunday, similar to daily fatality tolls reported since at least April 27. The latest numbers, however, are much lower than those confirmed earlier.
"The overall direction is good, even though it's very painful," the governor said, pointing to the state's hospitalization statistics, which have begun to stabilize in recent weeks.
After New York reported its highest admission count on April 12, when 18,825 patients were hospitalized due to the coronavirus, those numbers have gradually decreased. During his latest briefing, Cuomo said the total had dropped 9,786, marking the lowest incidence of coronavirus-related hospitalizations New York has seen since late March and the 20th consecutive day of reduced admissions.
Hospitalizations in New York City, where the coronavirus outbreak has caused the most damage, increased slightly between Friday and Saturday, though Mayor Bill de Blasio confirmed that intensive care unit admissions were down to 645 people, compared to 677 the previous day. Addressing the coronavirus' impact in New York City during his own news briefing on Sunday, de Blasio noted that the region is "generally seeing progress" in terms of its coronavirus numbers, but "not quite enough yet."
Both Cuomo and de Blasio warned about a potential resurgence of the disease, citing the 1918 influenza pandemic, and urged the public to be prepared for the possibility of a second wave of infections.
Though New York's phased economic reopening launch remains on hold, the state is taking additional steps to protect essential workers in the meantime. On Saturday, the governor announced a new procedure that calls for disinfection of subway cars once per day. The order will require New York City's subway system to close daily from 1:00 a.m. to 5 a.m. EDT, when he said ridership is most sparse.
"We want people to know who need to use the subways and buses, because they are working, that they're safe," Cuomo shared. "And the essential workers who have kept this entire society functioning have done an extraordinary job, and we want them to know that we're doing everything we can do to keep them safe."
Earlier on Saturday, Cuomo announced the results of New York's expanded antibody testing effort, which evaluated 15,000 people selected randomly from grocery stores and community centers across the state. The results found that coronavirus antibodies were detected in 12.3 percent of individuals tested, indicating that they have, at some point, been infected with the new coronavirus. Since the test is able to determine the spread of infection without relying on reported symptoms—as the Centers for Disease Control and Prevention has noted, many people who contract the disease are asymptomatic but still contagious—Cuomo described it as "key to reopening New York" last week.
The most recent study followed two rounds of previous antibody tests administered to New York residents, the first of which analyzed blood samples collected from 7,500 people. On April 27, Cuomo said almost 15 percent of the group tested positive for coronavirus antibodies statewide. The presence of antibodies was higher among New York City residents assessed for antibodies, about one-fourth of whom tested positive. The second study, which tested 1,000 employees of the New York City Fire Department and 1,000 of the New York City Police Department, found that antibodies in 17.1 percent of the former group and 10.5 percent of the latter.
New York has experienced the gravest incidence of coronavirus infections compared to any region in the United States. According to Johns Hopkins University's tracker, at least 312,977 positive cases had been confirmed statewide as of Sunday morning, as well as 66,570 deaths.