New York Governor Cuomo Calls Trump a 'Bully' for Threatening to Withhold Vaccine from State
Democratic New York Governor Andrew Cuomo on Friday fired back at President Donald Trump for threatening to withhold a potential coronavirus vaccine until he can trust that the state will distribute it.
This week, pharmaceutical companies Pfizer and BioNTech revealed that their vaccine candidate was more than 90 percent effective in a late-stage trial.
In his first public address since Election Night, Trump discussed Operation Warp Speed and expressed his belief that doses of the possible vaccine would be provided to Americans by the end of April next year. The president also indicated that the rollout would exclude New York unless Cuomo commits to delivering the vaccine immediately.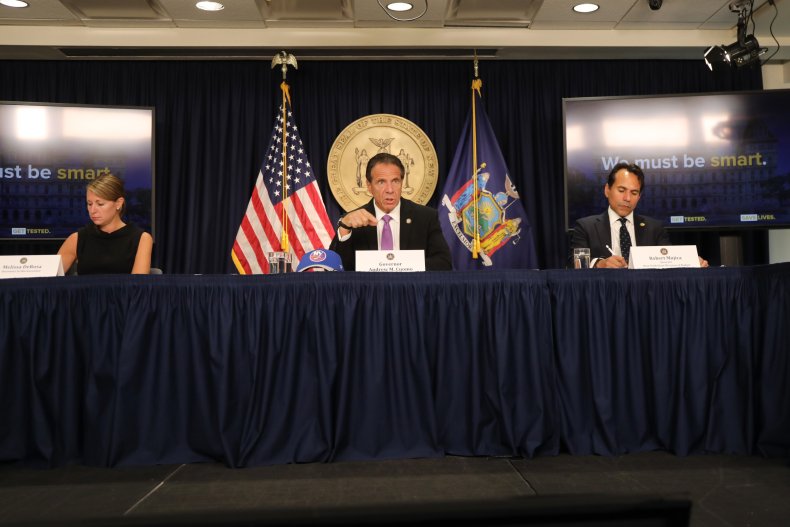 "As soon as April, the vaccine will be available to the entire general population with the exception of places like New York state," the president said, "where for political reasons, the governor decided to say... I don't think it's good politically, I think it's bad from a health standpoint, but he wants to take this time on the vaccine and he doesn't trust where the vaccine is coming from."
"We can't be delivering it to a state that won't be giving it to its people immediately," the president added.
Cuomo responded to Trump's remarks in an appearance on MSNBC this afternoon.
"None of what he said is true. Surprise surprise," the governor said, explaining that "an overwhelming percentage of Americans are worried about political interference in the vaccination process by the president."
"He uses the government as a retaliatory tool, that's what he does. He's also a bully," the governor continued. "He should be ashamed of himself, but we have been working with the Biden team."
Cuomo insisted that "as soon as Trump delivers me a dose, I will be ready to administer it. Period."
Trump's remarks about excluding New York comes about one month after Cuomo said that Americans should be "very skeptical" of a vaccine released under Trump's presidency, even if the Centers for Disease Control and Prevention approves it.
"You're going to say to the American people now, 'Here's a vaccine. It was new, it was done quickly, but trust this federal administration and their health administration that it's safe, and we're not 100 percent sure of the consequences?'" the governor said on Good Morning America in October. "I think it's going to be a very skeptical American public about taking the vaccine, and they should be."
Newsweek reached out to the White House for comment.