New York Governor Cuomo Tells Protesters to Assume They've Been Exposed to Coronavirus, as Officials Fear Another Spike in Cases
New York Governor Andrew Cuomo on Sunday told George Floyd protesters to assume and behave like they have been exposed to coronavirus, as officials around the country voiced their concerns of another spike in infections due to the ongoing unrest.
During his daily COVID-19 press conference, Cuomo urged everyone who participated in the recent protests to get a coronavirus test. In the meantime, "I would act as if you were exposed and I would tell people who I'm interacting with, assume I am positive for the virus because you could be infecting other people," the governor said.
"But please get that test. That is the one variable in this equation that we are not sure of. We have tested everything else."
Images of protesters without face masks, marching in close proximity, have surfaced online over the past week, prompting officials across America to issue statements about demonstrating the "right way."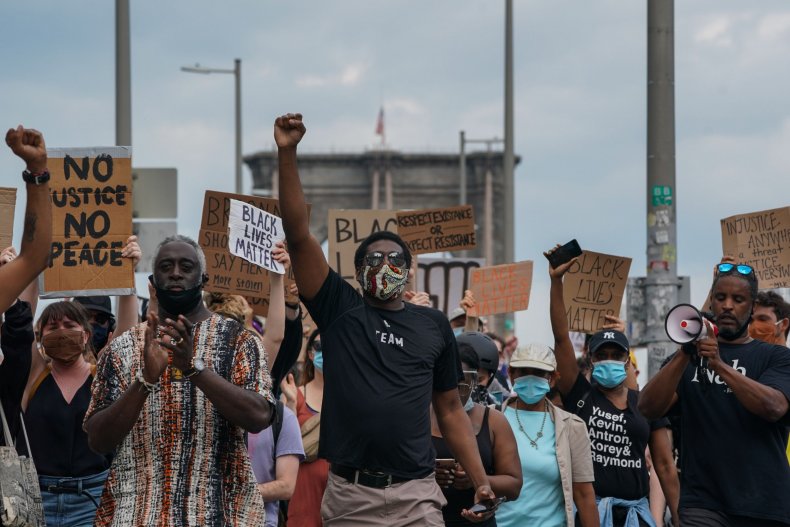 Cuomo's fears of another surge in coronavirus cases as a result of the demonstrations were shared by leaders around the country, including Boston Mayor Marty Walsh. Officials in Seattle, San Francisco and Atlanta have also made similar calls for protesters to get tested immediately.
Widespread demonstrations in Boston have drawn thousands of demonstrators in recent days. Although city officials have been at the scene offering face masks, Walsh is worried it may not be enough to mitigate a second wave of infections.
"My concern is that we're going to have a second spike," the mayor said on Sunday. "Everyone is talking about this second surge that could be bigger, and that will have long-lasting impacts, as well, in our society. I'm just going to ask people to, please, wear your masks, do social distancing [and] do physical distancing."
Some fear the use of chemical weapons on protesters--including outside the White House on Monday evening when President Donald Trump held a press conference--could also worsen the pandemic. Tear gas typically forces people to rip off their masks and cough, further increasing the chances of COVID-19 spread.
"I'm concerned that we had mass gatherings on our streets when we just lifted a stay-at-home order and what that could mean for spikes in coronavirus cases later," Washington D.C. Mayor Muriel Bowser said last week. "I'm urging everybody to consider their exposure, if they need to isolate from their family members when they go home and if they need to be tested."
Both Maryland Governor Larry Hogan and Atlanta Mayor Keisha Lance Bottoms echoed her remarks. The latter said she's "extremely concerned" about the virus' spread amid the protests, and admitted the ongoing unrest has distracted her pandemic response.
As of Sunday, there have been over 1.9 million individuals who tested positive for coronavirus in the U.S, according to Johns Hopkins University's tracker, with more than 110,000 deaths caused by the new disease.
Newsweek reached out to Cuomo and Walsh for further comment. This story will be updated with any response.