New York Governor Cuomo Wants to Keep Christopher Columbus Statue in NYC, 'Represents' Italian-American Legacy in U.S.
New York Governor Andrew Cuomo said during a press conference on Thursday that he'd like a statue of Italian explorer Christopher Columbus to remain in place to honor the contributions of Italian Americans to U.S. history.
"I understand that the dialogue has been going on for a number of years," Cuomo said. "The Christopher Columbus statue, in some ways represents the Italian-American legacy in this country and the Italian-American contribution in this country."
One of the statues dedicated to Columbus is a 76-foot-tall monument in the center of Columbus Circle in Manhattan, while the other is located at the south end of the Mall in Central Park.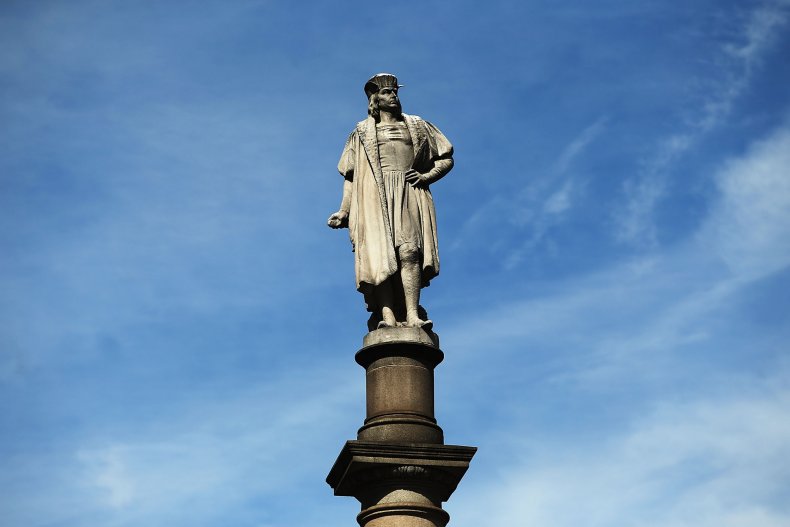 Representatives from Cuomo's office told Newsweek they were not sure if the governor was referring to the Central Park or the Columbus Circle statue
Columbus, who has long been credited with discovering the Americas during the 15th century, has become viewed less favorably in America's history due to the genocide and enslavement of indigenous tribes.
Although Columbus's acts are now viewed as a deplorable part of American history, Cuomo said that the statue does not represent those deeds, but "has come to represent and signify the Italian Americans' contribution to New York."
Cuomo's comments came amid weeks of racially charged protests in response to the case of George Floyd, a black man who died in police custody in Minneapolis.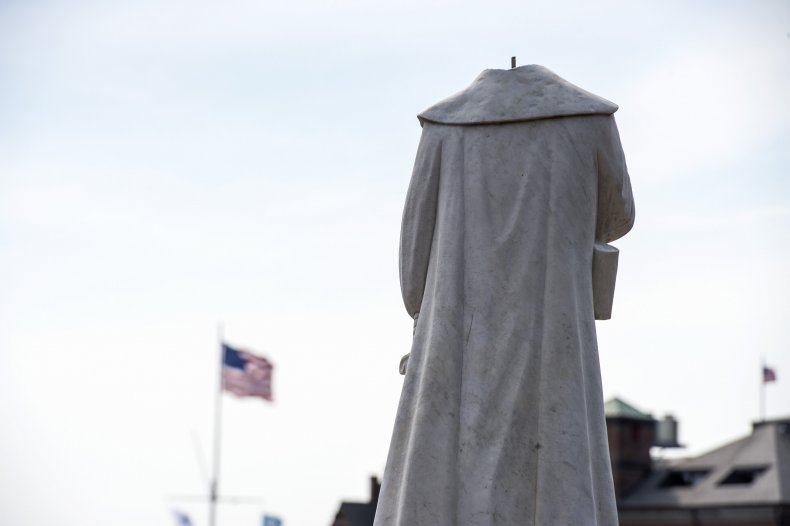 Those same protests against police brutality and racial injustice have also sparked a wave of outrage, with monuments honoring the Confederacy and Columbus being vandalized or toppled.
On Tuesday, a Columbus statue in Richmond, Virginia was spray-painted pulled from its pedestal, and set on fire before being thrown into a lake.
The New York Daily News reported on Wednesday that a Columbus statue in Boston had been decapitated.
"This particular statue has been the subject of repeated vandalism here in Boston. And given the conversations that we're certainly having right now in our city of Boston, and throughout the country, we're also going to take time to assess the historic meaning of the statue," Boston Mayor Marty Walsh said.
That same statue was targeted in 2015 when Black Lives Matter demonstrators protesting the death of Michael Brown splashed red paint on to the monument.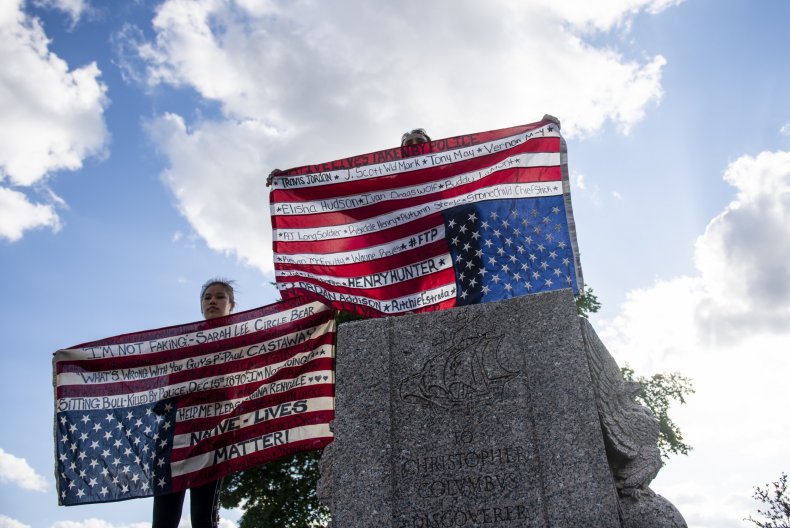 On Wednesday, protesters splattered red paint onto a statue of Columbus in Houston's Bell Park and hung a cardboard sign around its neck that read "Rip the head from your oppressor," according to an ABC News report.
On the same day, seven protesters were arrested for vandalizing a Columbus statue in Miami, while protesters gathered at the state capitol building in Minnesota where they tossed a rope around a Columbus statue and pulled it off its base.
"This has been an ongoing conversation that we've been having for years with people who occupy this building (the capitol)," Mike Forcia with AIM of Twin Cities, a Native American advocacy group that organized the rally, told KMSP. "It's always 'you got to wait, there's a process you got to go through.''"