New York Governor Warns Health Care System Will Be Overwhelmed By Coronavirus: 'We Have an Impending Catastrophe'
New York Governor Andrew Cuomo warned that the impact of the coronavirus (COVID-19) pandemic has the potential to overwhelm the health care system in the United States, and predicted the outbreak would cause an "impending catastrophe" while he called on the federal government to "step up" to help mitigate the problems.
Schools, restaurants, bars and clubs have all been ordered closed in New York City, the largest metropolitan area in New York. The city and the state have both declared official states of emergency to deal with the outbreak, but Cuomo raised concerns in a Monday morning interview with CNN that the health care system in the U.S. does not have enough resources to deal with the threat from coronavirus.
"We've been behind handling this disease since day one [in the U.S.]," Cuomo asserted. "We knew it was in China in November and then we look like we got caught by surprise and we're always playing catch-up," he said.
"The coming crisis is overwhelming our health care system. That is going to happen," the New York governor added. "The federal government has to step up," he said. "We have an impending catastrophe when this wave of growth crashes on the hospital system and we don't have the capacity."
Many other states have declared emergencies and President Donald Trump also declared a national emergency to deal with the threat of the rapidly spreading virus. However, the U.S. has struggled to roll out testing, leaving a significant gap in the data to understand how many people are actually infected or how widespread the coronavirus has become.
Although there are just 3,774 confirmed cases of coronavirus in the U.S., health experts estimate that the actual number is far higher. Officials in Ohio said last week that they believed there were at least 100,000 cases in their state alone.
Trump has faced significant criticism from health experts, scientists and Democratic lawmakers for sharing inaccurate information with the public early on and attempting to downplay the threat from coronavirus. The president has said he preferred to keep infected cruise ship passengers offshore in order to make the number of cases in the U.S. look lower than they were.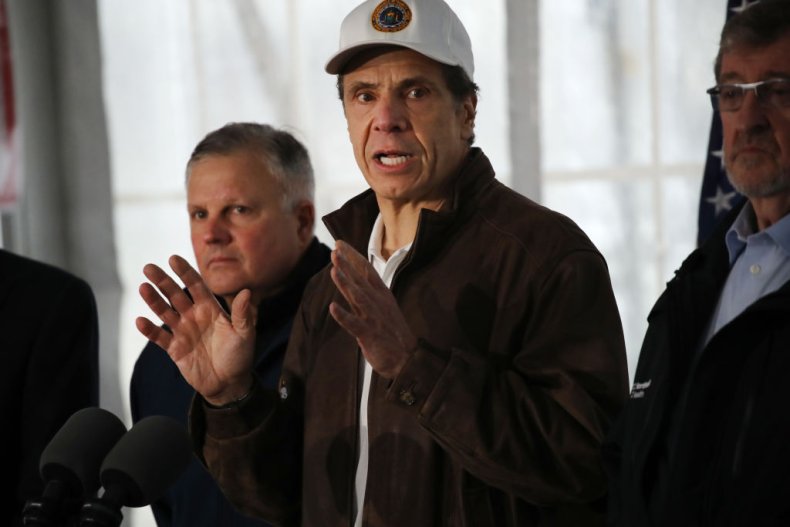 But Trump has argued that his administration is doing a great job addressing an unprecedented situation. On Sunday, he called on state and local officials to increase theor efforts.
"The individual Governors of States, and local officials, must step up their efforts on drive up testing and testing sights, working in conjunction with @CDCgov and the Federal Government!" he tweeted.