New York to Guarantee Delivery Workers Access to Bathrooms, Transparent Tipping Policies
On Thursday, the New York City Council plans proposed legislation designed to improve working conditions and provide better pay, for workers who deliver food through app-based services such as UberEats, and Doordash.
Los Deliveristas Unidos, "a labor organization of immigrant delivery couriers who kept New Yorkers fed during the pandemic," was responsible for raising awareness of the poor conditions staff members were suffering through, according to The City.
The legislation is believed to be the first in the United States aimed at providing minimum work standards for those in app-based food delivery services.
The bills would require restaurant owners to allow delivery staff to use their restrooms. According to The New York Times, Manhattan councilwoman Carlina Rivera overheard that some workers couldn't use a restroom for hours, and that others were charged fees for using the restaurant bathrooms. As a result, Rivera helped to sponsor the bathroom legislation.
Staff members would also be able to establish boundaries on where they do or don't feel comfortable traveling. For example, they can express that they don't want to travel a certain distance. This is especially important since delivery workers often face the risk of being attacked and having their E-Bikes stolen.
Another result of the new legislation would be that staff will not be required to pay fees in order to receive their pay. Apps will be required to show their gratuity policies, and delivery workers will not be charged for insulated food bags (that often cost up to $50).
A member of Los Deliversitas Unidos, José Ramirez, told the Times that he had to pay for his own bike, delivery backpack and cellphone.
"People sometimes come up to me after I make their delivery and tell me they're sorry they can't tip me," he adds, further emphasizing the financial limitations he and other workers struggle with.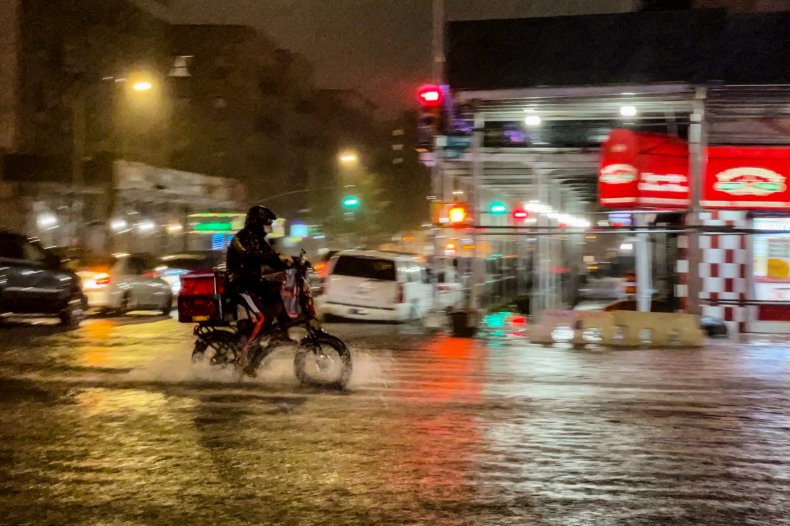 "These are workers that have been disenfranchised for a long time. They come from historically marginalized and low-income areas of our city," Rivera told the Times. "It took a national and global pandemic and waist-deep floodwaters to bring attention to their plight."
One of the leaders of Los Deliveristas Unidos, Sergio Ajche, told The City that "he's feeling 'happy and optimistic' about the expected approval of the bills."
In a statement, City Council Speaker Corey Johnson said, "These workers sacrificed their own safety during the pandemic to bring food to our homes. I'm proud of New York City and this Council for standing up for these workers, and I urge other major cities to protect this industry."