New York Gubernatorial Hopeful Rep. Lee Zeldin Reveals Leukemia Diagnosis, Remission
Representative Lee Zeldin, widely considered the leading GOP candidate for governor of New York, on Saturday announced that he began treatment after being diagnosed with early-stage leukemia last year and is now in remission.
"Through early detection, last November, I was diagnosed with early stage chronic myeloid leukemia (CML). I then began treatment with an immediately positive response and no side effects," the New York Republican, 41, said in a statement. "Over the last 9 months, I have achieved complete remission, am expected to live a normal life, and my doctor says I currently have no evidence of this disease in my system."
"My health is phenomenal, and I continue to operate at 110%," he added.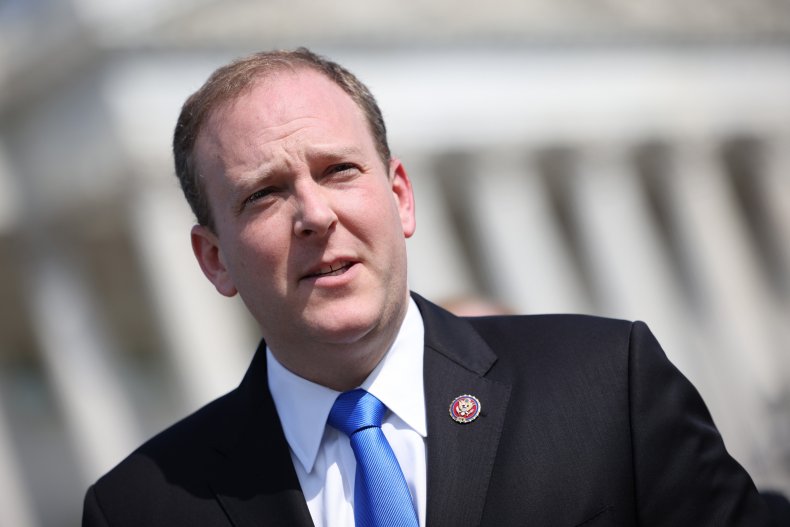 Zeldin's hematologist, Dr. Jeffrey Vacirca, said the lawmaker began targeted therapy after the leukemia diagnosis.
"He immediately responded extraordinarily well and has achieved complete remission," Vacirca said. "Successfully treated early chronic myeloid leukemia is now a chronic disease, which carries a normal life expectancy."
Zeldin, a longtime supporter of former President Donald Trump, voted to object to the Electoral College certification of President Joe Biden's win in January, after denouncing the mob that stormed the U.S. Capitol. He was among 121 House Republicans who voted against certifying Arizona's 2020 election results.
The four-term Long Island representative announced his campaign for New York governor in April with an attack on former Democratic Governor Andrew Cuomo who, at the time, was facing sexual harassment allegations and a scandal over COVID-19 nursing home deaths.
"The bottom line is this; to save New York, Andrew Cuomo's gotta go," Zeldin said in a statement announcing his candidacy for governor, as he vowed to deliver "the kind of relentless, fighting spirit towards helping to save our state that Andrew Cuomo only reserves for multimillion-dollar self-congratulatory book deals, cover-ups, abuse and self-dealing."
Cuomo resigned from office in August following the release of a report that accused him of sexually harassing 11 women. He was replaced as governor by former Lieutenant Governor Kathy Hochul, who became the first female to assume the role in New York..
New York GOP Chairman Nick Langworthy called Zeldin the "presumed" GOP gubernatorial nominee in June after he drew 85 percent of the weighted vote in a party straw poll.
"We had a vote today," said Langworthy. "We have a presumed nominee and that nominee is Lee Zeldin. I expect he will be the formally nominated candidate. I will be doing joint appearances with Congressman Zeldin."
State Senate GOP Minority Leader Robert Ortt became the latest prominent New York party official to endorse Zeldin's campaign for governor earlier this month.
"Now more than ever, New York needs a battle-tested leader like Lee Zeldin who will fight to lower taxes, restore public safety, and meet the everyday challenges facing families and communities across New York," Ortt said in a statement.
Newsweek reached out to Zeldin's representatives for further comment.