New York Halloween Parade 2020: How to Live Stream This Year's Very Different Festivities
Chances are, if you know anything about New York City, you know the Village Halloween Parade is an iconic event that brings a wild mix of comedy, scares and love of community. The 47th Annual parade is scheduled to take place in 2020, but unsurprisingly, there will be some major changes due to Coronavirus.
There isn't actually going to be a Village Halloween Parade this year...at least not one you can attend in person. "Why do we do the Halloween Parade? Because we LOVE New Yorkers and their vast creativity!" wrote Jeanne Fleming, Artistic and Producing Director of the parade on the event website. "Why are we cancelling [sic] the Halloween Parade this year? For the very same reason. Because we love YOU ALL too much to endanger you and we care about your health and well-being."
Changes this year will make the Halloween celebration a digital event that hasn't been fully revealed yet. "Halloween is all about Trick or Treat! So, we are going to do a trick that will be a treat! Like the Parade itself—which is a spontaneous gathering of people, our Halloween treat will be spontaneous and unannounced and unique to our night Parade," Fleming continued.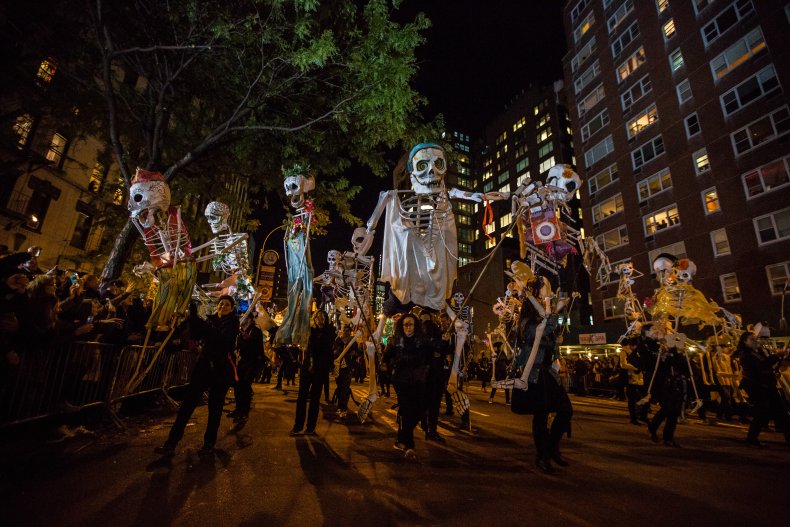 So what can you expect? The Village Halloween Parade created their own film that can be streamed in your home. This is just one of a few ways to replace the parade experience. It's considered a "miniature" Halloween parade because it features art from puppet makers who have bee n beloved by the New York community.
To watch the 15-minute film, you'll have to RSVP to the event via the parade website. A link will be emailed to all who RSVP on Saturday.
Fans of the Halloween Parade can also tune in to a special look back at the parades past on NY1 at 7 p.m. ET Saturday. If you've participated in the parade, there's a chance you could be featured in the program, but there's something even more exciting.
Throughout the day Saturday, moments from parades past will be featured across Time Squares' iconic billboards.
And don't forget about Zohra, the spider puppet, who resides on Jefferson Tower each Halloween. Zohra will take its rightful place on the building, so if you happen to walk by, the Halloween experience may feel a bit familiar. Zohra will also be featured in the miniature parade.