New York Hospitals Are Using Vitamin C to Treat Some Coronavirus Patients
Large doses of vitamin C are being administered to patients in intensive care at certain hospitals in New York, Newsweek has confirmed with a spokesperson for Northwell Health.
They confirmed reports that patients testing positive with COVID-19 were in some cases being treated with large doses of vitamin C—among other drugs—at their clinics.
The antioxidant is being administered intravenously in quantities far exceeding the daily recommended dose, which is 90 milligrams for men and 75 milligrams for women as recommended by the National Institutes of Health.
Fat-soluble vitamins, such as vitamin A and D, can be quite toxic at high doses, but vitamin C is reasonably safe as it is easily excreted, Peter McCaffery, Professor of Biochemistry at the University of Aberdeen in the U.K., told Newsweek. It is also known that intravenous vitamin C is relatively safe when applied under clinical supervision, McCaffery added.
"I have to hope that this, or any new idea, may help," McCaffery said. "Just to reiterate though, taking large doses of vitamin C tablets would be very unlikely to protect you from COVID-19—unless you were actually vitamin C deficient, which with a normal diet is quite rare."
The effectiveness of intravenous vitamin C as a treatment for—or buffer against—COVID-19 is not established with solid clinical evidence. Rumors spreading online about vitamin C's potential to treat the symptoms of coronavirus, or even prevent them from developing in the first place, have been debunked.
According to the Mayo Clinic, a certain amount of vitamin C is needed to perform various bodily functions, from forming blood vessels and other tissue to the absorption of iron. In high doses the antioxidant has the potential to cause adverse reactions, such as nausea, diarrhea and abdominal pain.
But perhaps most significantly in this case, the vitamin plays a role in the body's healing process. It can protect cells against harmful free radicals, which are found in cigarette smoke, air pollution and fried foods among other things, and may cause a number of health problems, including cancer and heart disease.
Aside from observations, there is little scientific data on how large doses of vitamin C might affect COVID-19.
There have been studies looking at its effectiveness against the common cold, some cases of which are caused by another virus from the broader coronavirus family. Some of the more promising studies suggest it can lessen the severity of common cold symptoms and reduce the number of days it takes to recover.
Specifically, an analysis of 29 studies involving more than 11,000 people was published in 2013 examining the effects of vitamin C on common cold symptoms. The researchers found supplements reduced the duration of colds in adults by 8 percent and in children by 14 percent. The most noticeable effects were seen in people who are extremely active, such as marathon runners, where the duration of colds was essentially halved.
Researchers are looking at what benefit, if any, vitamin C might have on COVID-19 patients. Scientists at Zhongnan Hospital in Wuhan, China, have begun a clinical trial to determine just that, but no results have yet been published. The completion date is scheduled for the end of September, 2020, when they hope to have shown that vitamin C reduces the inflammatory effects of the disease in the lung.
If successful, this action would be, in part, due to the antioxidant effect of vitamin C, said McCaffery.
"Even if intravenous vitamin C works to shorten or cure COVID-19, it will likely only be a stop-gap before therapies directed at the virus, such as vaccinations, take over," he wrote in a piece for The Conversation.
The graphics below from Statista show the number of confirmed cases in the U.S. by state as of March 26, 2020 6 a.m. EST., and the stark rise in cases of COVID-19 in New York state.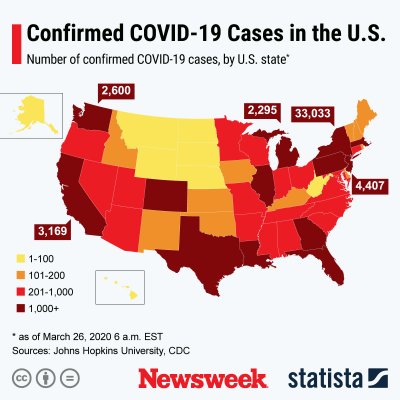 World Health Organization advice for avoiding spread of coronavirus disease (COVID-19)
Hygiene advice
Clean hands frequently with soap and water, or alcohol-based hand rub.
Wash hands after coughing or sneezing; when caring for the sick; before, during and after food preparation; before eating; after using the toilet; when hands are visibly dirty; and after handling animals or waste.
Maintain at least 1 meter (3 feet) distance from anyone who is coughing or sneezing.
Avoid touching your hands, nose and mouth. Do not spit in public.
Cover your mouth and nose with a tissue or bent elbow when coughing or sneezing. Discard the tissue immediately and clean your hands.
Medical advice
Avoid close contact with others if you have any symptoms.
Stay at home if you feel unwell, even with mild symptoms such as headache and runny nose, to avoid potential spread of the disease to medical facilities and other people.
If you develop serious symptoms (fever, cough, difficulty breathing) seek medical care early and contact local health authorities in advance.
Note any recent contact with others and travel details to provide to authorities who can trace and prevent spread of the disease.
Stay up to date on COVID-19 developments issued by health authorities and follow their guidance.
Mask and glove usage
Healthy individuals only need to wear a mask if taking care of a sick person.
Wear a mask if you are coughing or sneezing.
Masks are effective when used in combination with frequent hand cleaning.
Do not touch the mask while wearing it. Clean hands if you touch the mask.
Learn how to properly put on, remove and dispose of masks. Clean hands after disposing of the mask.
Do not reuse single-use masks.
Regularly washing bare hands is more effective against catching COVID-19 than wearing rubber gloves.
The COVID-19 virus can still be picked up on rubber gloves and transmitted by touching your face.