New York HS Cancer-Stricken Runner Crosses Finish Line With Relay Team
Anyone who thinks athletes are all about themselves have never seen a kid with cancer run a football 50 yards for a touchdown in a colossal stadium to cap a college team's spring game. They've never seen a child with Down's syndrome sink a basket and watch everyone from both teams celebrate.
And they've never seen anything like what happened on a track near Albany, New York, where Yeva Klingbeil recently crossed the finish line with her school's sprint relay team.
Klingbeil, a senior at Shenendehowa High School, used to be a part of the school's cross country team. A year and a half ago, she was diagnosed with rhabdomyosarcoma, which is a rare, cancerous mass near her jaw. She began chemotherapy, which eventually led to damage in her brain stem. All of a sudden, Klingbeil felt weak, had problems breathing and couldn't swallow food or fluids.
She spent nearly two months at an intensive care unit (ICU), where she fought to breathe, talk, sit up and eventually stand. Her time as a runner for the Lady Plainsmen was pretty much over.
Klingbeil finally made it home, but the arduous journey of recovering didn't stop there. She still needed a ventilator to breathe and a feeding tube to eat. The tumor around her jaw shrunk to half its size, but she got further damage to her brain.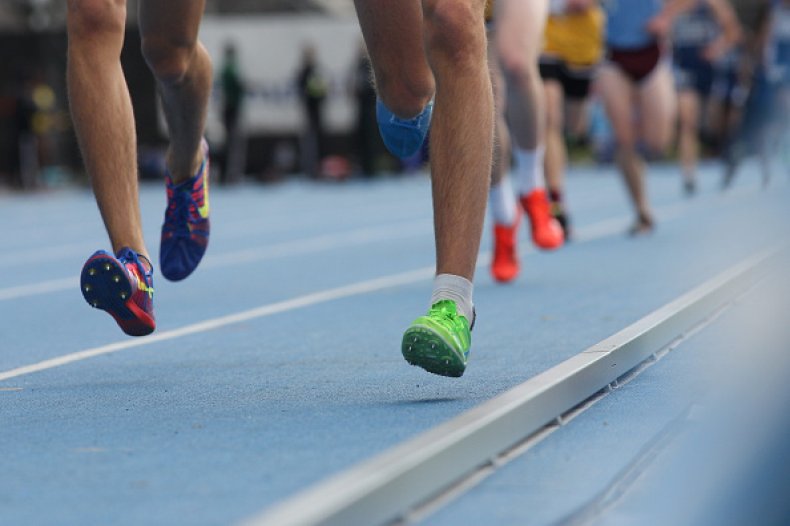 While her family and the community hoped for the best, the medical bills kept stacking. Her cross country coach, Rob Cloutier, last fall helped organize an unsanctioned marathon race to help offset some medical costs for the family.
Klingbeil has seen tons of community support through her ordeal that began in late 2019, and further complicated by the COVID-19 global pandemic. During a track meet last weekend, she got to be back on the track—as a runner.
She joined the girls 4x100 relay team. During the final stretch, and while wearing the school's track uniform, she walked the final steps of the race, locked in arms with the relay team.
When they crossed the finish line, a less-haired Klingbeil took a quick curtsy, and then all members of all track teams rushed to her side in a congratulatory chant.
"Yeva, Yeva, Yeva," girls from various schools chanted.
Here's the video from the school's athletics department posted Sunday night on Twitter. (Note: Tissue might be required to watch this)
Klingbeil still might have a long way to go in recovery from her rare condition, but she showed a spirit that isn't often showcased in the national sports realm. Her steps are small, but her gains are huge.
Moments like the one in New York this weekend show that all athletes aren't just about themselves. The entire community has shown it in Shenendehowa. As for Klingbeil, she's not just hitting the finish lines of that 4x100 or the bigger race in she's still running.
She's flying across them.