Things haven't gone so well for the New York Jets this season. But for Jets fans, things seemed to go so well down the final stretch of the 2020 season. That is, until the team won on Sunday.
The Jets looked poised to go winless in 2020, setting themselves up for the No. 1 overall draft pick next spring. That meant they would likely select Clemson quarterback Trevor Lawrence, who is as much of a golden boy as golden boys can get.
The Jets went out west and beat the Los Angeles Rams, 23-20, Sunday for their first win of the season. Why is one such win significant? It not only knocked the Rams from a tie in their own division, it dropped them into a seeding race for the playoff wild card spots. For Jets fans, it meant probably losing the top overall pick—likely Lawrence, who's a junior that will probably skip his senior year to enter the NFL Draft.
The Jets (1-13) have no way of making the playoffs this year as they were the first NFL team eliminated from contention. Now, they need some help from the Jacksonville Jaguars (1-13) so they can finish dead last. Apparently "Tanking for Trevor" didn't work.
The Jets drafted quarterback Sam Darnold third overall in 2018 out of USC, and he became the starter in camp that fall. Darnold has an overall starting record of 12-24, which includes a 1-9 mark this season.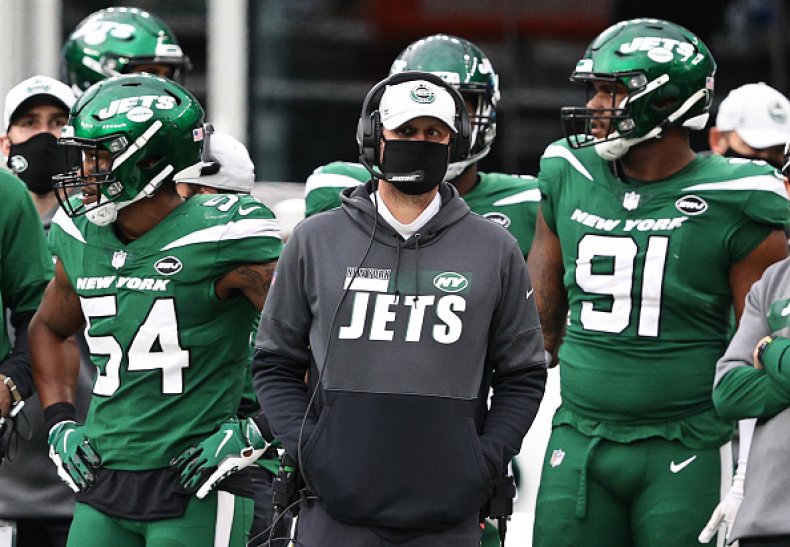 Jets fans went en masse to social media Sunday afternoon so they could blast their coach, Adam Gase, for winning a game that, on paper, they should have lost in a landslide.
Here are some of the things said by Jets fans Sunday following their team's win, which they felt was a loss in the bigger scheme.
"Adam Gase can't even tank properly," one fan wrote on Twitter.
Another follower said Darnold wasn't properly developed as a professional quarterback.
One fan wrote: "We should have all been expecting this. The most Jets thing they could possibly do at this point is win and lose the number one pick. Every other stupid thing they could do has already happened. Well, aside from extending Adam Gase."
Here are more Twitter users who sounded off Sunday:
"The Jaguars will be sending Adam Gase a really nice Christmas present."
"The Jets need to fire Adam Gase tonight."
"I hope the Jets have to keep Adam Gase as punishment for winning today"
"This "win" feels so different. Feels like we ruined the next 15 years of the franchise. Suffered through an entire season of Adam Gase for nothing!!!! #SameOldJets"
"Im confused by Jets fans being upset about this. Correct me if im wrong but Adam Gase is still the head coach, no?? Trevor Lawrence ain't fixin that! #TakeFlight #NYjets"
"We would of ruined Trevor Lawrence anyway. ... Now can we fire Adam Gase seeing that the tank is now over."
Here are the remaining schedules for both the Jaguars and Jets:
Jacksonville Jaguars (1-13)
Dec. 27 vs Chicago Bears (7-7)
Jan. 3 at Indianapolis Colts (10-4)
New York Jets (1-13)
Dec. 27 vs Cleveland Browns (9-4)
Jan. 3 at New England Patriots (6-8)
About the writer
Scott McDonald is a Newsweek deputy night editor based in Cape Coral, Florida. His focus is assigning and writing stories across all topics, from news to politics, business, weather, sports and international news. Scott joined Newsweek in 2018 after a lengthy career of print journalism in Texas, including The Dallas Morning News, where he was a sportswriter, and he's a voter for the Heisman Trophy. He has been a newspaper editor-in-chief and also a newspaper publisher. He is a graduate of The University of Texas at Austin. You can get in touch with Scott by emailing s.mcdonald@newsweek.com. Languages: English