New York Jets' Le'Veon Bell Suggests Refusing Latest NFL Doping Test, Says 'I Bet I Don't'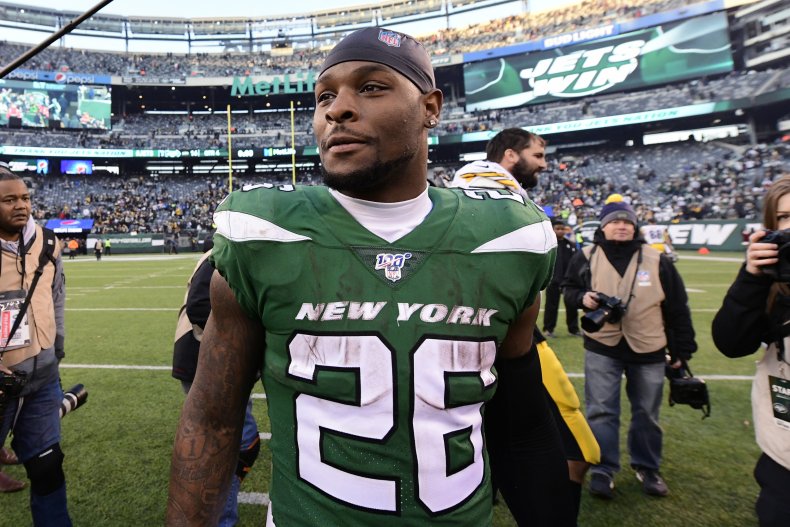 New York Jets running back Le'Veon Bell responded to the NFL's request for an HGH blood test by saying, "I bet I don't," on his Twitter account Friday.
Bell's post to Twitter also includes a picture of the request sent by the NFL, which read: "This is an HGH Blood test. You have been randomly selected by the NFL drug testing program's Medical Advisor to complete a doping test today. Please report to the drug testing area (testing room) immediately to complete your test and to address any questions you may have. A valid government or team issued photo identification is required."
Newsweek had reached out Friday to Bell's representative for comment about the player's recent tweet.
Bell's criticism of the NFL's doping test requests is not the first time he had an issue with them. On November 20, Bell took to Twitter to speak on the frequent drug tests requests he received throughout the season.
"I done had 5 "random" HGH blood tests in 10 weeks...@NFL I'm not doing another after today, whatever ya'll looking for it obviously ain't there & I'm not about to keep allowing ya'll to stick me with those dirty a** needles...find the players who really do that HGH BS & get off me...," Bell wrote at the time.
The HGH tests sent to NFL players are random and when players refuse, there are some major consequences that follow. According to the NFL and NFL Players Association's (NFLPA) policy for performance enhancing drugs states "players who fail to [appear for testing] without a valid reason as determined by the Independent Administrator will be subject to discipline." Penalties include a fine up to $25,000 for a first-time offense; a fine of two weeks' pay for a second-time offense; and a suspension for four games without pay for a third-time offense.
Bell is not the only player who has complained about the number of tests he received during the season. Last season, Carolina Panthers' safety Eric Reid started to become angry with the NFL after receiving seven random drug tests in only 11 weeks with the team.
"Number 7... "Random"," Reid wrote on his Twitter with a similar picture to the one Bell posted.
Following Reid's spat with the frequent drug tests, the NFLPA began an investigation regarding the randomness and released a joint statement with the NFL on January 9 of this year.
"The report also demonstrates that Mr. Reid's tests were randomly generated via computer algorithm and that his selection for testing was normal when compared to the number of tests players were randomly selected for throughout the league during the time that he was on an active roster," the statement read.
Entering Week 17, the Jets are is 6-9 this season, placing them fourth in the AFC East standings.
New York Jets' Le'Veon Bell Suggests Refusing Latest NFL Doping Test, Says 'I Bet I Don't' | Sports