Jewish Man Abused on New York Subway After Attending 'No Hate, No Fear' March Against Anti-Semitism
A Jewish man has reported being threatened and verbally abused on a New York subway shortly after attending a major solidarity march in the wake of a string of anti-Semitic attacks in the city.
Jonathan Gray uploaded a video onto social media of the apparent aftermath of the incident which occurred after he boarded a train at Clark Street in Brooklyn on Sunday, January 5.
In the clip, which has viewed more than 100,000 times on Twitter, a woman can be seen getting up out of her seat and shouting "I will kick your motherf****** phone..." after noticing she is being filmed before the clip ends.
According to Gray, the woman had previously been yelling anti-Semitic slurs and was targeting him because he was wearing a yarmulke at the time.
"I heard her say something about 'You mother-effing Jews, no one likes you guys, you don't belong here,' and that's when I decided to pull out my phone," Gray told NBC New York.
The incident occurred after Gray had participated in the "No Hate, No Fear" rally in Manhattan and Brooklyn, in which around 25,000 people marched to show solidarity with the Jewish community.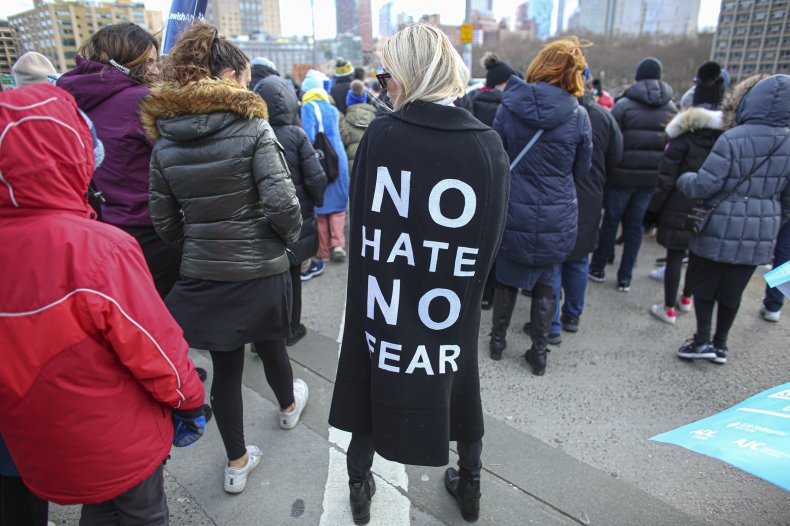 The event was organized in response to a number of attacks, including a machete attack that injured five people at a Rabbi's home in Monsey during Hanukkah, as well as a shooting at a kosher deli in neighboring New Jersey which left three people dead.
"I just came back from this rally, it felt hopeful. There was 20,000 people—you know, 'No hate, no fear.' Literally 5 minutes later I felt the hate and I felt the fear, which should not be happening," Gray said.
In a series of tweets, Gray also explained why he decided to record the woman on the train.
"The easiest option for me today would have been to ignore her verbal abuse and go on with my day. But enough is enough," he wrote.
"This led to her physically threading [threatening] me if I did not delete the video. Luckily I knew I could recover even if deleted, so showed her I deleted it. And she sat back, filmed her incognito but she had stopped her rant.
"I then got off the subway and exited the station, because that was the easiest option. Only after I had walked out, did I realize this MUST be reported. Because this has been happening way too much! So I went back to the station and had the agent call the cops.
"We MUST not let this continue."
Warning: Video contains strong language.
Gray later filed a harassment report and claimed it was the first reported hate crime in the city in 2020.
An NYPD spokesperson said in a statement: "On Sunday, January 5, 2020 at approximately 1518 hours police responded to a 911 call of harassment on the corner of William Street and wall Street within the confines of the 1st Precinct.
"Upon arrival officers were informed by a 30-year-old male while he was onboard a northbound '2' train, he was approached by a unidentified female who made anti-Semitic slurs.
"The individual is described as a female, approximately 28 years of age, medium complexion, 5 feet 8 inches, 200 lbs and long red hair. She was last seen wearing gray pants, red jacket, red shoes and a red hat."
In a statement following the "No Hate, No Fear" march, New York Mayor Bill de Blasio said: "We're facing an anti-Semitism crisis, and not just in this city. It's happening across our country and planet.
"We can't ignore it or hide from it—we have to confront it. We have to stand in solidarity with our Jewish community and reject hate with one clear voice."
This article has been updated to include police statement.