New York Jewish Film Festival Moves Outdoors After COVID-19
The Hampton Synagogue in upstate New York, founded by Rabbi Marc Schneier in 1990, has held an annual Jewish Film Festival at a local theater for more than a decade. Things are different this year as the spread of COVID-19, and the need for social distancing, have made gathering inside cinemas impractical and potentially dangerous.
In response, the 2020 Jewish Film Festival is being held in drive-in format at the Francis Gabreski Airport on Westhampton Beach.
In a Thursday interview with Newsweek, Rabbi Schneier recognized the uniqueness of this year's event, saying it was "the only drive-in movie festival or series at any airport in New York" to his knowledge.
Although the event is being held outside, organizers are still mindful of the potential spread of the coronavirus. Cars are required to park 6 feet away from each other to maintain social distancing guidelines. Festival attendees are also required to wear face masks.
"The only time that I ask people—I wouldn't say it's required, but I urge people to get out of their cars—is before each film when we all sing the U.S. and Israeli anthems together onscreen," Schneier said. "But even so, everyone is singing the anthems through their masks and it's adorable."
Films are chosen for the festival by members of the Synagogue's professional staff. Although this year's Jewish Film Festival is being presented outside, Schneier emphasized that the yearly event is a "very artsy festival" with most of the films being independent productions.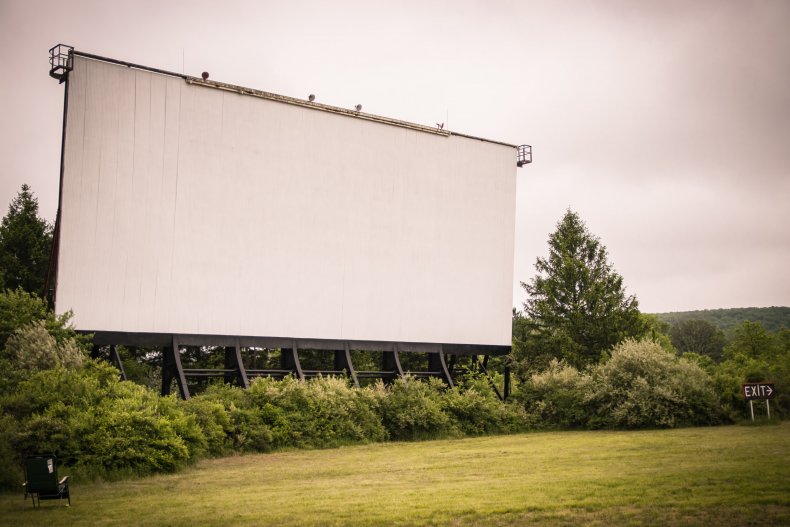 Included among the films in this year's festival is the Billy Crystal dramedy Standing Up, Falling Down, a documentary about Holocaust survivors called Saul & Ruby, To Life! and Aulcie, the true story of an African-American athlete who converted to Judaism after helping the Maccabi Tel Aviv basketball team win its first European Championship.
Schneier views the festival as a way to help people gain a greater understanding of Jewish culture. "It's a wonderful vehicle—no pun intended here—but its a wonderful vehicle to tell a story that should be shared not only within the Jewish community," Schneier said.
"Film, arts, culture is a wonderful way to educate and sensitize the non-Jewish population in terms of what are the issues? What are the values? What are the concerns of the Jewish community?" Schneier continued. "It allows us to reach people who are not familiar with Jewish history, with Jewish culture, with Jewish people. It allows them to expand their horizons, enlarge their interests, to expand their sympathies. So I think arts and culture is a very powerful medium in terms of being able to tell the Jewish story and getting people to learn how to live Jewish and love Jewish."
Helping people understand the Jewish perspective is important with the rise of anti-Semitism. Schneier said the key to combating systemic racism "comes down to education," which can be achieved through arts and culture.
"If we influence and impact a greater audience," Schneier said, "then we're making our little small contribution to making this a more understanding, more inclusive, and a more tolerant society."
The Jewish Film Festival is expected to run through Labor Day weekend with films being shown each Sunday evening.