Following Violent Clashes, NYC Comptroller Calls on Mayor to Strip NYPD of Press Pass Responsibility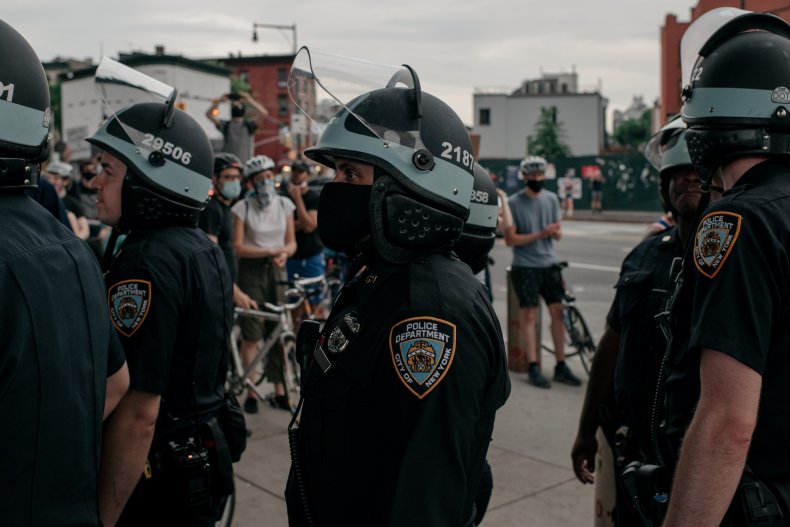 New York City's comptroller called on Mayor Bill de Blasio Saturday to divest the authority to issue press passes from the New York City Police Department (NYPD) and transfer it to the mayor's office.
The demand comes after a week of violent clashes between the police and protesters resulted in documented instances of apparent abuse, including cases where journalists seem to have been targeted.
"The NYPD is exactly the wrong agency to be endowed with the critical task of safeguarding our rights as New Yorkers and Americans to a free and unfettered press corps," Comptroller Scott Stringer wrote in a letter to de Blasio. "It's clear that for years, the NYPD has taken a very narrow and outdated view of who deserves to be issued a credential."
Spokespersons for the NYPD and mayor's office did not return requests for comment Saturday.
Stringer argued that the department's highly restrictive process for issuing passes no longer meets the journalistic demands of the current unrest. The NYPD's application requires working journalists to submit examples of published work that shows the applicant has previously covered, in person, at least six separate events in the city where police or fire lines were established.
He also noted potential conflicts of interest in determining who is owed a pass, as confrontations between the police and reporters have turned decidedly more adversarial in recent days.
Stringer said that the NYPD was "summarily shutting down" new press pass applications after "days of mass protests." He also worried that the pass could be instantly revoked by "any member of the NYPD" who objects "in the moment" to a reporter observing police activity.
The NYPD is the credentialing authority for press passes in New York City, and the department maintains that passes are its own property and can be "taken away" at any time. Passes allow journalists to cross police and fire lines and to gain access to certain credentialed events, such as press conferences. They also provide journalists with a form of identification in emergency situations, such as during mass demonstrations.
Videos and reports circulating online have revealed instances of the NYPD attacking members of the press reporting on the racial justice protests. The Associated Press says two of its reporters were "surrounded, shoved" and subjected to expletives from police on Tuesday. The incident in Lower Manhattan was partially captured on video.
"Get the f**k out of here you piece of s**t," one officer shouted.
One of the employees, a video journalist, explains to an officer that as essential workers members of the press are allowed to document the protests. The officer retorts: "Who are you essential to?"
The NYPD has previously been subject to legal action over its restrictive policies governing the issuance of press passes. It was sued in federal court in 2008 after it failed to renew the credentials of three bloggers.
"The system of granting press credentials in New York City has run amok and needs to be changed immediately," a lawyer for the bloggers said at the time.
The department later changed its credentialing policies to incorporate non-traditional outlets such as blogs.
The U.S. Press Freedom Tracker has noted 173 incidents where police have attacked or injured a working journalist during the George Floyd protests. In 45 instances, equipment or newsroom property has been damaged.